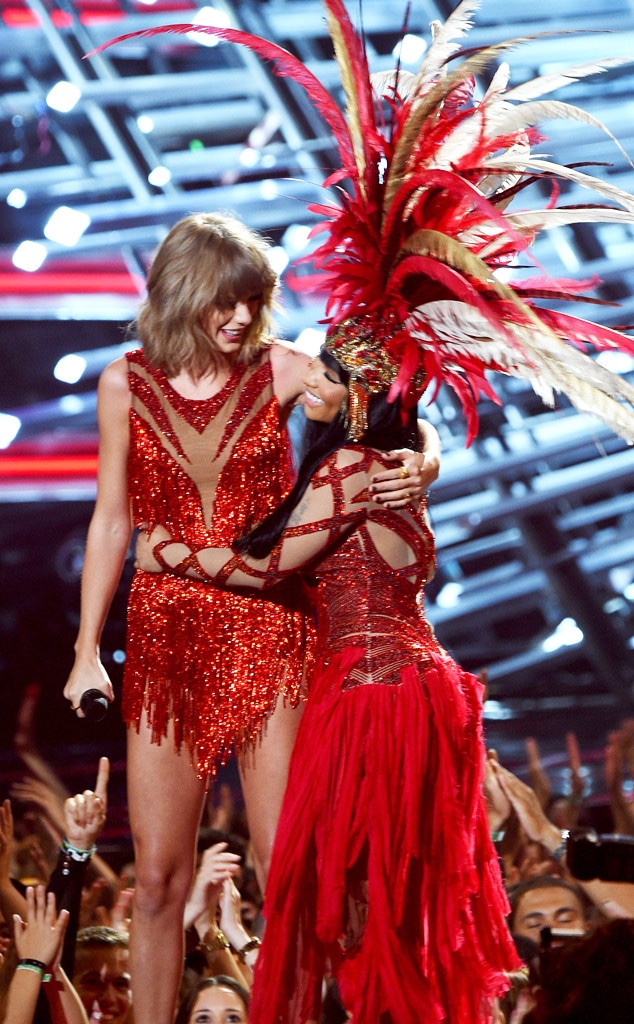 Kevork Djansezian/Getty Images Images
Now that's how you open an awards show!
Taylor Swift and Nicki Minaj put any possible feud rumors to an official rest Sunday night when they performed together as the opening act of the 2015 MTV Video Music Awards.
As the rapper was singing "The Night Is Still Young," Swift appeared in a sparkling red dress where she joined in on the No. 1 single. Soon after, Minaj began collaborating with the blond beauty for her hit track "Bad Blood."
"That was so much fun," Swift shared with E! News exclusively moments after the performance. "I was dying because I didn't know she was going to drop it. We rehearsed seven times and she never dropped it. I was dying laughing." 
Selena Gomez added, "That is how you do it!"
The performance comes more than a month after the twosome made headlines with a war of words on Twitter following an announcement of the ceremony's first nominations. Swift was nominated in the coveted Video of the Year category for "Bad Blood" but Minaj was snubbed.
"If your video celebrates women with very slim bodies, you will be nominated for vid of the year," Minaj had said on Twitter.
Swift, who features several supermodels in her video, appeared to take the singer's words personally and wrote, "@NICKIMINAJ I've done nothing but love & support you. It's unlike you to pit women against each other. Maybe one of the men took your slot."
Kevork Djansezian/Getty Images Images
Minaj later said she was not talking about Swift, who apologized and invited the rapper to come up on stage with her if she wins, adding, "You're invited to any stage I'm ever on."
Days later, Minaj said on Good Morning America she had spoken to Swift on the phone and that they're "all good."
The almost-feud had drawn the attention of Katy Perry, who is rumored to be the subject of Swift's nominated "Bad Blood" video, and Camilla Belle, who many believed is the boyfriend-stealing "actress" Swift sings about in her 2010 song "Better Than Revenge." Recently VMAs host Miley Cyrus weighed in, telling The New York Times, "What I read sounded very Nicki Minaj, which, if you know Nicki Minaj is not too kind. It's not very polite."
But now that Swift and Minaj have let bygones be bygones and have shared the stage together, how about an encore? Will the rapper join her squad and make a cameo on her 1989 tour?
—Reporting by Marc Malkin