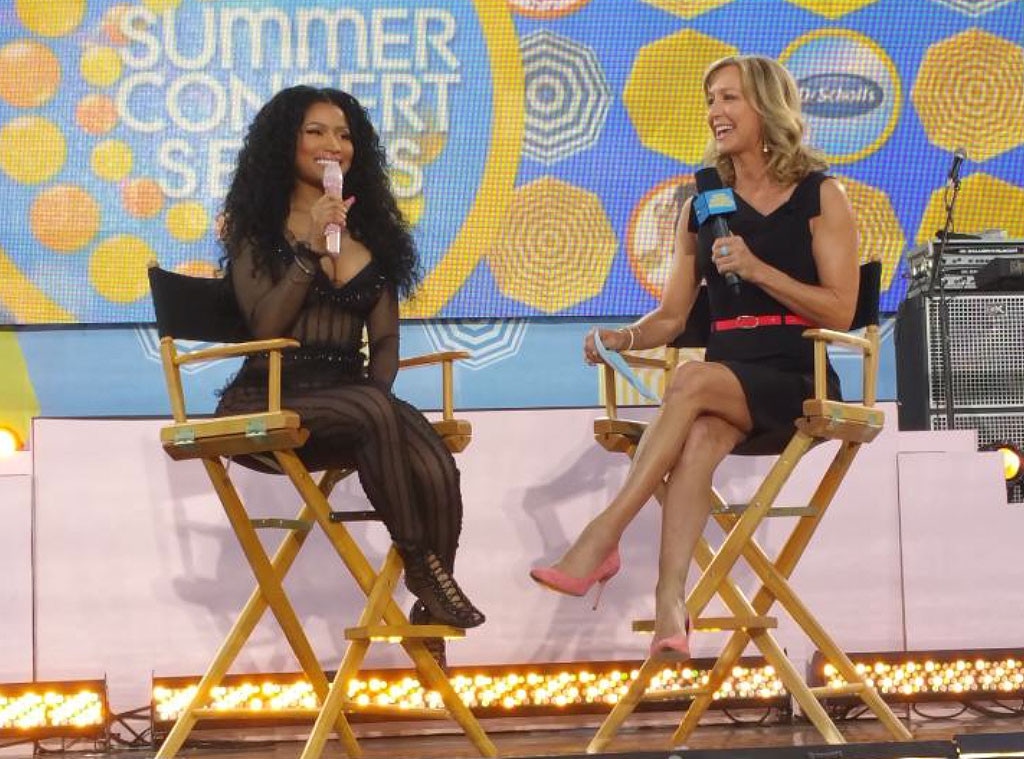 Twitter
Our long national nightmare is over.
Nicki Minaj has officially and graciously accepted Taylor Swift's apology after their Twitter misunderstanding earlier this week. "We're all good," the rapper said prior to her performance on Good Morning America Friday. "I spoke to Taylor Swift yesterday on the phone," Minaj told host Lara Spencer. "She was super, super sweet and she apologized. She said, 'Look, you know I didn't understand the big picture of what you were saying, but now I get it, so we're all good.'"
Phew!
Minaj then provided some back-story for Spencer. "I posted something on my Instagram and it just showed the stats of other videos that had been nominated previously, and it just seemed to be a little funny business going on...'Anaconda' had such a huge cultural impact, and on top of that, we broke the Vevo record. This is actually my third time breaking the Vevo record and 'Anaconda' therefore should have been nominated, and I do think if it was the pop girls, they would have had many nominations for it," she said of similarly scintillating music videos. "I think I got two for 'Anaconda,' for Female and for Hip-Hop, and it should have been for [Video of the Year]. That's all we were saying, and it is what it is."
Minaj called Swift's apology tweet "super sweet."
As Minaj has said several times now, her intention was to call attention to perceived racism regarding the 2015 MTV Video Music Awards nominations. Upset that her "Anaconda" and "Feelin' Myself" music videos were snubbed in major categories, she tweeted, "If your video celebrates women with very slim bodies, you will be nominated for vid of the year." Swift, whose "Bad Blood" music video is nominated for Video of the Year, assumed it was a personal attack, telling the rapper, "I've done nothing but love & support you. It's unlike you to pit women against each other. Maybe one of the men took your slot."
Days of drama ensued (with Katy Perry and Camilla Belle taking shots at Swift), but the "Style" singer made peace with Minaj Thursday. "I thought I was being called out. I missed the point, I misunderstood, then misspoke," she tweeted. "I'm sorry, Nicki." Minaj replied, "That means so much Taylor, thank you."
In response to one of her Twitter followers later that night, the rapper said of the blond pop star, "I've always loved her. Everyone makes mistakes. She gained so much more respect from me. Let's move on."
During her Good Morning America interview, the rapper said her Twitter rant was less about Swift than about how women who look like Swift dominate the media. "I think we just have to have both images for girls," she said. "We can't have only one type of body being glorified in the media because it just makes girls even more insecure than we already are."
Asked if she'll ever collaborate with Swift, Minaj replied, "I'm sure we can. You know why? Because it takes a big person to do what Taylor did and everyone sometimes speaks out of turn, you know? I've been there. Sometimes we do things and we don't think right away or we don't investigate and then we just talk, so it was big of her to come out and say that. So yes, we spoke for a long time. We were cracking up laughing on the phone. It's over, you guys! And I love you guys for supporting me. Thank you so much." The "Truffle Butter" rapper added, "I would love to. Of course I would love to work with her."