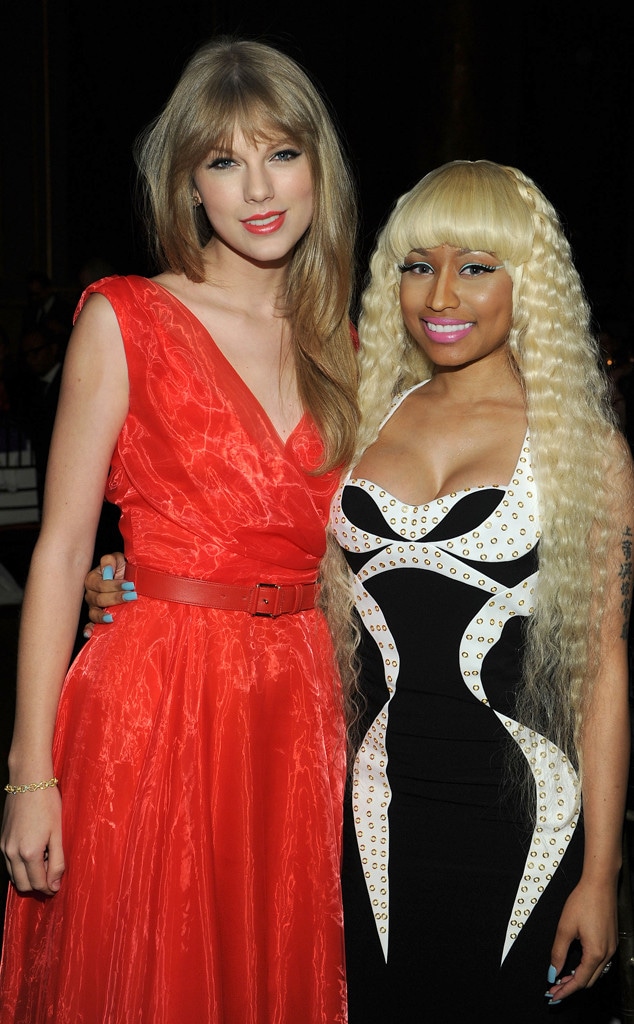 Larry Busacca/Getty Images
The night is still young, but Nicki Minaj and Taylor Swift insist they don't have a feud!
Things got a little sassy Tuesday afternoon when the "Super Bass" rapper sounded off on her MTV Video Music Awards snub.
"If your video celebrates women with very slim bodies, you will be nominated for vid of the year," she tweeted. "Oh but trust me. I'll be on that stage to collect my awards for vid of the year. Feeling Myself & Anaconda."
While Minaj didn't exactly name names, Swift and her fans couldn't help but speculate that the tweets were centered on her "Bad Blood" video.
"@NICKIMINAJ I've done nothing but love & support you," Swift wrote. "It's unlike you to pit women against each other. Maybe one of the men took your slot."
Minutes later, Minaj responded and tried to explain that black women do not get enough recognition for their influence on pop culture. "Huh? U must not be reading my tweets," she wrote. "Didn't say a word about u. I love u just as much. But u should speak on this. @TaylorSwift13."
As you can guess, Barbz and Swifties got into a Twitter tizzy by accusing the other of throwing shade and disses. In fact, Kim Kardashian got into the picture by tweeting, "Imma let you finish but..." She later deleted the tweet and clarified that her message had nothing to do with the words being exchanged by the music superstars.  
Before anyone can call this the biggest feud of the summer, however, perhaps we should hear directly from the musicians.
"Nothing I said had to do with Taylor. So what jabs," Minaj wrote online. "White media and their tactics. So sad. That's what they want."
As for Swift, she just delivered a gracious invite we can't help but be envious of. "@NICKIMINAJ If I win, please come up with me!!" Swift tweeted. "You're invited to any stage I'm ever on."
Besides, how can we forget the Speak Now tour when the twosome performed "Super Bass" together at Staples Center in Los Angeles? Long live the girl power...for now.