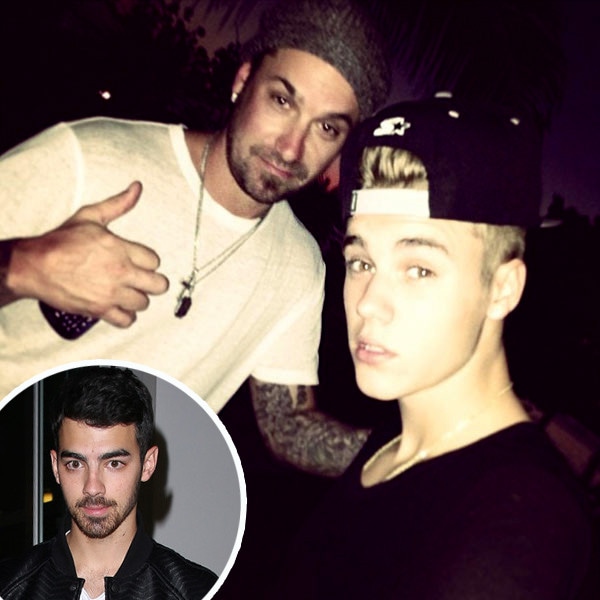 Instagram, AKM-GSI
Joe Jonas isn't blaming the music biz for Justin Bieber's string of legal woes, instead, he's pointing the finger at a member of the 20-year-old pop star's family: his father.
In a new interview with Scene magazine, the former JoBro member opens up his transition to a solo artist while admitting that, despite breaking up with his band of brothers, his strong connection with his family has kept him out of trouble while growing up in the public eye. 
"I've had an easier route than most. The youngsters just turning 20, the Biebers of the world, are under a microscope," the 24-year-old musician told the mag. "[Bieber] is having a very tough time finding balance. I think we all saw it coming."
Balance is an understatement considering the "Beauty and a Beat" singer recently pled not guilty to DUI after he was arrested in Miami for drag racing in January.
He's also dealing with the aftermath surrounding the allegations that the singer egged his neighbor's home, and despite reports that a plea deal is underway, a source in the District Attorney's office tells E! News that no decision has been made yet. Additionally, Lt. Dave Thompson of the Los Angeles Sheriff's Department said that his department "presented the case as a felony and still believes it's a felony crime."
And if that's not enough the performer's possible on-again girlfriend Selena Gomez has also been served with legal papers in connection with yet another lawsuit pending against the pop star and has been subpoenaed to testify in a suit filed by a paparazzo who alleges that the Biebs "physically attacked" him in May 2012.
"Your dad is your party animal—that's going to sum it up pretty quick," Jonas added. "There's an equation for some sort of explosion."
Following Bieber's arrest for alleged DUI, the singer flew to New York, where he partied at the Super Bowl with his entourage, which reportedly included his dad. Upon arriving at Teterboro Airport in New Jersey, the Biebs' the aircraft was searched by authorities with drug-sniffing dogs due to suspicion that there was marijuana onboard, however, no drugs or contraband were found so the passengers were allowed to leave and carry on.
While Joe clearly doesn't see eye-to-eye with the superstar or his father, he's going through a transition period of his own after having disbanded from his brothers in October less than three weeks after the group canceled their fall tour.
"I'm kind of in the process of deciding what I want to do right now," the heartthrob told the publication.
As for his upcoming solo album? "I'm trying to [make it] something that I really want it to be—do music that I'm really proud of and not let too many cooks in the kitchen," he explained. "I'm really at the baby stages. I'm writing with people I like and admire, but I'm taking my sweet, sweet time with it," he said. "I feel like if I figured out what I wanted the sound to be like, [I wouldn't be] too worried about 'I have to release this from the hype of...'" he admitted before trailing off, hinting at the success of his previous band.
"There are always stereotypes when people think of a band, any artist, that they're going to sound like a certain thing," he confessed. "[I hope that] when I hit the reset button and release new music, fresh ears will listen open-minded and not judge."