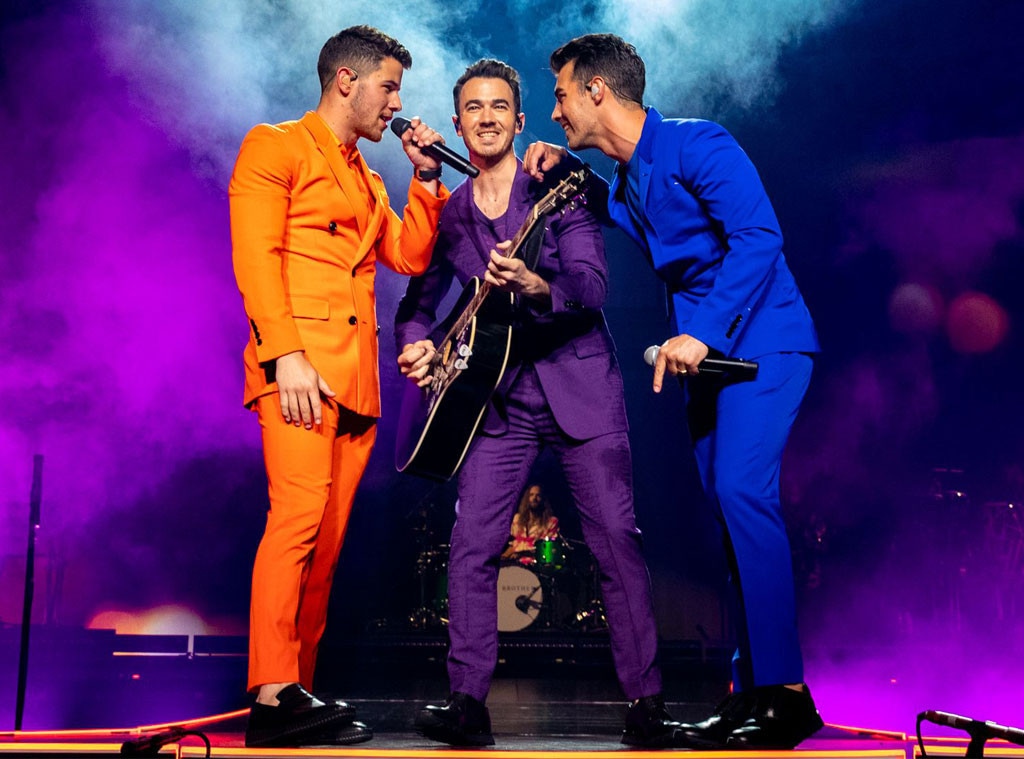 Christopher Polk/Shutterstock
From scoring their first No. 1 song to becoming three-time E! People's Choice Awards nominees, there is no denying that happiness has begun (again) for the Jonas Brothers.
That is not to say it hasn't been a long road back. In October 2013, fans were shocked when the band announced they were canceling their tour and calling it quits. At the time, rumors swirled about what happened between the brothers but it wasn't until the group reunited that fans received the truth from the band.
"To call it 'creative differences' is almost too simple," Nick Jonas explained on Sunday Morning in June 2019. "I think a lot of people lost the appetite for what we were putting into the world. So, you know, we were putting up shows that weren't selling. We were making music that I don't think we were all super-proud of, and it wasn't connecting. And on top of that, the root of all these real issues was that our relationship was becoming strained."
In fact, the professional and personal goals of the group seemed to be diverging at the time. Nick had already starred in How to Succeed in Business Without Really Trying on Broadway and created Nick Jonas & the Administration. Joe Jonas released his own solo project, Fast Lane, while Kevin Jonas got married and began shooting an E! reality show, Married to Jonas.
"We were three people living three different realities of what the Jonas Brothers were. We lost sight of the fact that we were just a band having a good time. People liked seeing us happy and we were not happy," Kevin revealed in the group's Amazon documentary, Chasing Happiness.
The discord in the band lead to a tough conversation that would ultimately stop the Jonas Brothers in their tracks and lead them down different, independent paths. Nick went on to have a successful solo career while Joe formed DNCE and Kevin started a family with his wife.
With the group seemingly done forever, the Jonas Brothers sent shock waves around the world when they announced their comeback on Feb. 28 of this year. This time around the trio were determined to have fun and put family first as evidenced in the music video for their first single, "Sucker." Taking place in a majestic mansion, the whimsical video featuring the members' wives, AKA the J-Sisters, Priyanka Chopra, Sophie Turner and Danielle Jonas is a testament to the next chapter of the band.
"Yeah, we got a do-over, and I think this time around we're gonna do it right," Joe told Sunday Morning. "There's not gonna be secrets between us. There's not gonna be second-guessing. We're not gonna be sitting around trying to call it off. We're gonna just keep this thing going."
However, reuniting the band was no overnight decision. The conversations about a comeback began as the group worked on Chasing Happiness, a documentary that was being created to tell the story of their early days and break up. Over the course of filming, they were able to discuss the issues that lead to the group's demise and how a new version of the Jonas Brothers could come to be.
"This conversations started a year and half, two years ago around at first just making the documentary…we're just going to tell our story about our childhood, the beginning of the band and then the break up but in that we all felt like there's more of this story to tell, there is a magic that we have when we together that we're missing," Nick shared during an interview on Today earlier this year.
It was this new outlook on life and the band that has led to their greatest chapter yet.
"Sucker" became the Jonas Brothers' biggest hit to date with 17 million YouTube views in its first 24 hours after the music video's release. It marked the group's first No. 1 song on the Billboard Hot 100, selling 88,000 copies in the first week following its release. Their subsequent album, Happiness Begins, also debuted in the top spot.
Fans seemed to not be able to get enough of the brothers as they performed together on Saturday Night Live, the Billboard Music Awards and MTV Video Music Awards. They also took part in The Late Late Show with James Corden's Carpool Karaoke segment, where they took a lie detector test and sung hits from their past.
The fever pitch over the Jo Bros continued when the group embarked on a tour that will see them traveling the globe through Feb. 2020.
The band topped off their incredible year with three People's Choice Awards nominations including The Group of 2019, The Song of 2019 for "Sucker" and The Album of 2019 for Happiness Begins.
The group's ability to enjoy themselves seems to be one of the keys to their current success.
"It feels like the second bite of the apple is potentially going to be even bigger," Nick told Billboard in April 2019. "Because we're in a healthy place, we're enjoying the ride. And I think the music is a reflection of that."
Their album, Happiness Begins, is filled with songs that center around love, a theme that is central to their own lives as all three brothers are now married.
"We wanted to write songs that embody the way that we all feel. The happiness we feel when we're all together again but also our lives have changed so much, in so many good ways, finding love is a big through line in this record," Nick explained during an interview on Phil In The Blanks in June.
Instagram / Priyanka Chopra
Kevin was the first sibling to find love. He married his wife, Danielle, at the height of the Jonas Brothers' earlier fame. The couple will celebrate their tenth wedding anniversary later this year.
The pair expanded their family with two young daughters, Alena Rose Jonas and Valentina Angelina Jonas, who may just be the Jo Bros' biggest fans. The girls are often seen backstage and watching the band's performances on their father's Instagram.
Before the Happiness Begins tour, Kevin worried that his children would never see him perform.
"She's never seen daddy on stage. Being able to see her in that audience seeing what I did best for so long. She knows me as her dad but she doesn't know the person that was great," he shared in Chasing Happiness.
It wasn't until 2018 that Nick got married to his love, Chopra, after a whirlwind romance.
The duo wed in multiple ceremonies in India and continued the celebration with a reception at Nellie's Southern Kitchen in Belmont, North Carolina earlier this year.
In fact, Nick was inspired by his own love story with the Bollywood actress when writing the song, "I Believe." With lyrics including "Every night, every day / And about every lifetime / Yeah, you know what they say / And that's fine / 'Cause I need to stay / Through the good and the bad times / Baby save me a space / In your mind," there is no doubt that he has found love!
The pair continued to prove their star power when they served as co-chairs of the 2019 Met Gala. The fundraiser holds special meaning to the couple as they walked their first red carpet together at the 2017 event as they were both dressed in Ralph Lauren. At the time, they denied the romance rumors but begun dating—and flirting on Instagram—in 2018.
Watch:
Joe Jonas Gets an Onstage Kiss From Sophie Turner
Nick was not the only brother to have a modern romance with social media roots. Joe meet his wife, Turner, via Instagram after realizing that the Game of Thrones actress followed him.
The duo got engaged in 2017 but waited to wed until earlier this year. Just like his brother, one ceremony wasn't enough for the front man. After the Billboard Awards, the duo had the ultimate after party, a fun-filled Vegas wedding ceremony complete with ring pops and an Elvis impersonator.
They followed up those nuptials with a more formal affair at a French chateau in June.
In addition to getting married and celebrating his 30th birthday with a bond-themed party, the pair have another reason to celebrate this year because they are the most nominated couple at the PCAs. Between them, they share seven nominations—four for her work on Games of Thrones and Dark Phoenix and three for the band.
Without Turner, the Jonas Brothers reunion may have never happened. Joe credits her with helping him to rebuild his relationship with his siblings.
"It encouraged me to see she had such a great relationship with her brothers," he revealed to Harper's Bazaar. "That was really a big thing for me to be able to look at, and say, 'I gotta get my s--t together.'"
It's that foundation as a family and band that makes their success even sweeter the second time around.
"It wasn't about the money. It wasn't about the fame," Kevin explained in Chasing Happiness. "It was, 'Hey, brothers. Do you want to do something awesome again together?'"
Awesome, indeed!