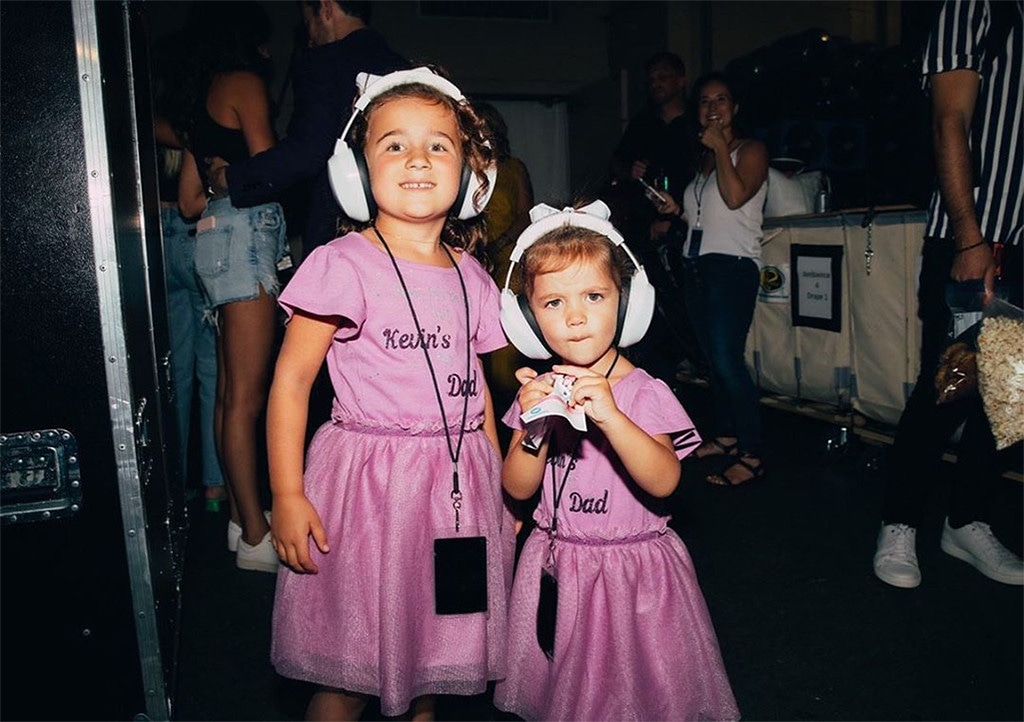 Instagram / Danielle Jones
As Kevin Jonas and Danielle Jonas' daughter Alena kicks off kindergarten, the duo are learning to cherish every moment.
Which means it was a simple decision for Danielle to partner up with Lifetouch, a family photo company that recently declared September 12 National School Picture Day as part of a new campaign. Kevin's wife also provided her own childhood school picture. 
"Alena is going to school, she started kindergarten, so I thought it was a great partnership because it's her first year," Danielle told E! News. "We're getting into all that stuff and school pictures and everything so that was exciting to me when I heard about it." 
The 5-year-old, Danielle said, was "thrilled" about beginning kindergarten.
"She was so happy," gushed the proud mom. "See, I don't have to worry about Alena that much because she's just like Kevin, very outgoing and everything. There's some things she'll shy away from but for the most part she holds her own so I kind of wasn't worried. I thought I would cry but I didn't, because I think I was in such shock that I actually just dropped her off at school. And then when she came home, I think she was in shock that she had to go every day now and not just three times a week because, you know, I was selfish and I had her home."
Fame may be in Alena's future too. Danielle says the little girl loves to have her photo taken. "She's done photo shoots with us, for our family, like Christmas photos and stuff like that so she kinda knows exactly what to do," she said.
Alena, alongside little sister Valentina, 2, serve as the Jonas Brothers cutest and littlest fans. The girls love watching their dad and uncles Joe Jonas and Nick Jonas perform.
"Oh my gosh, they're so proud of them," Danielle said. "They'll be by the stage and they'll be waving to them and if they don't get a wave, they'll look at me and say, 'Why are they not waving?' I'll say, they're looking at a lot of people right now but they love you."
The Jonas Brothers confirmed a reunion in February after a five-year hiatus. They began a tour in August. "Seeing Kevin on stage again and seeing that smile he always had...he had this smile at home but there's another smile and a like, attitude when he's up there," Danielle told E! News. "And he's truly having the best time of his life. It feels very good to see that."
"And then for his two daughters to see it, when they really thought they weren't going to," she said. "I had things saved, like pictures and videos and stuff like that to show them. But now that they can see it, it just feels so nice and to see that they're so proud of him."
The group has toured North America so far and will head to Mexico in October before returning in November for more domestic shows and then heading to Europe at the end of January. Danielle and the girls have joined their dad for part of their tour.
Danielle Jonas / Lifetouch
"They absolutely love the tour bus," she said. "They surprised me so much with being so good on tour and adapting to it. It was really nice."
Also along for the ride: Nick's wife Priyanka Chopra and Joe's wife Sophie Turner. Over the past few months, the Jonas wives, aka the J Sisters, have bonded.
"Having them on tour was so nice and stuff because other than [the singers'] moms, I was the only girl there. And to have other girls there to talk to, it was nice," Danielle said. "It was refreshing. Everybody had their dogs on tour and it was just fun."
In honor of National School Picture Day, Lifetouch customers can enter to win free digital pictures for their school through a sweepstakes beginning on September 12th​, available ​here. Three schools will be selected as winners via a random drawing and will be announced on Tuesday, October 8, 2019.