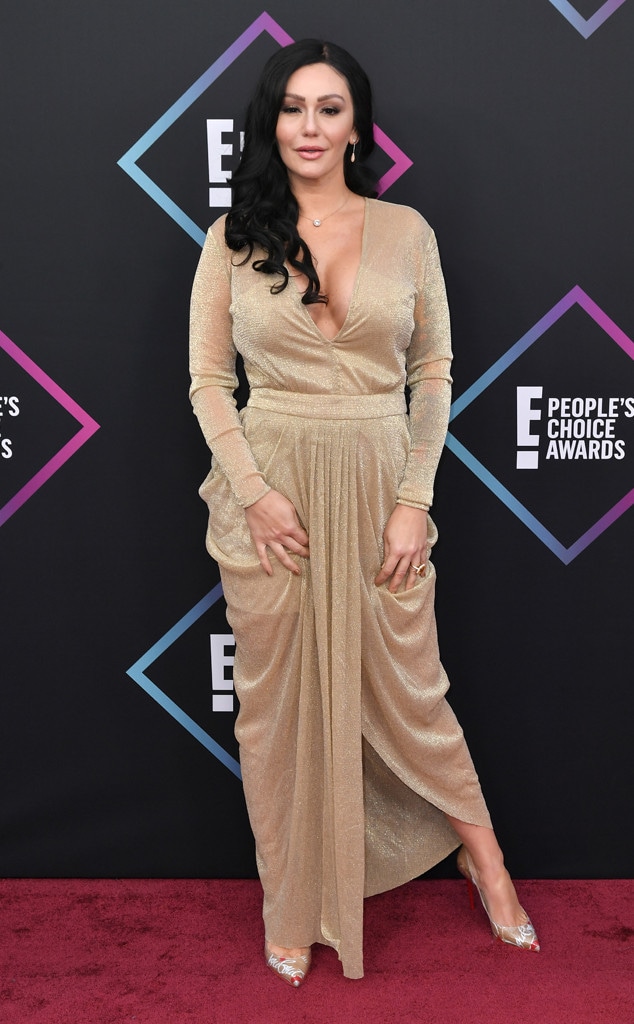 Rob Latour/Shutterstock
New JWoww, who dis?
On Monday, JWoww—née Jenni Farley—reached a major milestone on Instagram and she wanted to celebrate it in a special way. The 33-year-old posted a photo on the social media platform that was a side-by-side image of herself from the early Jersey Shore days next to a more current image.
"In honor of hitting 7 million followers, I shall post this amazing glow up," she wrote. "from looking like I haven't showered... to contour, filters and fillers... but always the same expression #unbothered."
She added at the end, "love all of you. even the hating ass ones."
Under the first photos, a caption was partially cut off but pretty clearly said, "I will rip his head off."
JWoww has turned her glow up into a lucrative career for herself.
She owns Naturally Woww, a skincare company that is "built on three main principles - pure, simple, innovative."
JWoww founded the company because she wanted to use products that she "could trust" and didn't contain any harmful ingredients.
The mom of two has come a long way since her early Jersey Shore days (it premiered in 2009), but the cast members are still as friendly as ever. For instance, Mike "The Situation" Sorrentino is currently serving an 8-month sentence in federal prison for tax fraud, but his friends often stop by FCI Otisville for friendly visits. 
The love and bonds have even extended to the next generation because Jersey Shore kids love each other as much as their parents do.
The cast always comes together for big reasons to celebrate. From partying it up at JWoww's birthday bash in Atlantic City to hanging out at Snooki's baby sprinkle, this friend group remains close-knit and sticks with each other through the glow ups and breakups.
JWoww is hardly the only Jersey Shore cast member with a substantial makeover. Take a look at the photos below to see the cast then and now.
Step aside GTL, it's now time for gym, tan, glow.