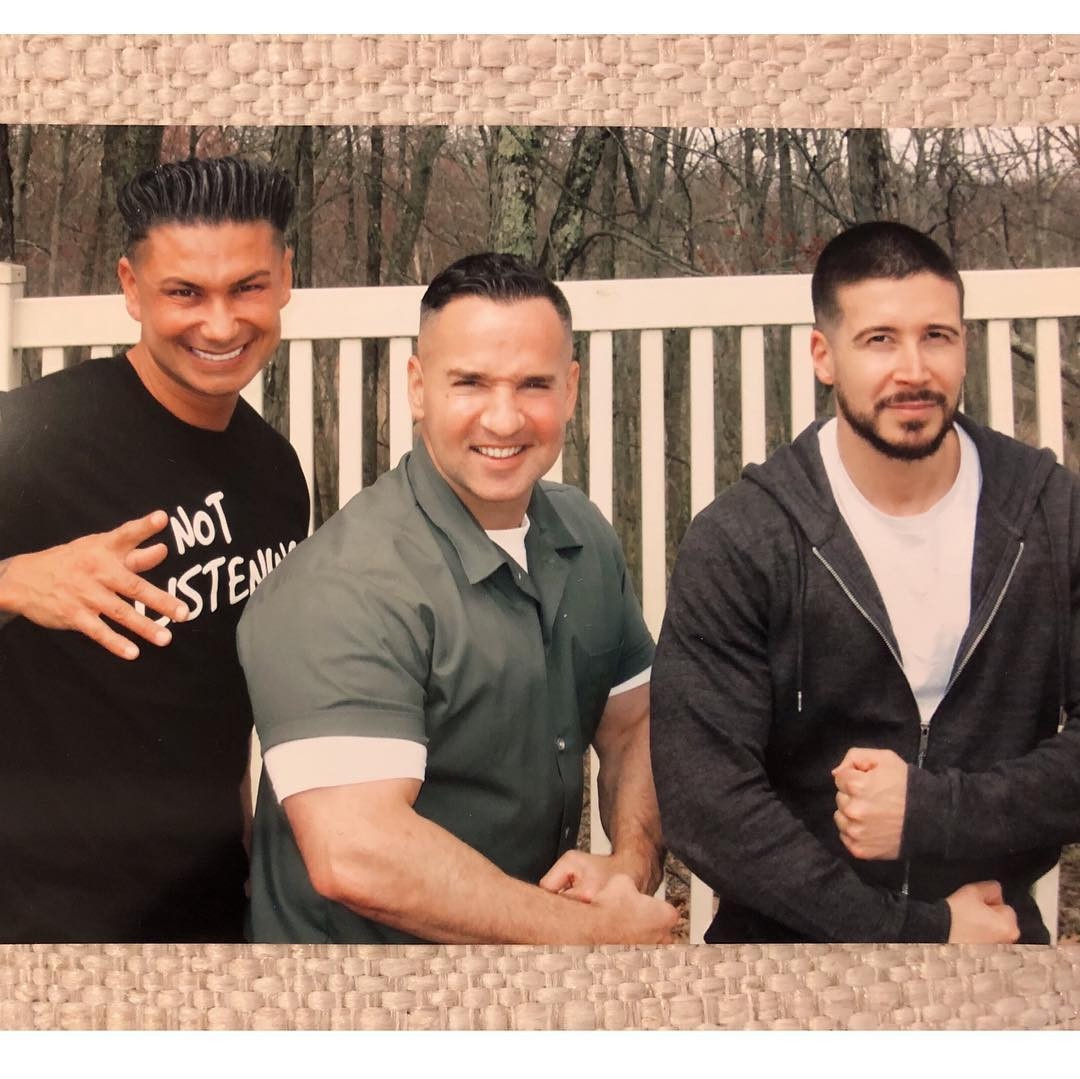 Instagram
Mike "The Situation" Sorrentino may be in federal prison, but he's not letting that stop him from constantly smiling.
The Jersey Shore star surrendered himself to authorities on Jan. 15 and began his eight-month sentence for tax evasion that day. He's currently at the Federal Correctional Institution in Otisville, N.Y., which is just about an hour away from New York City. Since his October sentencing, The Situation has remained positive and optimistic throughout it all. He wrote on Instagram the day he found out his fate, "We are very happy to put this behind us. Thank you So much for all the Love & Support."
Less than one month after his sentencing, he and his longtime love Lauren Pesce (now Lauren Sorrentino) tied the knot in a fairy tale wedding at The Legacy Castle in Pompton Plains, N.J. They celebrated Christmas together and kept posting heartfelt and uplifting messages filled with inspirational quotes.
The Situation's Jersey Shore co-stars have supported their friend every step of the way, from attending his sentencing to visiting him in Otisville. They've all echoed similar thoughts about how The Situation is handling it all. According to a number of his pals, he's just fine.
In April, E! News chatted with Nicole "Snooki" Polizzi at her store The Snooki Shop and she shared all sorts of information about her co-stars.
She told us Mike is "having the time of his life."
Vinny Guadagnino and DJ Pauly D had similar takeaways. On April 10 they stopped by The Jenny McCarthy show and said he's "doing so good" in prison.
Vinny said, "He sends me such positive vibes. He gets me through my day."
The Double Shot at Love stars also told Jenny McCarthy that The Sitch socializes with Fyre Festival founder Billy McFarland as well as "the guy that leaked Jennifer Lawrence's nudes."
Mike's optimism does not seem to be waning at all. He's shared a bunch of photos on social media of his Jersey Shore visitors, who have stopped by a number of times.
"The Comeback Is Always Greater Than The Setback," he wrote on Tuesday alongside a photo of himself with Ronnie Ortiz-Magro, Lauren, Jenni "JWoww" Farley, Deena Cortese and Snooki.
Take a look at the photos below to see Mike's prison journey from his sentencing to today.
Snooki said back in April, "It's like his in a senior home, he's playing Bingo, he's helping people recover in jail."
She continued, "We all talk to him through an email, so I talk to him like once a week. He's in the gym a lot, so he's probably gonna come out ripped. You know, he's not gonna be BDS anymore–Big Daddy Sitch–he's gonna have his, probably, six-pack again. But he's doing good in there."