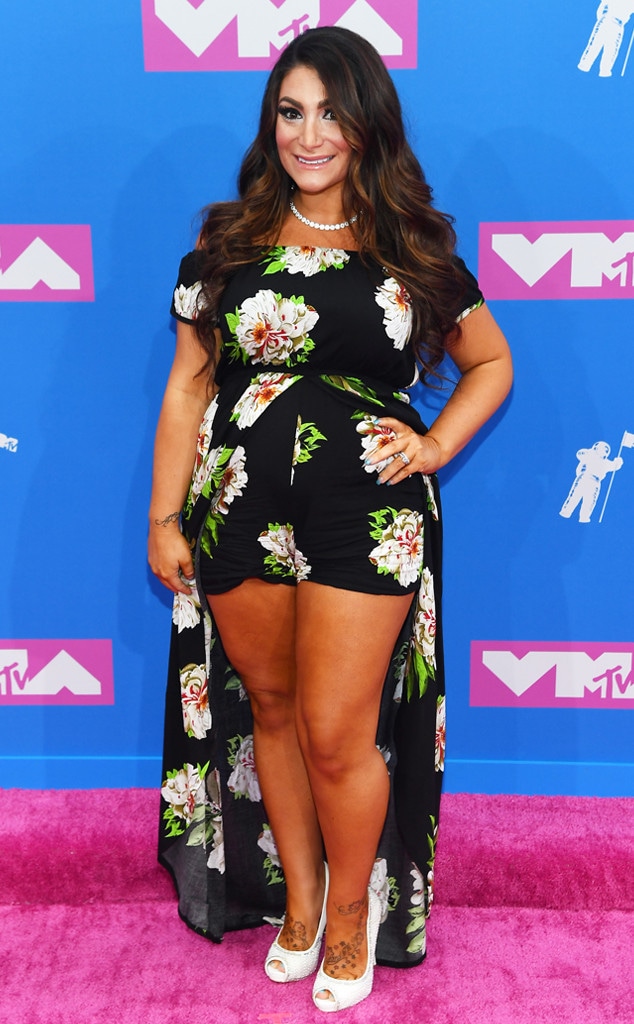 Nicholas Hunt/Getty Images for MTV
Three fist pumps for Deena Cortese! She's officially a mama. 
The Jersey Shore star has given birth to a baby boy named Christopher John. This marks her and husband Christopher Buckner's first child together. 
Deena gave birth to their little boy on Jan. 5. Denna announced the news on Instagram when she shared a sweet video of their baby boy yawning and sleeping. "Our Little Man has finally arrived. Christopher John Buckner (CJ) born January 5th at 4:41 pm at a whopping 20.5 inches..6 Lb 8.5 ounces," she captioned it. "Uhg mommy and daddy love you so much CJ .. youre our everything. i never thought i could love Chris anymore than i did until i saw him hold CJ."
The reality star often posted that yes, she was still pregnant, even after not posting updates after a few days. "CJ is just super comfy in mommys uterus," she wrote on Dec. 29.
Aside from naming their son after his proud pops, Christopher's middle name is remarkably special to Deena. John was the name of her father, who passed away in 2016 after a battle with leukemia. 
Deena and Christopher welcomed their bundle of joy into the world a little over a year after they tied the knot in their native Jersey. Several members of Deena's Jersey Shore family, including Nicole "Snooki" Polizzi and Jenny "JWoww" Farley, Sammi "Sweetheart" Giancola, DJ Pauly D and Mike "The Situation" Sorrentino, were present for the lavish wedding ceremony. 
The longtime lovebirds wasted no time in embarking on the next chapter of their lives, announcing Deena's pregnancy in July 2018. 
"We are truly blessed and our hearts are filled with so much joy and happiness," Deena gushed on social media at the time. "December can't come soon enough! Daddy and Mommy can't wait to meet you Christopher John you are going to be the most spoiled little boy ever!"
Last month, Sammi "Sweetheart" Giancola (who infamously skipped out on appearing in the Jersey Shore: Family Vacation reboot) reunited with her former co-stars for Deena's baby shower. 
And as her due date approached, Deena kept fans updated on how excited she was to become a mom. 
"In only 4 weeks we'll be welcoming a little boy into this world," she captioned a photo from the maternity photoshoot. "Already being the crazy mom I know I'm going to be and because this is our first pregnancy and because pregnancy is a blessing, I wanted to make a special memory with my husband and baby bump." 
Congratulations to Deena and Christopher!