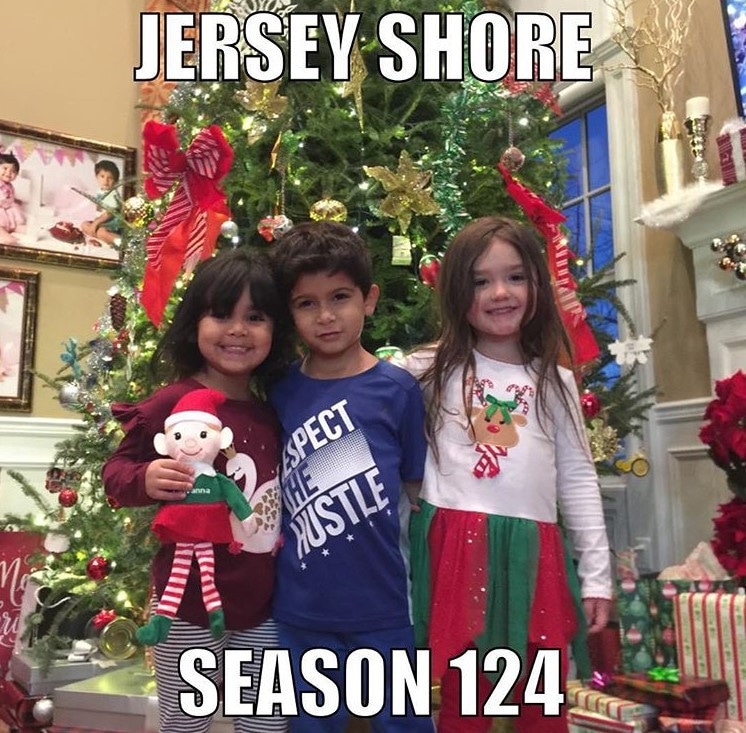 Instagram
Gym, tan, Christmas?
Jersey Shore best friends Snooki and Jenni "JWoww" Farley and their kids hung out over the weekend and have the adorable photographic evidence to prove it. Snooki's two kids Lorenzo LaValle and Giovanna LaValle posed in front of their Christmas tree with JWoww's 4-year-old daughter Meilani Mathews. In the picture, the two girls were decked out in Christmas clothes while Lorenzo smoldered at the camera wearing a blue shirt and matching pants.
Snooki captioned the image "Best friends + Christmas."
JWoww posted the same picture of the 3 kids in front of the tree smiling with their arms around each other, but this time, it was morphed into a meme.
The photo said "Jersey Shore Season 124" on it. Apparently fellow Jersey Shore star DJ Pauly D did the honors of creating the meme.
If the best friends (both parents and kids) reenact this photo next year, it's going to look a tad different. Snooki is pregnant with her third child and just announced that it's going to be a baby boy! Looks like Jersey Shore Season 124 will have to make room for another cast member.
Dave Kotinsky/Getty Images for MTV
31-year-old Snooki has been the ultimate support system for JWoww amid her divorce and restraining order from her husband Roger Mathews.
On Dec. 14, Mathews was served a temporary restraining order after police arrived at their home in the early hours of the morning. Mathews posted a number of videos on social media describing the incident, which reportedly boiled down to an argument over JWoww's work schedule.
Snooki took issue with Mathews' Instagram videos describing his fight with JWoww and defended her BFF on her Instagram page.
"My best friend has been going through A LOT these past few months and my heart breaks for her. She always tries to keep her situations off social media for the sake of the kids, but her voice needs to be heard too," she wrote on social media. "She has tried everything in her power to keep things civil FOR THE KIDS and she's a damn good mother. She doesn't leave her kids for months at a time for work. She leaves filming to care for her children that you don't see."
In another part of her now-deleted note, Snooki said JWoww's "character is being tarnished" and that she was "being taunted & baited" by Mathews. "YOU'RE AN AMAZING MOTHER AND PERSON and all of us who truly know you know this. There is more to the story that's being told. Stop attacking her," she concluded her note.
Mathews had a rebuttal of his own after hearing Snooki's comments. A screenshot from a Jersey Shore fan account allegedly showed the 43-year-old arguing that Snooki should "shut up and stay out of it."
He added, "You will see the truth come out in the end. Nicole has many [skeletons] in her closet. Many. I have none in mine and will own every aspect of my life. Good and bad. She should stay out of matters that do not concern her."