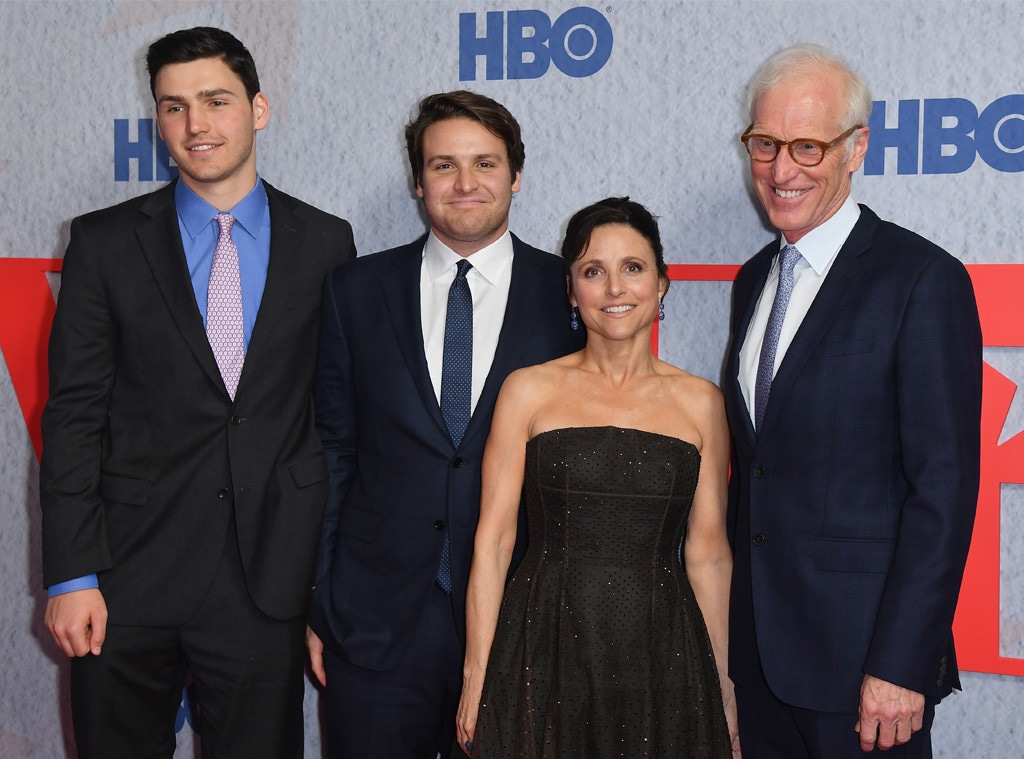 ANGELA WEISS/AFP/Getty Images
Julia Louis-Dreyfus and her family arrived at the Veep Season 7 premiere on Tuesday night looking they were ready for a state dinner at 1600 Pennsylvania Avenue.
The HBO comedy cast gathered at Lincoln Center in New York City and walked the red carpet as the beloved show readies for its final season. The show's actors, including Timothy Simons (Jonah Ryan), Tony Hale (Gary Walsh), Sarah Sutherland (Catherine Meyer), Anna Chlumsky (Amy Brookheimer), Matt Walsh (Mike McLintock) and more arrived flashing smiles and good style before the show. Other celebrities in attendance included Lena Dunham, Abbi Jacobson, Ilana Glazer, Dr. Mehmet Oz and Kiernan Culkin.
One group of people, however, really stood out. Louis-Dreyfus arrived with her husband Brad Hall and their two children Henry Hall, 26, and Charlie Hall, 21 and they all looked as elegant as ever. The Veep star wore a gorgeous strapless black gown and black heels. Henry went for a black suit with a teal shirt and pink tie while Henry and Brad looked like the ultimate father-son duo and both wore navy blue suits with white shirts and blue ties.
Veep has had its fair share of wins for the show as a whole and its actors throughout its tenure on HBO.
The show has won three Emmys for Outstanding Comedy Series (2015, 2016, 2017) as well as Outstanding Performance by an Ensemble in a Comedy Series. Louis-Dreyfus herself has taken home a number of Emmys, SAG Awards and Critics' Choice Awards for her role as Selena Meyer as have other cast members including Hale.
She even made Emmys history when she won her sixth consecutive award for Outstanding Lead Actress in a Comedy Series.
Dimitrios Kambouris/Getty Image
Every presidential term must come to an end, including fictionalized ones. The 58-year-old called this "the role of a lifetime" to the Hollywood Reporter. She added, "It became clear that this season should be the last season. We don't want to repeat ourselves or wear out our welcome. The story has a finality to it that feels end-of-series."
Production on the final season, however, was delayed after Louis-Dreyfus revealed in September 2017 that she was diagnosed with breast cancer. She announced the news just days after winning her sixth Emmy. "One in eight women get breast cancer. Today, I'm the one," she tweeted on Sept. 28. "The good news is that I have the most glorious group of supportive and caring family and friends, and fantastic insurance through my union. The bad news is that not all women are so lucky, so let's fight all cancers and make universal health care a reality."
She's also told cancer how she felt about it (the answer: "f--k you!") and completed chemo with quite the uplifting video from her family.
Her Veep family had been supportive of her and her journey the entire way and they finally reunited just under a year later in August 2018.
Louis-Dreyfus showed off her return in a funny selfie with the cast and writers. "Guys, we just learned how to take a picture of ourselves on my phone! How cool is this?" she wrote and it's almost as if you can hear her voice as clear as day writing it.
She discussed her cancer battle in an intimate profile in the New Yorker and talked about how she felt throughout the process.
"Don't misunderstand: I was to-my-bones terrified. But I didn't let myself—except for a couple of moments—go to a really dark place. I didn't allow it," she said.
She talked about cancer during her speech while receiving the Mark Twain Prize for American Humor and weaved in some funny lines alongside the poignant moments.
"Last year, I was lucky enough to get an Emmy award for my performance on Veep, which was an incredible thrill—and it set some kind of a record for most the Emmys by somebody for doing something or other. Then, about 12 hours later, I was diagnosed with cancer, another hilarious turn of events," she said during her talk. "Cancer isn't at all funny, but a big part of dealing with it has been finding the funny moments. The old cliché about laughter being the best medicine turns out to be true—which is good, because that's what the current administration is trying to replace Obamacare with."
She remarked later, "The fact that I have had the opportunity to make people laugh for a living is one of the many blessings that I have received in my life."
Just like the Hall men are out there supporting their award-winning mom, she's been known to the do the same for them. In 2017, Louis-Dreyfus was seen on TV looked ecstatic at an important Northwestern University basketball game where her son, Charlie, plays. Northwestern also happens to be her alma mater and the place where she met her husband in the 80s.
The proud parents told The Chicago Tribune in 2017 that they're Charlie's "biggest fans" when it comes to watching his basketball games. "We do not miss a game—either physically or on TV—and we have BTN2GO on our phones," she explained.
Veep premieres its final season on Sunday, March 31 on HBO. If you need some Selena Meyer and other West Wing shenanigans in your life, hopefully these bloopers will tide you over until then.