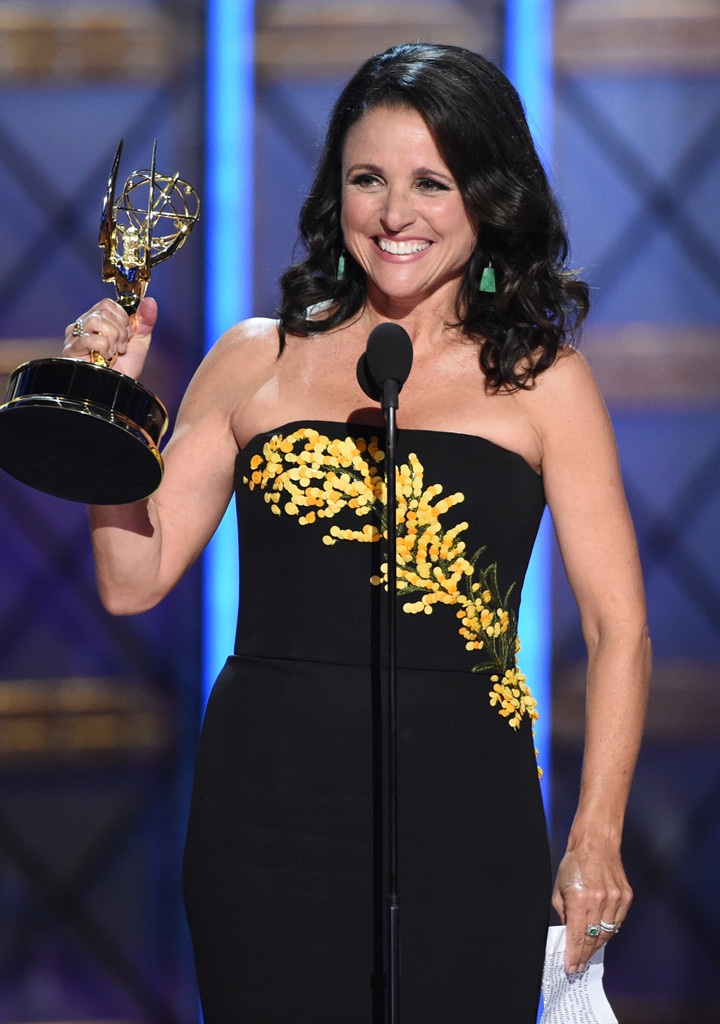 Phil McCarten/Invision for the Television Academy/AP Images
A round of applause is in order! History was just made (yet again). 
Julia Louis-Dreyfus won her sixth consecutive Outstanding Lead Actress in a Comedy Series award during Sunday evening's 69th Annual Primetime Emmy Awards for her impressive performance in HBO's Veep. 
She faced an incredibly stacked group of Hollywood's finest and brightest, including Pamela Adlon (Better Things), Tracee Ellis Ross (black-ish), Jane Fonda (Grace & Frankie), Lily Tomlin(Grace & Frankie), Allison Janney (Mom) and Ellie Kemper (Unbreakable Kimmy Schmidt). 
Julia officially holds the most Emmy wins for one role and ties with eight-time winner Cloris Leachman for the most acting Emmy wins. At least year's spectacle, Louis-Dreyfus broke the record for the first time. 
In the A-lister's acceptance speech she thanked her fellow nominees and the talented group of people that make Veep happen. 
"Thanks a million, you guys," the actress shared. "First I really want to recognize the fine and powerful and funny ladies on our category. Allison, Lily, Jane, Pamela and Ellie. You are superb and I adore you."
Julia also teased what's to come for Veep's seventh season, and also took a playful jab at President Donald Trump. 
"We have a great final season that we're about to start filming," she shared. "A lot of surprises that our fabulous writers have cooked up. We did have a whole storyline about an impeachment but we did abandon that because we were worried that someone else might get to it first."
The Veep star concluded, "This is and continues to be the role of a lifetime and an adventure of utter joy. Thank you so, so much."
Here's to yet another year of history-making wins for Julia. Congratulations to all the winners!
Don't miss E! News tonight at 7 and 11 p.m. and tune in to the Fashion Police 2017 Emmys Special, with guest co-host Erika Jayne, at 8 p.m., only on E!