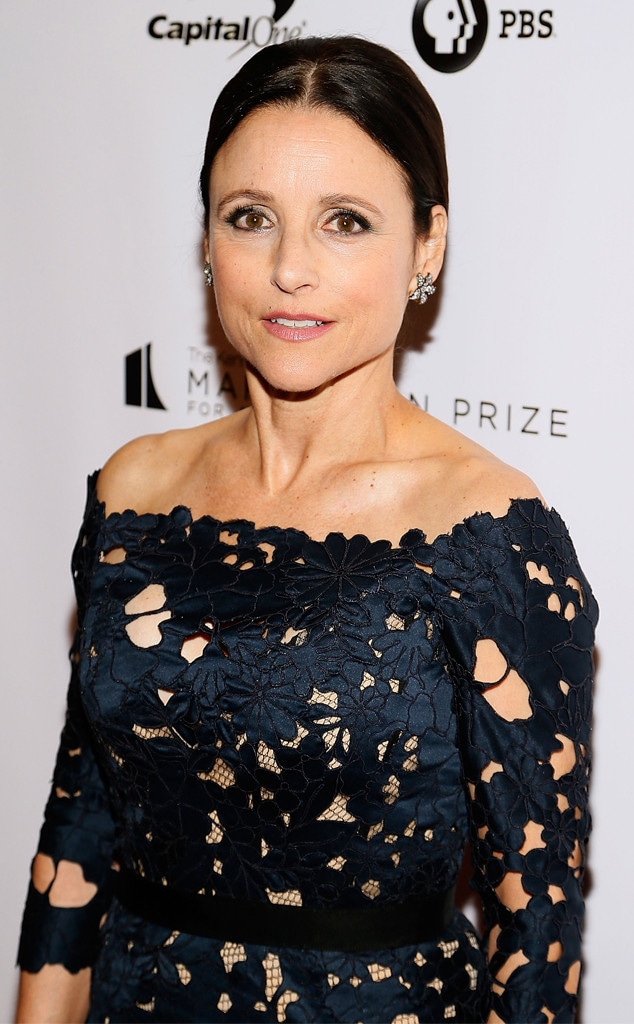 Paul Morigi/Getty Images
Julia Louis-Dreyfus is opening up about her breast cancer battle.
It was just over a year ago today that the Veep actress shared her diagnosis with the world. "One in eight women get breast cancer," Louis-Dreyfus tweeted to her social media followers in Sept. 2017. "Today, I'm the one."
"The good news is that I have the most glorious group of supportive and caring family and friends, and fantastic insurance through my union," she added. "The bad news is that not all women are so lucky, so let's fight all cancers and make universal health care a reality."
Louis-Dreyfus' diagnosis announcement came just days after she attended the 2017 Emmys, where she took home the award for Outstanding Lead Actress in a Comedy Series for her work on Veep.
Months later, it was announced that Veep had delayed production while star Louis-Dreyfus underwent treatment. Amid her cancer battle, Louis-Dreyfus kept her fans updated on her health journey via social media.
"There were people with long lenses trying to get pictures of me looking ill, and I think I kind of burst the bubble on a lot of it because of my social-media presence," she shared with The New Yorker in a new profile, published Tuesday.
In August, a smiling Louis-Dreyfus returned to the Veep set and shared a photo with her co-workers on Instagram.
"Guys, we just learned how to take a picture of ourselves on my phone!" Louis-Dreyfus wrote. "How cool is this? @veephbo Table read episodes 2 & 3 Season 7, baby!"
When asked by The New Yorker if she ever gave in to "fear" or "self-pity" during her health battle, Louis-Dreyfus replied, "'Am I gonna be dead tomorrow' kind of thing? I didn't let myself go there."
"Don't misunderstand: I was to-my-bones terrified," she explained. "But I didn't let myself—except for a couple of moments—go to a really dark place. I didn't allow it."
Describing her recent state of mind in the profile, Louis-Dreyfus said, "You know if you get on a horse and you have really tight reins and the horse is galloping? I felt like I had really tight reins on myself. That's what it felt like: I was just holding on tight."
"I've had a really rough year, blah, blah, blah—you know, we're getting through it," she continued.
Louis-Dreyfus, who lost her dad Gérard Louis-Dreyfus in Sept. 2016, then added, "I had a rough couple of years, actually."
This past October, Louis-Dreyfus received the Mark Twain Prize for American Humor. Tina Fey, Jerry Seinfeld and Tony Hale were among the stars in attendance at the Kennedy Center in Washington, D.C. to pay tribute to the actress for her years of work in the industry.
Chris Pizzello/Invision/AP
During part of her speech, Louis-Dreyfus got emotional as she discussed her health battle.
"Last year, I was lucky enough to get an Emmy award for my performance on Veep, which was an incredible thrill—and it set some kind of a record for most the Emmys by somebody for doing something or other. Then, about 12 hours later, I was diagnosed with cancer, another hilarious turn of events. I'm only half-kidding, of course," she said in part. "Cancer isn't at all funny, but a big part of dealing with it has been finding the funny moments. The old cliché about laughter being the best medicine turns out to be true—which is good, because that's what the current administration is trying to replace Obamacare with."
"When I was getting my hideous chemotherapy, I'd cram a bunch of family and friends into this tiny treatment room with me, and we really did have some great laughs. Of course, I was heavily medicated and slipping in and out of consciousness, so I was probably a pretty easy audience, but my point is that laughter is a basic human need, along with love and food and an HBO subscription. There's no situation—none—that isn't improved with a couple of laughs. Everybody needs laughs," Louis-Dreyfus told the audience. "The fact that I have had the opportunity to make people laugh for a living is one of the many blessings that I have received in my life."
"I do feel different, but I can't quite articulate how. I've come out the other side of this, and I'm still not exactly sure how to define the difference other than to say I'm grateful, of course, but it's more than that," Louis-Dreyfus told InStyle in September after beating breast cancer. "It's bigger."