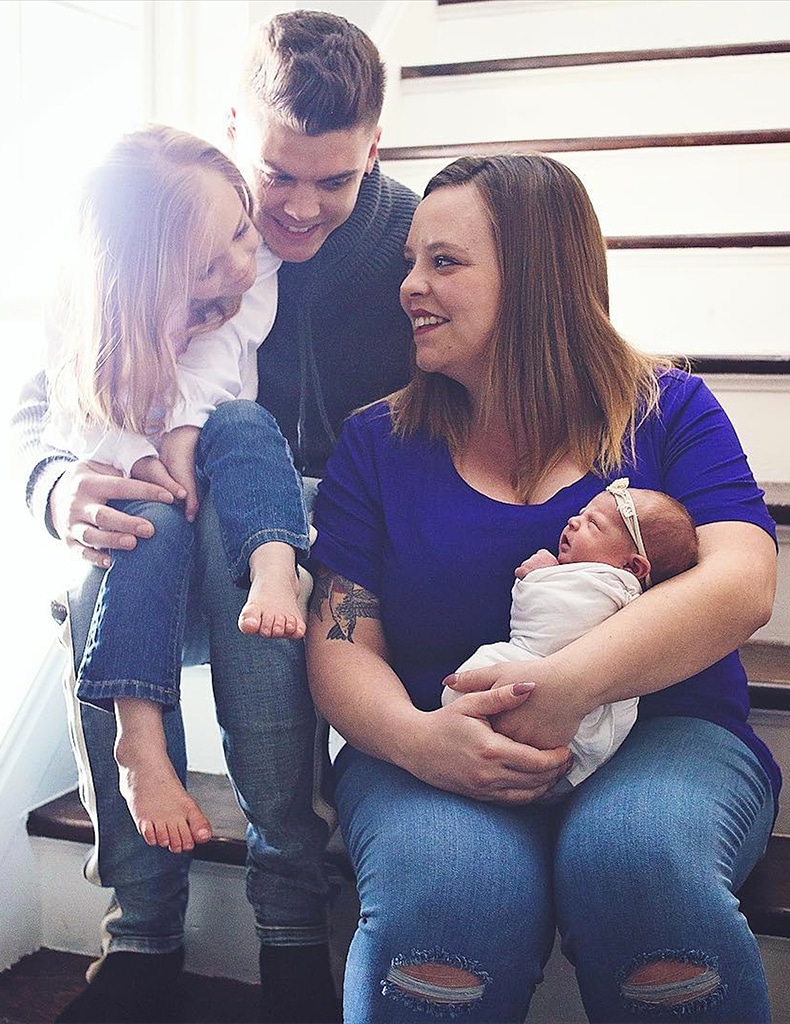 Brittni Marie Photography/Four 13 Photography
Tyler Baltierra is taking some time to look back at many of the ups and downs of the past year of his life.
The Teen Mom star shared a family photo on Instagram featuring his and Catelynn Lowell's new baby, Vaeda Luma as well as their daughter NovaLee Reign. They're all sitting on a set of stairs together smiling at each other. Nova looks fascinated by her new baby sister and Tyler's smile exudes pure joy and love.
Tyler described why the photo is so meaningful to him in the caption as well as the highs and lows that accompanied him throughout the recent months.
"This is my inspiration for everything! I love my family so much & there's nothing I wouldn't do for all of my girls!" he began. "After this past year with our miscarriage, Cate's mental health struggle, my dad & sister's recovery, & my own mental health journey...I thought this pregnancy couldn't have came at a more emotionally sensitive time for us." 
He continued, "But life isn't about convenient timing & destiny works in mysterious ways. I'm just so blessed that Vaeda's destiny was to be right here in her mother's arms, next to her big sister, who's wrapped in her daddy's arms...it's a feeling that's unexplainable."
Their baby girl was born on Feb. 21 at 9:24 a.m. 
Catelynn and Tyler have had their fair share of trying times recently, which he mentions in his caption.
In 2017, she sought treatment in the past for mental health reasons due to postpartum depression and suicidal thoughts.
The couple had some marital issues late last year and they took some time to live apart from each other. They called it a "30-day self-reflection" period and not a "separation." Although they lived apart, the parents still saw each other on a regular basis.
"We say, 'Let's just do 30 days of self-reflection time. You get to focus on you. I get to focus on me.' The main goal is to stay with my wife and live this life," he said on Us Weekly's Watch With Us podcast. "We love each other. It's crazy too because when you do grow up with each other, no one can really understand the bond. There is no explanation for it."
Catelynn and Tyler spent Christmas together and took to social media to profess their love for one another.
In honor of Catelynn and Tyler's newborn, take a look at the photos below to see some of their cutest family moments.
Congratulations on the new addition to the family, Tyler, Catelynn and Nova!