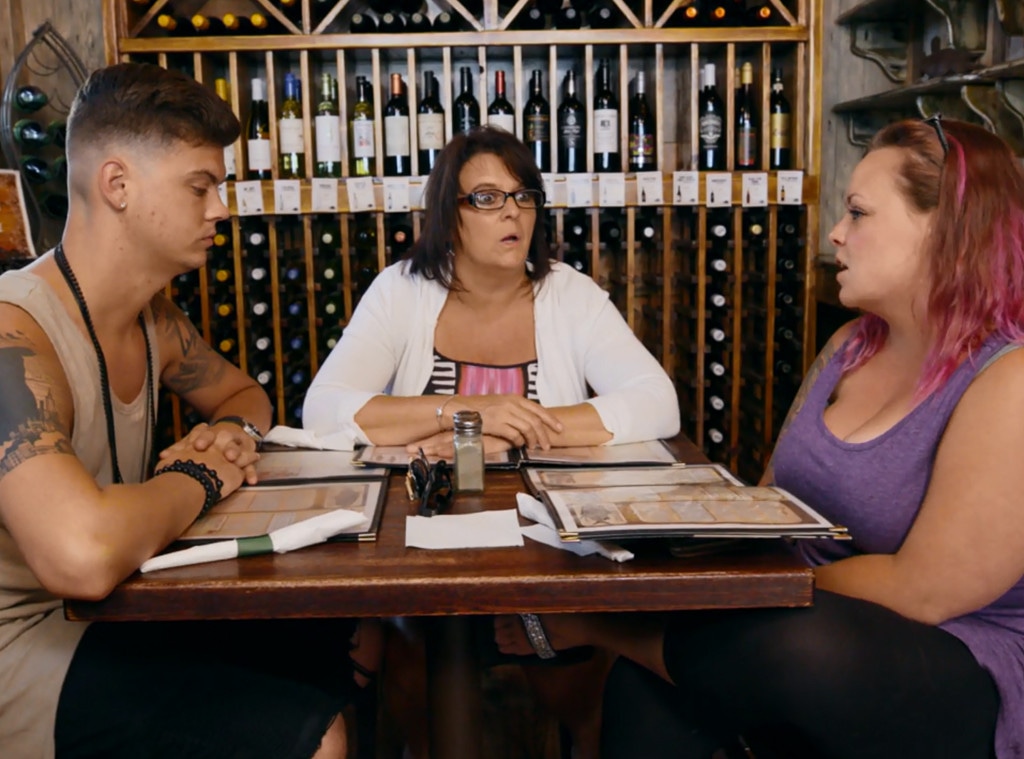 MTV
It's the question no Teen Mom OG fan wants to put in the universe: Is it possible that Tyler Baltierra and Catelynn Lowell could be headed for a divorce?
Ever since season seven of the MTV reality show kicked off October 1, there have been signs that this beloved couple aren't exactly on the best terms.  In fact, Tyler admitted that he hasn't been happy for quite some time.
"If someone were to ask me if I'm happy in my marriage I would say absolutely not," he told his therapist. "And I haven't been for a couple of years."
Fast-forward to tonight's all-new episode and the couple continues to document their ups and downs that most recently included a decision to participate in a one-month trial separation where they live separately but don't see other people.
"I was devastated at first, but now that I have started my own therapy, I'm more comfortable with the idea," Catelynn admitted in a November episode of Teen Mom OG. "All I want to share with the cameras is that me and [Tyler] learned that we've been together for so long that it's like who are you as a person by yourself?"
Ultimately, the cameras have caught many of the highs and lows of Tyler and Catelynn's relationship that started off at a young age. After first appearing on 16 and Pregnant back in 2009, the couple developed a strong fan base for being candid about their decision to give their daughter Carly up for adoption.
They would later welcome another girl named Novalee Reign Baltierra before experiencing a miscarriage. Currently, they are expecting baby No. 3.
"Getting pregnant was very unexpected," Catelynn admitted on the MTV show. "We still have a lot of work to do on our relationship. I know Tyler has been frustrated in our marriage for a while."
In therapy sessions filmed for MTV, Tyler wiped away tears when he declared that "I just need change." He also has experienced his fair share of family drama this season including sister Amber checking into rehab.
But Tyler and Catelynn are never ones to be victims of their bad environments. Instead, both parties are determined to get through this rough patch of their marriage. In fact, the word "separation" is too strong of a word according to Tyler.
"We say, 'Let's just do 30 days of self-reflection time. You get to focus on you. I get to focus on me,'" he recently shared on Us Weekly's Watch With Us podcast. "The main goal is to stay with my wife and live this life. We love each other. It's crazy too because when you do grow up with each other, no one can really understand the bond. There is no explanation for it."
That's not to say the rest of the season will be easy to relive. After the premiere, Tyler admitted on Twitter that the first episode will likely be the only episode he watches going forward. And perhaps we know why.
When asked if Catelynn's current pregnancy was planned, Tyler delivered a big fat no. "I'm not going to bring no f--king innocent kid into this s--t," he told his dad Butch.
"I'm trying to figure out how I can be supportive to Catelynn without being destructive to me," he added.
As for Catelynn, she's trying to balance parenthood, her pregnancy and work commitments while also trying to understand her husband's wishes. In recent episodes, Catelynn completed a marriage questionnaire by the request of Tyler's therapist. She also expressed support in doing couple's therapy in addition to individual therapy.
"I want to do that but I wanted to see my counselor a few times before jumping into that," she explained before recalling the moment Tyler asked for a one-month separation. "I feel in my mind, it makes it harder for a mom to be like trying to do that and take care of a three-year-old and then being pregnant. It's just a lot of stress."
Ultimately, both parties are dedicated to making the best decision for themselves and their families. And yes, they're going to do it on their time.
"Life isn't peaches and creams that's for sure," Catelynn shared in a November episode. "I mean for God's sake we were 16 when we gave away our own flesh and blood and we made it through that. I always said if we can make it through that, we can make it through anything."
Teen Mom OG airs Monday nights at 9 p.m. only on MTV.