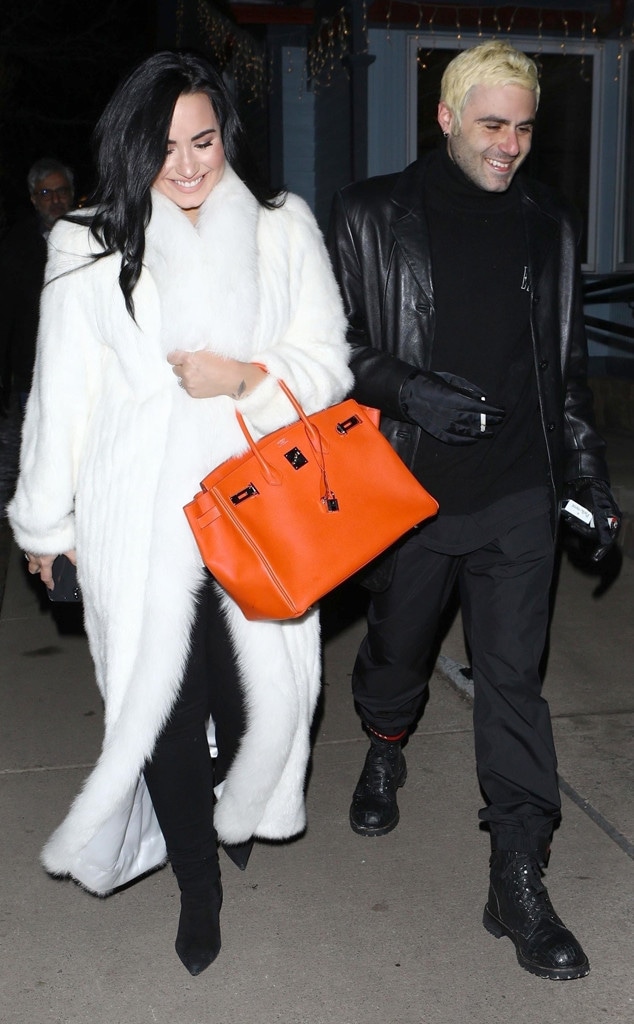 NEMO / BACKGRID
It's over between Demi Lovato and Henry Levy.
The 26-year-old pop star and the 27-year-old fashion designer have split, E! News has learned. Lovato and Levy, founder of clothing company Enfants Riches Déprimé, who is also known as Henri Alexander, had first sparked romance rumors after they were spotted on a sushi date in Beverly Hills in November, more than three months after the singer was hospitalized following a drug overdose. She then spent three months in rehab. A source told E! News that Lovato "recently went away for a few weeks to a center for additional treatment" and is "doing well and continues to focus on her wellness and sobriety."
"Demi and Henry split right after she entered treatment for the second time," another source said. "She entered treatment for her mental health issues and not because she relapsed. Demi knows she will be battling her struggles for a very long time and wants to take precautionary measures when she feels the need to check in on her health. She never wants to get to a place where she was last year when she relapsed. Demi and Henry decided to split because none of her family members approved of her getting into a relationship so quickly and wanted her to focus on herself and her health. Demi felt distracted and overwhelmed, and wanted to take a breather and truly get healthy."
The insider added that Lovato has been back in Los Angeles and has been spending a lot of time at her mom's house, has been going to the gym regularly and is focusing on herself.
"She is now out and back at home where she's continuing therapy, workouts and making new music," the first source said. "She is in a good place and happy. She is surrounding herself with the most positive friends and influences. She is perfectly fine with cutting anyone out of her life that doesn't support her sobriety 100 percent. She takes this extremely seriously and is committed all the way."
A third source added that despite past reports, Levy was never Lovato's sober companion. 
Watch:
Demi Lovato's Sister Gives Update on Her Rehab Progress
In December, a month after they were first seen together, Lovato and Levy were spotted out together again, and were photographed kissing on the lips outside another sushi restaurant, in Malibu. They were also photographed holding hands while out on a nighttime stroll in Beverly Hills. Late that month, Levy made their romance Instagram official—Lovato fan accounts captured a video allegedly uploaded onto his private Instagram Story, which showed him and the singer kissing and smiling.
During the New Year's holiday, Lovato and Levy were photographed on vacation in the resort town of Aspen, Colorado. On Valentine's Day, Levi posted on Instagram, "Happy Valentine's Day to this beautiful soul @DDLovato. I love you to the moon and back."