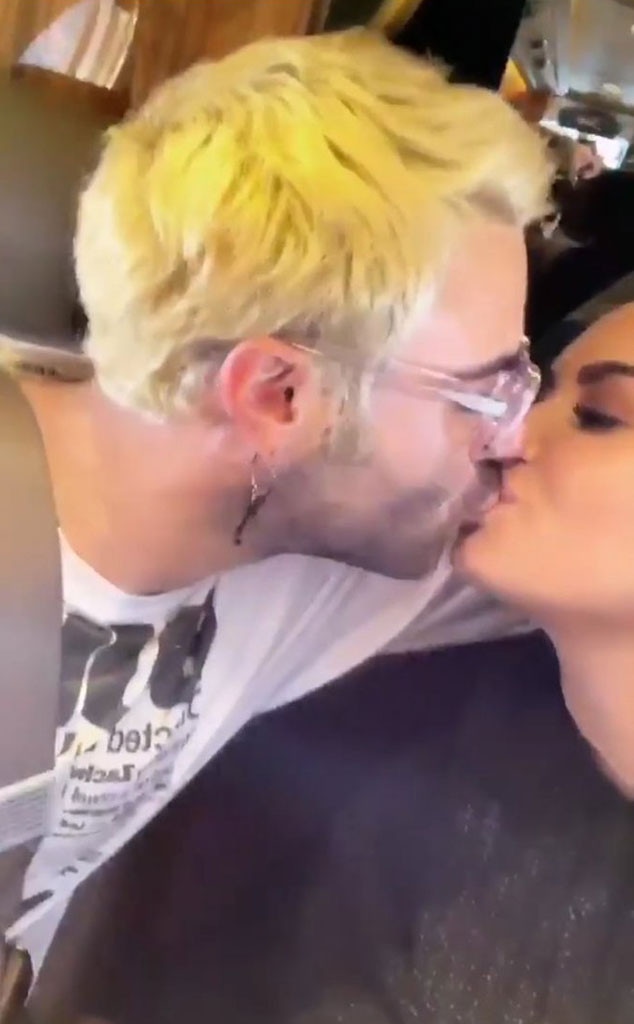 Twitter
Demi Lovato and her beau Henry Levy have made their fling social media official.
Lovato fan accounts captured a video allegedly uploaded onto Levy's Instagram Story. His profile is set to private. In the video, the "Confident" singer smiles at the camera and puckers her lips at the fashion designer. Levy leans in, wraps his arm around her and gives her a big kiss on the lips. The two of them then look back at the camera and smile.
Although this isn't the first time they've packed on the PDA, it seems like this is the first time either of them has put anything publicly on social media about it. Lovato has remained mum about it on her accounts.
The 26-year-old singer and Levy were first seen sharing a kiss on Dec. 8 outside of Nobu in Malibu.
Lovato and Levy connected in Los Angeles after the singer returned from rehab. The two of them enjoyed a sushi dinner together on Nov. 3 and it seemed to be one of her first public outings in L.A.
An eyewitness said at the time, "Demi looked great and so happy to be out. There wasn't any PDA or romantic gestures, but she was smiling and laughing throughout dinner."
An insider later told E! News that Levy was acting as her "sober companion." The source said, "Demi wants to be around people who are like-minded and Henry is good energy for her."
Another source explained to us that Lovato had been on Levy's radar for a few years because she wore clothes from his clothing company, Les Enfants Riches Déprimés. "He had always appreciated her for wearing his clothes early on in his career," the source said. "Friends are hopeful he and Demi are working on their sobriety together."
Last week, Lovato spoke out about her sobriety and slammed tabloid stories that spewed out untruths. "If I feel like the world needs to know something, I will tell them MYSELF. Otherwise people stop writing about my recovery, because it's no one's business but mine. I am sober and grateful to be alive and taking care of ME," she wrote in one tweet.
In another message, she shared she still "needs time and space to heal." 
The most important thing for the singer was to spread an important message to her fans. She told them, "I'm working hard on myself, I'm happy and clean and I'm SO grateful for their support."