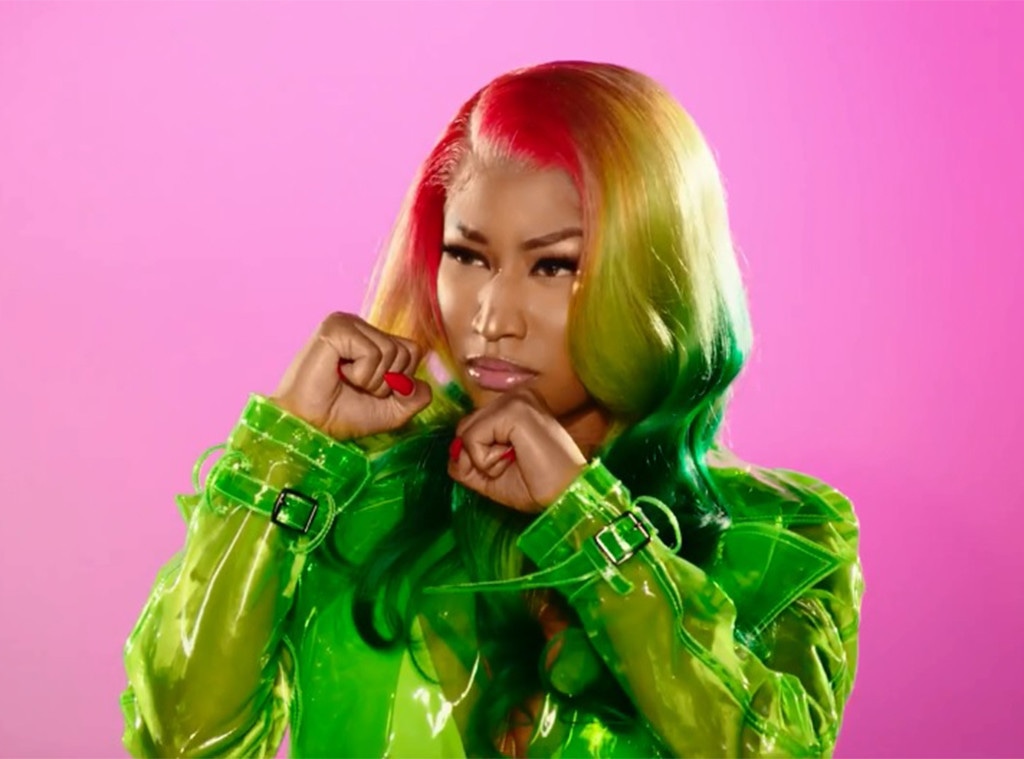 VEVO
Nicki Minaj knows a thing or two about timing.
On Monday night, the rapper released her music video for her hit song "Barbie Dreams" off her most recent album, Queen. The video dropped the same day that the "Super Bass" singer spoke at length during a radio show about an altercation that occurred with Cardi B at the Harper's Bazaar Icons party during 2018 New York Fashion Week.
Queen came out on Aug. 10 and the songstress called this album her "best." The song "Barbie Dreams" names a hefty number of rappers, including but not limited to Drake, DJ Khaled, Lil Uzi Vert, 50 Cent and ex-boyfriend Meek Mill as well as New York Giants wide receiver Odell Beckham Jr. just to name a few.
The video begins with an appearance by a Muppet lookalike. A few of those characters—much more R-rated than the real Muppets—make sporadic cameos throughout the song. 
Minaj rocks at least 5 different neon outfits and wigs, including rainbow, bright green, and yellow hair. Neon never looked better.
Minaj raps about sex, relationships and what it takes to get with her in the song. When "Barbie Dreams" first came out, Minaj clarified that the song wasn't a diss track, but rather friendly play to all her pals. She said on Beats1 radio, "With 'Barbie Dreams,' you guys do know that is not a diss, right? You do know that the people I said on 'Barbie Dreams'… I said things about people who I know can take a joke and who I know can't be emotional with it."
She added, "Everyone is saying how disrespectful 'Barbie Dreams' is and that's why I f--king love it."
Minaj struts her stuff showing off her trademark wink and cat-eye makeup all while proving you don't want to pick a fight with her.
Today, the rapper broke her silence on her radio show also named Queen about her run-in with Cardi. At the event, Cardi lunged at Minaj after she allegedly made a comment about Cardi's daughter, Kulture Kiari Cephus. Minaj said on the radio, "The other night, I was a part of something so mortifying and so humiliating to go through in front of a bunch of upper echelon people." 
She continued, "I will never forget it. I was mortified."
Minaj denied ever making a statement about Kulture. "I would never discuss anyone's child," she said. "I don't care about anyone's parenting. I don't give a s--t...I just want to let the world know that Onika Tanya Maraj would never, has never and will never speak ill of anyone's child. I am not a clown."
Watch the full music video for "Barbie Dreams" above.