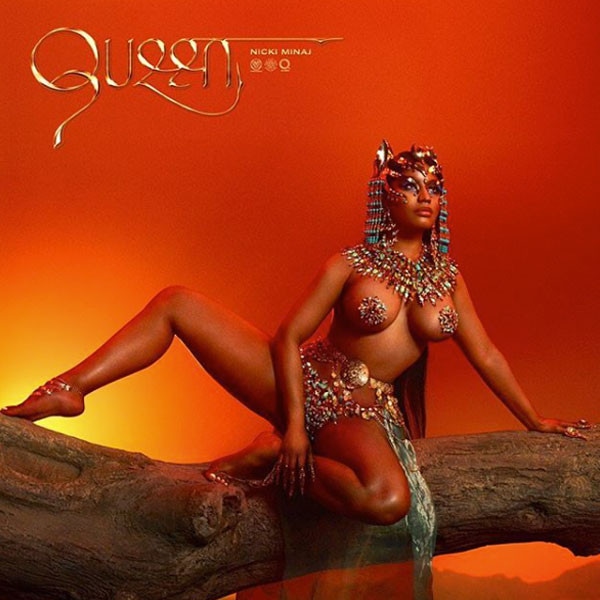 Instagram
The Queen has arrived. 
After four years of keeping fans on their toes, Nicki Minaj has officially released her long-awaited fourth studio album, titled Queen, and the star certainly has a lot to say. The 19-track album has been fueling serious anticipation since the Grammy-nominated rapper first revealed in April that a new album was on its way after her musical hiatus. 
Well, the long wait may have been worth it considering Minaj has called it her personal "best."
"I didn't lie. This album is really my best, trust me," she said while debuting the album on Apple Music's Beats 1 on Friday. "Whole way around."
While the album overall has sent fans rapping into the weekend, there are a few specific verses that demand some attention. Without further ado, allow us to break down the new beats: 
The track to ignite the most headlines seems to be "Barbie Dreams," in which Minaj name-drops 50 Cent, Drake, Lil Uzi Vert, DJ Khaled and many more. While fans have interpreted the track as something of a massive diss to those mentioned, the star insisted that it was all in good fun. 
"With Barbie Dreams, you guys do know that is not a dis, right? You do know that the people I said on 'Barbie Dreams'… I said things about people who I know can take a joke and who I know can't be emotional with it," she said on Beats 1. "It is what it is."
"Reading the reactions to 'Barbie Dreams'—f--king hilarious!" she added. "Everyone is saying how disrespectful 'Barbie Dreams' is and that's why I f--king love it."
Either way, she had plenty to say as she rapped about 50 Cent and his show, Power, ex Meek Mill hitting up her DMs and rejecting Lil Uzi Vert. She also made fun of Drake, rhyming, "Drake worth a hundred milli, always buying me s--t/But I don't know if the p---y wet thought or if he crying and s--t." The two have been longtime friends and Minaj has described their relationship as that of an "old married couple."
Perhaps the biggest dig was at DJ Khaled when she rapped "Had to cancel DJ Khaled, boy, we ain't speaking/Ain't no fat n---a telling me what he ain't eating." The line was in reference to a previous interview in which Khaled admitted he does not perform oral sex. 
"I love Khaled's wife 'cause she's my baby, too," Minaj added during her interview on Beats 1. 
Elsewhere on the album, fans suspect Minaj may have shaded Cardi B. The two female rappers have been rumored to have beefed in the past, though it was suspected that any conflict had been resolved when they were spotted mingling at the 2018 Met Gala. 
Still, on "Ganja Burns," one line raises an eyebrow: "They done went to witch doctors to bury the Barbie/But I double back, kill bi--hes, bury the body." When listening to the track, it sounds like Minaj says "Bardi" instead of "body," an obvious reference to Cardi B's nickname. 
Later on in the song, she references her signature wigs ("Yo, you can't wear Nicki wig and then be Nicki"), perhaps a reference to past fan comments claiming Cardi B's style was reminiscent of Minaj's. 
Either way, Minaj is clear: she puts in the work and wants to be recognized as one of a kind. 
As she notes on "Ganja Burns," "You gotta have real skill, gotta work for that/If it's really your passion would you give the world for that?/Unlike a lot of these hoes whether wack or lit/At least I can say I wrote every rap I spit."