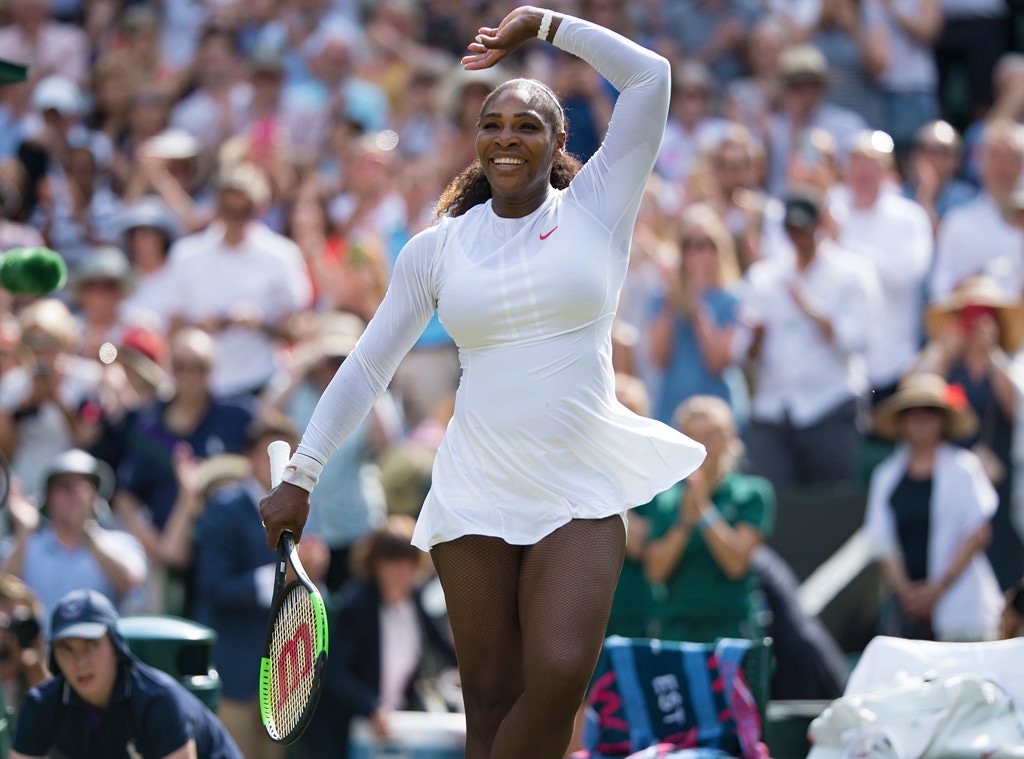 Mark Greenwood/IPS/REX/Shutterstock
What will Serena Williams revolutionize next?
She already changed the entire sport of tennis with her very existence. For the better part of 23 years, since making her professional debut at 14, she's dominated the game at an unprecedented level, winning an Open Era-record 23 Grand Slam titles, and on Saturday she has a chance to stand alone atop the mountain.
Well, she'll stand with Margaret Court, who is No. 1 all-time with 24 Grand Slams, but Serena has broken so many records on her ascent that really it's a pinnacle all her own.
For starters, 36 used to be considered ancient—post-retirement age, really—in tennis years, but Serena is leading the charge for an elite pack of resurgent athletes, including her 38-year-old sister, Venus Williams, and 36-year-old Roger Federer, who don't look inclined to hang up their rackets anytime soon.
But only one of those three is playing in a Wimbledon final this weekend.
But Serena had already made her mark on the tournament this year before she ever stepped foot on Centre Court. 
The outcry over her unseeded status at the French Open—she didn't lack points for failing to win or because of injury, but rather because she was busy for over a year having a baby—led to the USTA reexamining the ranking and seeding process. Though she was still only 183rd in the world headed into the fortnight, the All England Cub gave the seven-time Wimbledon singles champion the 25th seed—prompting applause from those who saw it as a significant step for female athletes and some grumbles from fellow players who simply thought it unfair to those who'd been active on the tour.
"I don't think it's the right thing to do," Dominika Cibulkova told the BBC before the decision came down. "I think it's just not fair." Ranked 32 in the world, Serena's gain meant she was bumped out of a seeding, which goes up to 32. She lost in the quarterfinals to 12th-seeded Jelena Ostapenko.
"Pregnancy will not be penalized," USTA spokesman Chris Widmaier said last month. "If Serena Williams enters the 2018 U.S. Open, the USTA will recognize her accomplishments, recognize her return to the workplace and will seed her, regardless of what her ranking is."
Well, it looks like the USTA won't have to worry about it. By making it into the Wimbledon final, where she'll face off against German player Angelique Kerber, 30, Serena's ranking is due to go up enough for an automatic seeding at the US Open.
Rob Newell - CameraSport via Getty Images
"It's crazy," Williams declared after her straight-sets semifinal win Thursday in the post-match press conference. "I don't even know how to feel, you know, because literally, I didn't expect to do this well in my fourth tournament back. I just feel like when I don't have anything to lose, I just can play so free, and that's kind of what I'm doing."
She told reporters, "This is not inevitable for me. I had a really tough delivery, and I had to have multiple surgeries and almost didn't make it, to be honest. I remember I couldn't even walk to my mailbox, so it's definitely not normal for me to be in a Wimbledon final. So I'm taking everything as it is and just enjoying every moment."
And while she's always had a group of devoted supporters in her box over the years, between her mom, dad, sisters and celebrity fans such as Drake (who was in the house for the quarterfinals this week), this marks her first Wimbledon as a mom and—no more Drake dating rumors!—it's husband Alexis Ohanian who is now leading the cheers.
James Marsh/BPI/REX/Shutterstock
Earlier in the tournament Serena lamented that she had missed daughter Alexis Olympia Ohanian's first steps, taken while her mom was out training—but she didn't let a case of mom guilt get to her.
As has been noted throughout her career but often overshadowed by her physical strength and usually unparalleled fitness level, Serena's mental toughness continues to be the silent superpower that gets taken for granted but always proves pivotal when a match is on the line. She hesitated for a flickering moment during her semifinal against 29-year-old Julia Georges, getting broken when she first served for the match. But she quickly broke back for a 6-2, 6-4 victory.
"Whatever happens [on Saturday], honestly it's an incredible effort from me," Serena also said after the match, "and good motivation to keep going for the rest of my career."
Which, depending on whether she can avoid physical injuries (she pulled out of the French Open before a hotly anticipated fourth-round match against Maria Sharapova with a pectoral injury), will seemingly continue to go on for as long as she feels like it.
Shot-wise, when she's not hurt, Serena's fairly unstoppable. She told reporters she hadn't even started practicing her serve again until she got to England to warm up for Wimbledon. 
"Seeing her back, it's great," Kerber, the two-time Slam winner who stands between Williams and more history, told reporters. "I know that she is always pushing you to the limits to play your best tennis. This is the only chance to beat her."
"I thought I was the hardest-working person on the planet," Ohanian told The New York Times in April, marveling over how his wife had gotten herself back fighting shape in seemingly record time after giving birth to their daughter last September. "I thought we were the hardest-working industry. That's what we tell ourselves. It's all malarkey.
"I've had this front-row seat over the last three years to greatness. It's a humbling experience seeing really what high-pressure situations actually look like professionally, seeing just what it takes to actually be that great. It is a work ethic on another level."
Serena had hoped to be back in time for the 2018 Australian Open, having won in 2017 in the early stages of her pregnancy, but she is only human. In the hours after Olympia was born, the athlete developed blood clots—she previously developed a pulmonary embolism in February 2011 after already having spent months on the sidelines while recovering from a severe foot laceration that required two surgeries—and the bouncing-back process was delayed.
With her life actually ending up in danger, Being Serena, the docu-series she had agreed to shoot for HBO to provide people with a peek inside her real life—and have a fun, thorough chronicle of her pregnancy and her child's first days—turned into a far more harrowing story than she anticipated.
Meanwhile, there was no way to predict how Williams was going to feel after actually becoming a mom. Maybe the fire that had burned for two decades would be dimmer—or even extinguished—by her newfound circumstances. Maybe 23 years of discipline, sacrifices and tiresome travel would prove to be enough.
It's not as though she didn't have a host of other irons in the fire, from her fashion line and ongoing philanthropic endeavors to her new role of SurveyMonkey board member that she assumed in 2017. "Silicon Valley is really, really, really not open yet to having a lot of women or anyone of color, male or female," Serena said in June 2017 at the SheKnows Media #BlogHer17. "Those two barriers alone are really things we have to break down in the fastest-growing part of the world in general in technology. It's really important to me to not just be a seat warmer but to really be a voice."
There's also the fact that she doesn't have to do anything right away other than just enjoy life with her husband and child—because it's a sweet one. A few weeks before the French Open, she and Ohanian bundled up Olympia and brought her to Windsor for the royal wedding. The baby didn't actually witness Prince Harry and Serena's longtime friend Meghan Markle say their I-dos, but there will in all likelihood be future trips to various palaces in her future.
But it's long since been apparent that Serena Williams is a master multi-tasker among her various other talents. 
"I didn't want to let her go; I don't want to let her go," Williams told The New York Times, recalling her determination to get that baby carrier into the house herself when she first returned from the hospital, weakened by the post-delivery complications. "I like to believe, and I would like other people to understand, that I'm no different than anyone else. I have the same struggles a lot of women have had, and a lot of women are probably determined to carry their baby in the door. And a lot of women are determined to do a lot of the stuff that I do, and there's literally no difference between me and them with the exception of the side of me that just so happens to play professional tennis."
About her stance that she—or any woman—shouldn't be penalized in her chosen profession for going on maternity leave, she recently told InStyle, which put her on the cover of its August 2018 Badass Women Issue: "It's just because it's me that it's big news—this has been happening for a while. But I'm glad attention is being brought to it because something needs to be changed, and, hopefully, it will be."
"You have to be confident," she told the magazine this summer about the art of being badass. "Someone who's a badass is incredibly confident and unapologetically herself. And she doesn't care what anyone else says—but in a positive, not a negative, way. It's more like standing up for yourself and others. The whole #MeToo movement, those women are badass. They're not afraid to say what's wrong and what affected them."
She admitted that, general confidence aside, most things having to do with her daughter turn her into a bundle of nerves.
"Like, is she OK? What is she doing? Did she fall? Did she sit?" she described the feeling. "Even when she crawls I shadow her so she doesn't hit her head. I have a padded floor—everything makes me nervous about her. Is she in the car? Who's driving? Why am I not driving? I want total control."
But while she may not want to be anywhere her daughter isn't until the girl is 18, she doesn't have to worry about those logistics for at least few years. At 10 months old, Olympia is already a world traveler.
And with Williams' body holding up and that competitive fire still in her belly, retirement feels a long way down the road. 
"There are records out there that I want, and I'll get there, but in due time," she told InStyle. "I'm always in the fast lane. I'm always extra. I have to be willing to do the work, and I have been. Because, to be honest, I feel pressure to be Serena. But these days I keep telling myself I don't have to be anything. This is for me."
The work has since paid off and another Grand Slam final beckons. For now, with Meghan Markle and Kate Middleton expected in the box to watch on Saturday, royalty will just have to come to her. She is Serena, after all.
(Originally published July 12, 2018, at 12:15 p.m. PT)