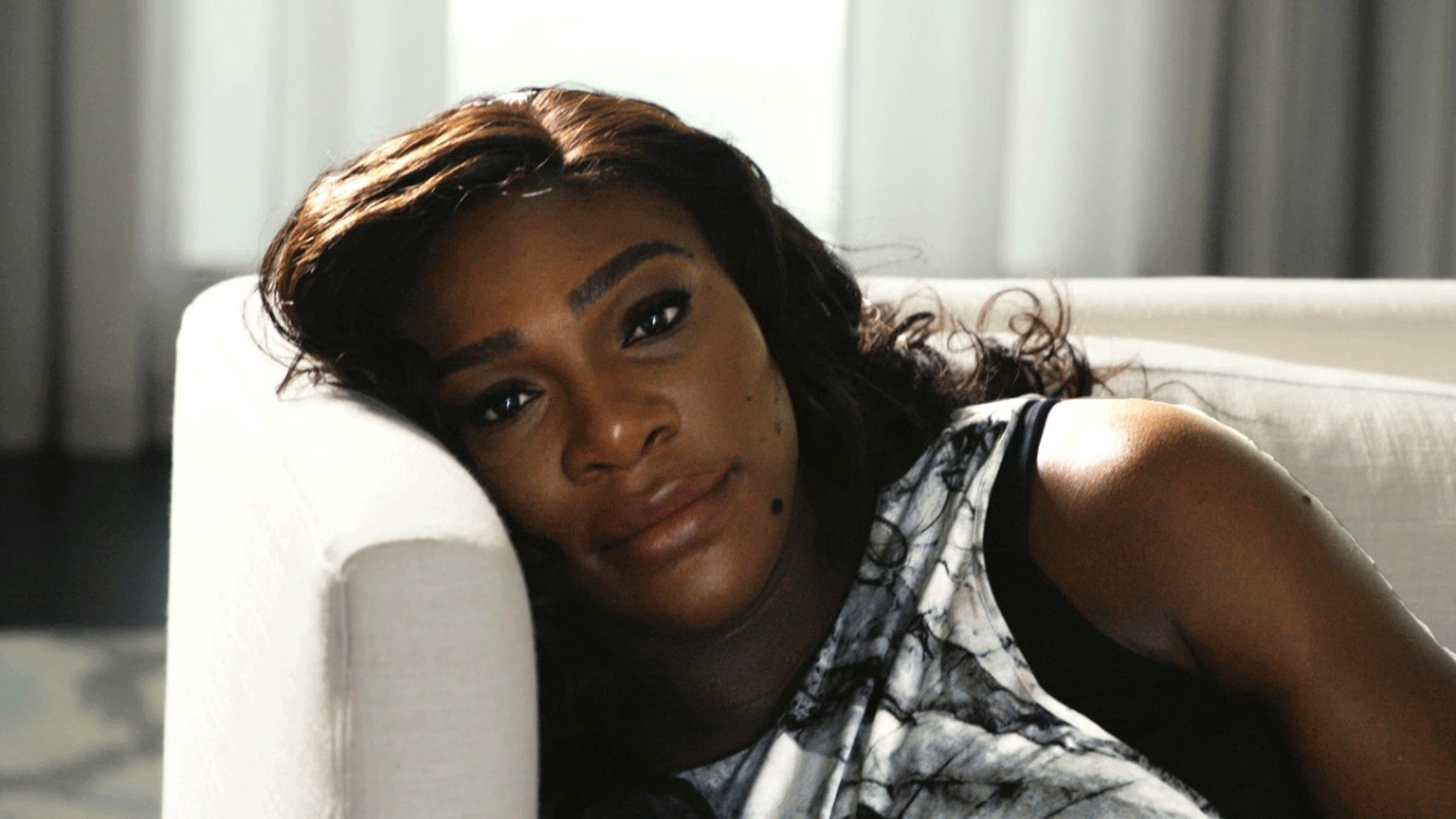 HBO
Serena Williams is working on her game plan. Two of them, in fact.
The tennis star is continuing to build up her strength and stamina, and re-stoke her competitive fire after giving birth to her first child last September. She remains title-less since her return to competitive tennis in March, is ranked 453rd on the WTA Tour and won't be seeded at the French Open when it begins Sunday but, due to her prestigious record, could still be awarded a high seed (perhaps even No. 1) at Wimbledon next month.
Williams' plummet in the rankings has been referred to by some to be a "pregnancy punishment," her time off for what amounts in the business world to maternity leave having been treated as if she was out of commission for an injury or other absence during which players are unable to compete and earn points.
And since it would be a big, possibly illegal no-no to penalize a woman for getting pregnant in most work settings...
"For someone who goes on maternity break, they should be protected," retired tennis player James Blake told CNN in March. "These kind of things shouldn't happen. She has won this title so many times that she needs protection.
"It's not as if she left because of injury and lost her passion for the game. She had a kid which we should all be celebrating so when she comes back there should be a grace period where she can still be seeded. It's a kind of punishment, which is tough."
Darrian Traynor/Getty Images
Of course, he added, "I may be complaining about it but she never would. She is looking forward to every day as a new challenge and that's what makes her such a good champion."
So true. But while she's a gracious winners, she also speaks her mind when she sees an injustice.
"I think it's more of a protection for women to have a life," Williams told The New York Times recently. "You shouldn't have to wait to have a baby until you retire. If you want to have a baby and take a few months off or a year off and then come back, you shouldn't have to be penalized for that. Pregnancy is not an injury."
Michael Bezjian/Getty Images for Kelly Howard
Coming back from pregnancy and ensuing health scares, which included developing blood clots in her lungs, has proved a challenge though.
"I never felt winded like that," she told the Times. "And it felt like no matter what I do, the weight is taking forever to get off, and it was crazy. Finally I was able to get better, but it took forever."
Her tournament return at the BNP Paribas Open in March went OK—she lost to sister Venus Williams in the third round—and she's only played in Miami since, opting to pull out of a couple of clay-court tournaments before the French Open. But Serena is happy to be back, and wouldn't be back if she didn't have the desire to compete at the highest level and didn't think she could still win. But though she hates—hates—to lose, she's got her eye on another prize that, while still in the distance, looms closer every day. 
Though Serena continued to set the bar ever higher right up until she pressed pause for her pregnancy, the 36-year-old athlete is closer to the end of her career than the beginning. And that's where the second game plan comes into play.
While she's never been in denial about her tennis mortality, a few years ago the impending end of her playing career looked different than it did now.
"I'm not going to play tennis forever," Williams told CNNMoney in September 2016 after falling short of another U.S. Open title but also after showing another signature collection for HSN at New York Fashion Week. "I know I have been playing forever, but one of these days I'm not gonna play so it's always good to know that if I want to go to the office... I can do that."
Always into fashion, Williams has also collaborated designed jewelry and handbags, collaborated on collections for Nike and Puma, been on the cover of Vogue twice and counts Anna Wintour, a huge tennis fan, as a friend.
"She always looks incredible and obviously she has that amazing figure," Wintour praised Williams to Page Six in 2016 at the premiere of the documentary Serena. "She's like an extraordinary creature on the court. It's a joy to see her play."
Evan Agostini/Invision/AP
Fashion is "the best thing because it's like I don't really care [about losing] because I have to make sure these girls and these amazing models look great," Serena said at NYFW. "I can't have Anna Wintour sitting in the front row saying, 'This doesn't look good.' That's always been my saving grace here."
More fashion is still right up there on Williams' post-tennis to-do list, and TMZ reported in March that she filed to trademark her Aneres brand name in a number of beauty categories (Serena makeup and skincare sounds like a logical idea to us), but an office may no longer be where she plans on spending most of her time.
By mid-2016 she had been quietly dating Reddit co-founder Alexis Ohanian for about a year, but it wasn't until right before the 2017 Australian Open in January that she found out she was pregnant. It took a little time to adjust to the news—she took six at-home pregnancy tests just to be sure—but learning she was going to become a mom obviously irreversibly altered her course. (But first, victory, beating Venus to notch her 23rd Grand Slam title.)
To help cement her legacy, to bring her closer to her fans, to maybe clear up a few things and so that her daughter Alexis Olympia's arrival in this world would be fully documented, in a rather uncharacteristic move Williams signed up for a limited HBO docu-series about her life.
The five-part Being Serena premiered this month and follows her pregnancy excitement and trepidation; the life-threatening complications that ensued, which preempted what she intended to be an earlier return to tennis; and Serena bonding with her husband and daughter.
The finished result is a look at a far more vulnerable (albeit still carefully curated) Serena than the one we've become acquainted with over the last two decades, perhaps something that never would have happened if she hadn't become a mom.
"A lot of people see me on the court, and they only judge and see that side of me, and there's so much more to my life and to me," she told the Times. "That's not me, actually to be honest, on the court. As much a part of my life as it is, I become a different person when I play tennis. The second I step onto the facilities, the grounds, I become a different person, and the second I step off, I'm back to being Serena, no pun intended.
"So I thought it would be interesting, while we were going through this process, if I just took all the curtains away, and I was just myself."
It's unclear yet what Williams' connection to professional tennis will be once she retires (she doesn't seem to be headed for a career in broadcasting, for instance), aside from the countless times she'll be honored and mentioned as one of the all-time great players.
But while she was pregnant, she also took the opportunity to add more irons to the fire that will continue to burn long after she hangs up her racket.
In May 2017 she joined the board of Silicon Valley-based SurveyMonkey and the following month at the SheKnows Media #BlogHer17 conference, Williams was announced as an ambassador for the Allstate Foundation Purple Purse, an initiative to aid victims of financial domestic abuse—such as when women feel they can't leave an abuser because their partner controls the finances and they'll be left destitute, they're afraid to lose what they've earned or their partners have stolen money from them.
"It's an invisible form of abuse that I think people really don't know about and don't see," Williams said at the event, per ESPNW. "When they think of abuse, they think of cuts and bruises and stuff like that...I don't know what they're going through and I'm not going to sit here and say 'I know how you feel. But what I can do is be their voice and help [other] people understand what they're going through."
About getting involved in the West Coast tech scene, Williams continued, "Silicon Valley is really, really, really not open yet to having a lot of women or anyone of color, male or female. Those two barriers alone are really things we have to break down in the fastest-growing part of the world in general in technology. It's really important to me to not just be a seat warmer but to really be a voice."
Money is certainly no object for Serena, who in 2017 was the only woman to make Forbes' list of the world's highest-paid athletes, coming in at No. 51 with $27 million, one of her smaller checks in recent years. Ohanian sold Reddit for a reported $10 to $15 million in 2006, returning to the company as CEO in 2015 and then stepping away again earlier this year to re-focus on venture capital. He co-founded VC firm Initialized Capital in San Francisco in 2012 and has invested in various start-ups over the years.
"I thought I was the hardest-working person on the planet," Ohanian told the New York Times in April, talking about his wife. "I thought we were the hardest-working industry. That's what we tell ourselves. It's all malarkey.
"I've had this front-row seat over the last three years to greatness. It's a humbling experience seeing really what high-pressure situations actually look like professionally, seeing just what it takes to actually be that great. It is a work ethic on another level." Also, "I could not imagine doing my job with millions of people watching."
Happily, both of their jobs allows them the means and the opportunity to enjoy the fruits of their labor—and they do enjoy their leisure time.
Ohanian and Williams attended their first Met Gala together last year. They had a huge wedding in New Orleans in November that boasted three dresses for the bride and both the presence of Beyoncé and a performance by a specially reunited New Edition. The newlyweds then honeymooned in the Bahamas, staying in a $35,000-a-week oceanfront villa.
To go with her Florida mansion, last fall Williams added a contemporary 6,000-square-foot home in Beverly Hills to their real estate portfolio for $6.68 million. Meanwhile, she put the 6,000-foot abode in Bel-Air she bought in 2006 for $6.7 million on the market for $11.995 million (and just reportedly dropped the price by $2 million in April).
Ohanian has been based in San Francisco since relocating their from Brooklyn some years ago, but he and Serena and their daughter have been spending most of their postpartum time in Florida—though signs seem to be pointing due west, at least some day.
"To be honest, there's something really attractive about the idea of moving to San Francisco and just being a mom," she told Vogue, which featured Serena and Olympia on the February 2018 cover. "But not yet. Maybe this goes without saying, but it needs to be said in a powerful way: I absolutely want more Grand Slams."
Yet at the same time, "knowing I've got this beautiful baby to go home to makes me feel like I don't have to play another match. I don't need the money or the titles or the prestige. I want them, but I don't need them. That's a different feeling for me."
And apparently a part in Being Serena where she groggily jokes about having another baby while they're on the way home from the hospital wasn't a hallucination sequence. "Oh yeah, if I wasn't wanting to play tennis," she told the New York Times, "I definitely would have talked Alexis into having a baby already."
Having also said that she doesn't want to spend a day apart from her daughter until she's 18, Alexis and Serena toted Olympia right along with them when they headed to England for Prince Harry and Meghan Markle's wedding last weekend. As if life wasn't already glamorous enough, Williams has known the newly titled Duchess of Sussex for years.
Williams couldn't help but steal a little slice of the spotlight, both with her getting-ready Instagram story, prominently co-starring the whole family, and her fabulous day and nighttime looks.
And now they're in Paris, where Williams will look to resume the mantle of reigning queen of tennis, having won at Roland Garros three times, most recently in 2015.
And despite the careful laying of the groundwork for the retirement plan, Serena has as many matches left in her as her body will allow her to play.
In Being Serena, when Alexis asks Serena, who's still in her hospital bed, "What did you say when someone said that our little girl was going to win Wimbledon in like 15, 20 years?," the newborn's mom fires back, "Not if I'm still on tour!"