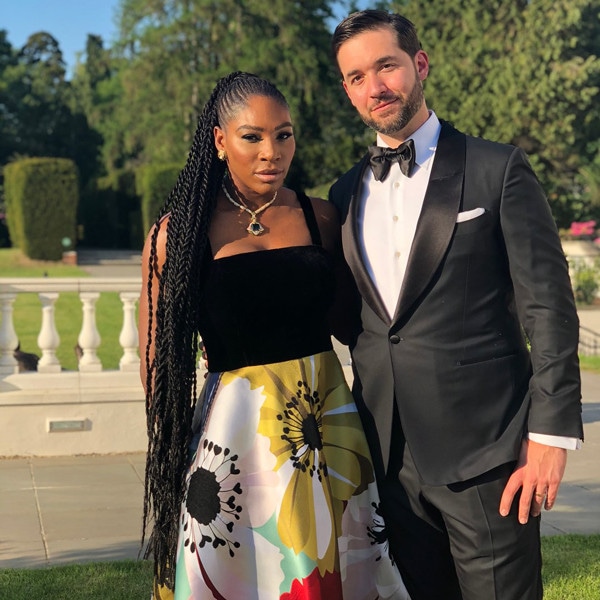 Instagram
Serena Williams may have been the belle of the ball at Prince Harry and Meghan Markle's exclusive wedding reception at Frogmore House in Windsor Castle but there's one thing you may not have noticed about her regal look—her footwear.
Last night, Serena posted several photos from the evening with Alexis Ohanian, who wore a Tom Ford tux. The tennis champ donned a floor-length gown from Valentino's Fall 2018 collection and a Bulgari necklace 
But it turns out there was something under the dress you couldn't see, which was her comfy sneakers!
"Little known fact: I often wear sneakers under my evening gown. These @maisonvalentino @pppiccioli gave to me last min. I told him be careful I tend to be comfy for long nights #beingserena."
That's one plus about wearing ballgowns!
The superstar athlete posted a too-cute video boarding the bus en route to the exclusive reception.
For the couple's nuptials earlier in the day at St. George's Chapel, Serena opted for a blush Versace dress, along with a matching blush fascinator. 
The reception guest list was only 200 people long, while the 600 people were at the wedding ceremony.
When she appeared on Good Morning America in April, Serena said she wasn't sure if she was going to make the royal wedding due to her tennis schedule. 
"We'll see if I can make it," said the star at the time.  she said at the time. 
However, the newlywed, who wed Alexis in November, did give her pal some advice.
I just think it's so important to enjoy the moment," Serena said on GMA. "You know, and eat cake. I didn't get to eat mine at the wedding."
Previously, Markle said on her defunct website The Tig that she and Serena hit it off immediately when they met in 2014.