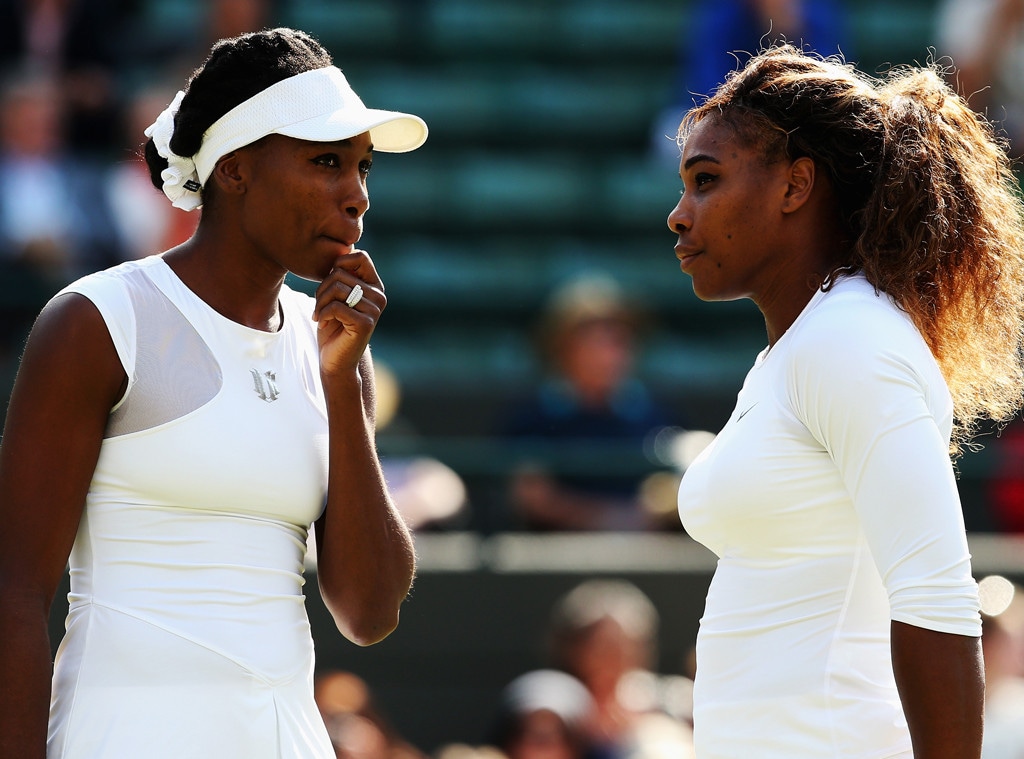 Jan Kruger/Getty Images
To truly dominate a sport, as Serena Williams and Venus Williams have with women's tennis for the better part of 20 years, there's an almost incomprehensible amount of dedication and work—physical and mental—that goes into being the very best.
The Williams sisters have tirelessly put in that work, even when the injuries piled up and the call of Hollywood, fashion and lucrative non-tennis pursuits beckoned. Subsequently, they have dozens of singles and doubles titles and millions of dollars to their name.
But Venus and Serena weren't just faced with petty distractions over the years. Along with the normal pressures that come with being expected to win, all the time, they've played while carrying the weight of their place in history with them at all times as two of the most prominent black female athletes ever in a predominantly white sport—who also helped popularize women's tennis the world over and became the most famous American tennis players of any sex competing today.
So there's that. And in the meantime, they've played through and battled back from some seriously difficult setbacks, any one of which could've steered a less driven athlete into retirement.
Venus made her professional debut at 14, in 1994—and Serena followed a year later, also at the age of 14.
They were famous upon arrival thanks to their fascinating back story—they spent their formative years in Compton, Calif., and were groomed for greatness by father and coach Richard Williams, who decided when his daughters were barely walking that they would be tennis players—and the fact that they were still giggling teenagers with on-trend beaded hairdos.
Richard, a one-man PR machine for his daughters who boldly stated right out of the gate that Serena was the better player of the two, became a fixture on the tennis circuit, as did the girls' mother, Oracene Price. The parents divorced in 2002 after having already been separated for years, but each still showed up frequently to support their daughters. If one wasn't there, then the other almost surely was.
The Williams sisters have never not been a draw, and their head-to-head meetings were always hot tickets. However, John McEnroe (fancy that) made headlines when he commented while in the TV booth during their 2000 Wimbledon semifinal, "Serena may not be allowed to win. Richard may have something to say about this." He could not have been that serious, but the idea took hold and briefly spiraled out of control.
In 2002 the Williams sisters skipped the Masters tournament at Indian Wells, perhaps the biggest non-Grand-Slam event on the tour, after feeling that they had experienced racially motivated animosity from the crowd in 2001. Another player had made a crack before Venus and Serena were set to face off in a semifinal that Richard would decide ahead of time who won. Venus pulled out of the match citing an injury right before game time, prompting major boos, and then Serena was booed heavily during the final, which she won.
The rumor about their father fixing matches, deciding which sister would win and when, had picked up steam.
"Everyone has their own opinion. It's not a true opinion at all. Everyone makes their own comments. That's how rumors get started and I guess rumors are more exciting that the truth," Venus said after she withdrew from the semifinal.
Two weeks later, Richard Williams said he had overheard racist comments in the stands when he and Venus showed up to watch the final. Breaking her silence on her experience, Venus told reporters, "This country has a history of treating minorities badly, and that's sad because it is a country of promise."
The sisters boycotted the event for 13 years, finally returning in 2015. "The under­current of racism was painful, confusing and unfair," Serena recalled her experience in an essay for Time after announcing her intent to play there again. "In a game I loved with all my heart, at one of my most cherished tournaments, I suddenly felt unwelcome, alone and afraid...Emotionally it seemed easier to stay away. There are some who say I should never go back. There are others who say I should've returned years ago. I understand both perspectives very well and wrestled with them for a long time. I'm just following my heart on this one."
Richard's perennial scowl on the sidelines and his outspoken ways early on (he hoisted a sign reading "It's Venus' Party and No One Else was Invited" when she won her first Wimbledon) made him the controversial member of the Williams family in the public eye. But not to Venus and Serena.
"He's been the most important person in my career," Serena told NBC Sports before the 2015 US Open, when she was gunning for a calendar year Slam but lost in the semifinals. "I do miss my dad obviously. I miss him all the time. I call him. I try to reach out to him a lot. He calls me. He watches my matches. He still tells me things that I'm not doing right."
She also insisted that her father wasn't responsible for the enormous pressure she placed on herself.
"He always tells me I'm so good and he's so proud of me and he can't imagine how good I am," Serena said. "He always says, 'Don't put pressure on yourself. Be happy with what you have.' I'm always like, 'Oh I could have done this better.'"
Richard, who remarried and had a son in 2012, largely retreated from the public eye after the release of his 2014 memoir Life in Black and White: The Way I See It, which detailed harrowing experiences growing up in the Jim Crow South. He was reportedly having some medical issues in 2015 and then in 2016 he suffered a stroke during the second week of Wimbledon (he had not made the trip to England)—but his family kept that under wraps until after the tournament. Serena won the singles title and she teamed with Venus to win the doubles.
Jordan Mansfield/Getty Images
For all his bluster, Richard had known exactly what he was talking about when it came to his daughters' respective greatness. Serena captured the first Grand Slam in the family, winning the U.S. Open in 1999. Venus beat her in their first head-to-head Grand Slam final, the 2001 U.S. Open, but after that Serena won her next five Slams by beating Venus in the final. (Serena leads her career head-to-head with Venus 17-11. By their own accounts, the sisters have always been reluctant rivals but each competes intending to win.)
Over the years, with the chatter about their father and crazy rumors about throwing matches were nothing compared to some of what was actually going on off the court.
Serena, who was recovering from knee surgery, and Venus, nursing a season-ending abdominal injury, both sat out the U.S. Open in  2003. A week after the tournament ended, their elder half-sister Yetunde Price, a 31-year-old single mother of three young children, was shot to death in Compton, about a mile from the playground tennis court where Venus and Serena first practiced as kids. The Williams sisters and their mother flew right in from Florida.
"We are extremely shocked, saddened and devastated by the shooting death of our beloved Yetunde," the family said in a statement at the time. "She was our nucleus and our rock. She was personal assistant, confidant and advisor to her sisters, and her death leaves a void that can never be filled." 
SGranitz/WireImage for ESPN
Serena was in the courtroom when Robert Edward Maxfield was sentenced to 15 years in prison in 2006 after pleading no contest to voluntary manslaughter in Price's killing.
"I wasn't going to speak today because it's too hard for me to talk," she began, ultimately saying she wanted Maxfield to know "that this was unfair to our family, and our family has always been positive and we always try to help people."
Venus and Serena returned to their old neighborhood last November ahead of the opening of the Yetunde Price Resource Center, which was endowed by the William Sisters Fund to help people affected by violence or other trauma obtain the proper care.
"We definitely wanted to honor our sister's memory because she was a great sister, she was our oldest sister and obviously she meant a lot to us," Serena told the Los Angeles Times. "And it meant a lot to us, to myself and to Venus and my other sisters as well, Isha and Lyndrea, that we've been wanting to do something for years in memory of her, especially the way it happened, a violent crime."
About their other charitable ambitions, which have included providing scholarship money to kids in need, Venus said, "I know we'd like to wrap this whole Earth. There's never a limit. There's always a need and we'll do everything that we can."
In addition to being each other's nearly constant companion on tour, family has always been at the center of Venus and Serena's life.
Serena's parents and sisters certainly rallied around when she was sidelined from the game for half of 2010 after cutting her foot on a piece of glass and requiring two surgeries. Then, poised to return, she suffered a pulmonary embolism in February 2011 and a hematoma that developed on her stomach had to be surgically removed.
"I definitely have not been happy," Williams, having dropped to No. 11 in the world during her recovery, told USA Today at her L.A. home that March. "Especially when I had that second surgery, I was definitely depressed. I cried all the time. I was miserable to be around."
Well, that's what family's for.
Talking to reporters upon her return to Wimbledon in 2011, Serena said she had been on her "death bed at one point."
"I definitely have a new perspective on life," she reiterated to CNN at the tournament. "I'm really honored to have a chance to walk out on the court, because three and a half months ago I didn't think I would have that chance again. I just thought, if I can just pull through and survive, then wow, I would be really excited for that."
Scott Barbour/Getty Images
Meanwhile, it's amazing that Venus—who will be playing in her 20th Wimbledon starting Monday, having only missed one year since making her debut at the All England Club in 1997—is ranked as high as No. 11 in the world right now.
Already no stranger to tennis-related aches and pains, in 2011 the seven-time Grand Slam champion was diagnosed with Sjögrens Syndrome, an autoimmune disease that causes fatigue and muscle and joint pain—anything that can make training for a world class athlete close to impossible. Her energy and usually overpowering strength sapped, Venus dropped to No. 137 in 2012.
But it was only everyone else who predicted Venus' imminent retirement from the game. 
Clive Brunskill/Getty Images
"I won't let it beat me," she said after sharing her diagnosis in 2011. The following year, at the French Open, she told reporters that her biggest challenge was "learning how to live like this," which she was doing by making adjustments in her training, following doctors' orders and switching to a vegan diet.
Venus went on to play doubles with Serena at the Summer Olympics that year in London, and they won their third straight gold medal to give them the most in women's Olympic doubles ever.
Her resurgence in singles, though, has actually been more recent. She made it to two Grand Slam quarterfinals in 2015, the semifinals at Wimbledon last year and, this year, faced off against Serena in the Australian Open final.
Scott Barbour/Getty Images
"I don't have any regrets about anything that's taken place in between," Venus told reporters at Wimbledon last year. "It's been a journey, but it's made me stronger. I wouldn't wish it any other way. It's easy to be afraid. I never thought what I might have been able to achieve if I hadn't been ill. It could have been different, but it wasn't."
In November she said on Hallmark Channel's Home & Family, "I'm kind of targeting the next Olympics, and that's in, what, three-and-a-half years... and I'm not counting!" Tokyo 2020 it is.
Yet plenty can change in the course of a year, physical fortitude notwithstanding.
It's anyone's Wimbledon this year, with a pregnant Serena out of the mix, but this time it seems that the biggest strain on Venus would be in her mind. Her rep just confirmed to reporters yesterday morning that the 37-year-old athlete would still play, hours after she was named in a wrongful death lawsuit filed by the estate of a 78-year-old man who died June 22, two weeks after being injured in a car accident that also involved Venus. A police report obtained by E! News named Venus as being at fault in the June 9 crash; witnesses said she ran a red light, therefore was in the intersection and the driver of the other vehicle allegedly didn't have time to slow down and avoid hitting the side of Venus' SUV.
Social media lit up Thursday with people questioning the conclusion that Venus was at fault since she was the one who was hit. No criminal charges have been filed and she wasn't ticketed or otherwise cited by police.
"Ms. Williams entered the intersection on a green light. The police report estimates that Ms. Williams was traveling at 5 miles per hour when Mrs. Barson crashed into her," Venus' attorney Malcolm Cunningham told E! News Thursday, before the suit was filed. "Authorities did not issue Ms. Williams with any citations or traffic violations. This is an unfortunate accident and Venus expresses her deepest condolences to the family who lost a loved one."
Linda Barson was driving; her husband Jerome Barson, who was in the passenger seat, died last week.
"This was the love of her life that she spent every day with. They did everything together," the plaintiff's attorney told the AP.
Venus, already in England gearing up for Wimbledon, broke her silence on the crash yesterday, writing on Facebook, "I am devastated and heartbroken by this accident. My heartfelt condolences go out to the family and friends of Jerome Barson and I continue to keep them in my thoughts and prayers."
So Venus is once again heading into a tournament with a potential distraction, but she has vowed to play on. Something that she and her sister—both subjects of imminent retirement rumors once again—know everything about.
"When I'm playing on the court with her, I think I'm playing the best competitor in the game," Venus said before losing to her sister in the Australian Open final in January. "I don't think I'm chump change either, you know. I can compete against any odds. No matter what, I can get out there, and I compete."
And Serena, who won that Australian Open while pregnant to capture her record 23rd Grand Slam singles title, most in the Open Era, has already expressed her plan to get back on the court in 2018.