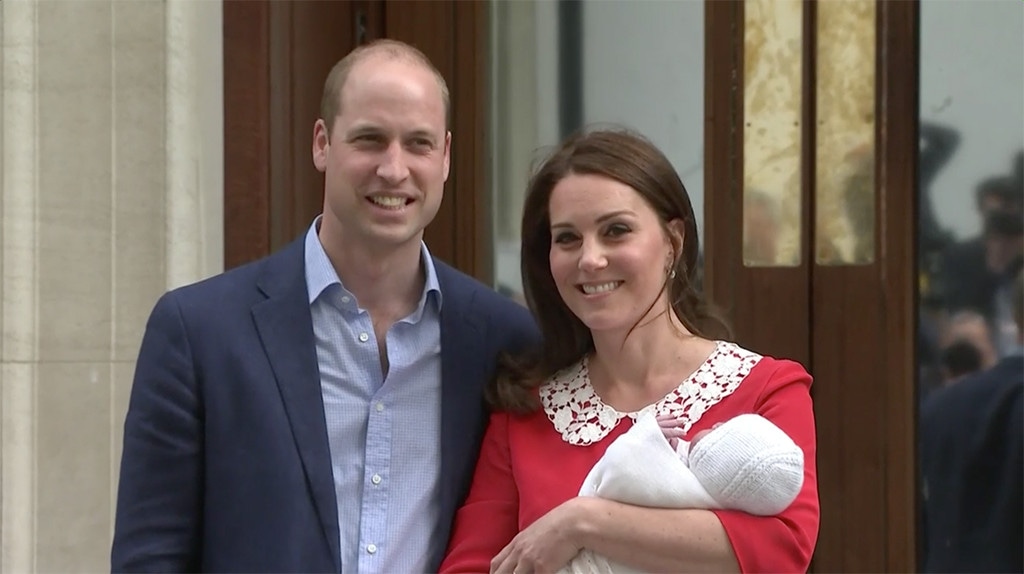 Twitter
The bells at Westminster Abbey were primed for peeling. The royal salutes were moved into place at the Tower of London, set to be fired the following afternoon. And the 81-year-old self-appointed town crier did his thing, complete with bell and scroll.
But amid the rising royal fever, Prince William and Kate Middleton proved that, in some ways, they're just like any new parents. As the duo took to the steps outside London's St. Mary's Hospital Apr. 23, cradling their hours-old son in front of the throngs of photographers and flag-waving fans, the duchess expressed concern about the chilly 47-degree temps. "It is a bit windy," she told her husband, according to lip readers employed by UK paper The Mirror. "He might get cold. Let's go now."
After all, a warm and happy home—well, okay, palace—awaited. With their newest heir Prince Louis Arthur Charles joining Prince George, 4, and Prince Charlotte, 2, William and his 36-year-old bride feel their family may just be complete. Kate, the eldest sibling in a family that includes sister Pippa, 34, and brother James, 31, feels three "is a great number," a friend tells People. "Boy-girl-boy is pretty cool as well."
That combo also means the pair are seasoned pros when it comes to the whole parenting thing. Ahead of George's 2013 arrival, William, 35, and Kate, 36, reportedly studied A Perfect Start, a book coauthored by British physiotherapist Christine Hill that offers straightforward tips on swaddling and pacifiers. Now, having raised two babies with just the help of longtime nanny Maria Turrion Borrallo and a couple of night nurses, parenting "suits them really well," the friend told the mag. "They are enjoying it and are very happy."
Tim Rooke/REX/Shutterstock
Credit their preparedness. The moment Kate felt the first labor pains in the early hours of Apr. 23, the pair set forth the plan that had been in place for months. After alerting obstetrician Dr. Guy Thorpe-Beeston and Queen Elizabeth II's surgeon-gynecologist Dr. Alan Farthing—the physicians who headed her medical team when she delivered George and Charlotte—she and William climbed into their black Range Rover and he steered them through the roughly four-and-a-half minute drive to St. Mary's, the same spot William was born in 1982. 
There, reports Us Weekly, she was driven in via the back entrance of the Imperial College Medical School building and escorted through a tunnel, landing in her estimated $10,000-a-night suite at roughly 5:30 a.m.—some three hours before Kensington Palace would release a tweet that she had been admitted to the hospital's luxe Lindo Wing "in the early stages of labour." As a source told Us Weekly, "It was all very hush-hush."
And textbook. A team of more than 20 top medical experts, including midwives, lab technicians, replacement anesthetists and pediatricians, were on standby in case of emergency, but less than six hours later, as William looked on, Kate "was safely delivered" of an 8-pound, 7-ounce son, read the framed bulletin that was placed on an easel outside Buckingham Palace as per royal protocol.
With the birth completed, and phone calls placed to William's grandparents, Queen Elizabeth II and Prince Philip, his dad Prince Charles, brother Prince Harry and Kate's nearest and dearest, her second team of experts descended. Stylist Natasha Archer arrived carrying the red Jenny Peckham with white Peter Pan collar—a seeming nod to the outfit William's late mom Princess Diana wore to introduce the world to Harry in 1985—and the queen's diamond and pearl drop earrings, on loan for the occasion. And stylist Amanda Cook Tucker reported for duty, blowdryer in hand to tame Kate's natural curls, which William once famously dubbed "a nightmare", into her normally bouncy blowout.
As Kate prepped much as any woman would who's post-labor look is viewed by millions, William drove back to their 20-room Kensington Palace. There, he picked up George and Charlotte, fresh from their days at school, and informed them they now had a baby brother: His Royal Highness Prince Louis of Cambridge. Though the rest of the world had learned the news hours earlier, a source tells E! News, George's classmates and parents at Thomas's Battersea "were asked not to tell him that his Mum had a little boy so his dad could tell him himself."
Chris Jackson/Getty Images
Ascending the hospital steps hand-in-hand with her older brother (still in his school uniform) and her dad, a Little Alice London-clad Charlotte (her $62 dress sold out in all sizes) benevolently waved to her fans, then set about the serious business of meeting her brother. She and George "are so excited," a source tells People, perhaps assuaging some of Kate's fears about how Charlotte might feel about being usurped as the youngest. "She's such a confident little girl and growing up so fast," says the source. "Kate is hoping she will adjust."
The same could be said of her parents. Rushing out of the hospital an impressive seven hours post-birth—"We didn't keep you waiting too long this time," William told reporters—the prince admitted that while they were "very delighted" about their new arrival, with three times the happiness comes "thrice the worry."
Samir Hussein/Samir Hussein/WireImage
Fortunately they have the basics down. Inside Louis' nursery (reportedly Peter Rabbit-themed), William will expertly handle his share of the diaper changes. With George, he bragged, "I did the first nappy, a badge of honor." And along with their firsthand knowledge, the couple bear plenty of clothes, toys and other basic hand-me-downs from George and Charlotte.
Should they require any assistance, they have a team of eager babysitters in waiting. Kate's sister Pippa—due with her own child this fall—was one of the prince's first visitors on Apr. 24, followed by brother James and her mom Carole, who's been helping William and Kate out by pitching in on school runs. And though Grandpa Charles couldn't be on hand for the delivery, due to royal obligations in France, he's squeezing in time for that key appointment. "It is a great joy to have another grandchild," he said in a statement, "the only trouble is I don't know how I am going to keep up with them."
Chris Jackson/Getty Images
By all appearances, William may be struggling just a bit. Taking his place beside Harry and his fiancée Meghan Markle at the annual Anzac Day of Service and Commemoration just two days after his son's arrival, he appeared to be nodding off during the Westminster Abbey ceremony.
Getting enough shut-eye was a problem he predicted back in February when he told a guest at a reception for homelessness charity CentrePoint, "I don't know how I'm going to cope with three—I'm going to be permanently tired." But like any good father, he's brushing off the fatigue as best he can. Revealing to reporters that his son and wife are "in good form," he added, "sleeping's going reasonably well so far, so he's behaving himself, which is good news."
Pool/Sam Hussein/WireImage
But for four long days anxious royal watchers awaited a different type of news. And William's assurances at an Apr. 26 Greenhouse Sports Centre event that he was "working on" figuring out the baby's new title did little to stop the endless speculation and betting. (For the record, Prince Arthur was the odds-on favorite.)  
And William inadvertently fueled the fervor at the Apr. 25 Anzac Day event. As the Dean of Westminster introduced William to Sir Jerry Mateparae, he joked that the New Zealand High Commissioner to the UK wanted the name "to be Jerry," causing William to reply, "Jerry's a strong name."
Australian High Commissioner Alexander Downer also tossed his name in the ring, though Alexander is already one of Prince George's two middle names. "Well, it's funny you should say that," William replied, sending gamblers racing to make bets. "It's a good name."
While his moniker has now been officially announced with a tweet from the Kensington Palace account, the prince himself won't be making his second royal appearance for quite some time. William and Kate make it a point to keep all their offspring out of the public eye, periodically releasing new portraits to mark special occasions. And while Louis likely made the cut for Uncle Harry's May 19 wedding at Windsor Castle's St. George's Chapel, a source tells E! News he will RSVP no. Even Kate, who will be on hand at the ceremony—featuring George, Charlotte and best man William—is "highly" unlikely to attend the evening reception, says the source. 
Her entire calendar is taken up by dates with her new charming prince. While she reported for duty just six weeks after having George and two months after Charlotte's May 2015 arrival, this time, "Kate is officially on maternity leave until the autumn," a source tells E! News. Adds a palace aide, "She plans to focus on family throughout the summer."
After all, Mum and Dad are titles she and William cherish. "I take my duties and my responsibilities to my family very seriously," he told BBC News in a 2016 interview. "I want to bring my children up as good people…if I can't give my time to my children as well, I worry about their future."