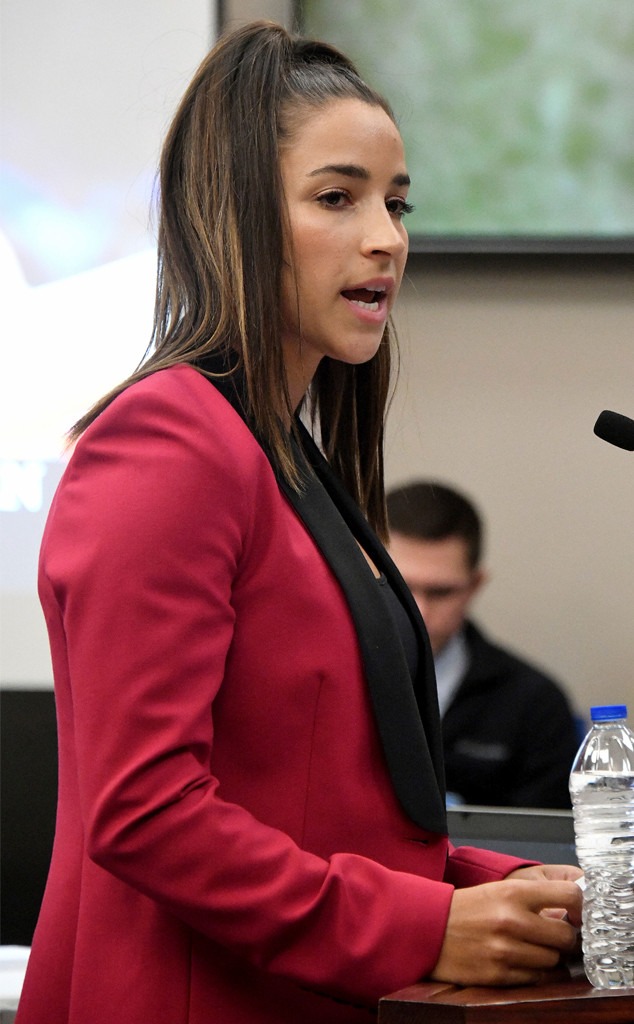 Dale G. Young/Detroit News via AP
Aly Raisman is taking legal action. 
The Olympic gymnast, who has been publicly outspoken about her discontent with the United States Olympic Committee and USA Gymnastics's handling of former USA Gymnastics doctor Larry Nassar's sexual abuse scandal, has officially filed a lawsuit against the the organization and committee. 
"I refuse to wait any longer for these organizations to do the right thing," the 23-year-old said in a statement to NBC News. "It is my hope that the legal process will hold them accountable and enable the change that is so desperately needed."
In the documents filed on Wednesday in Calif., Raisman claims USA Gymnastics and USOC knew or should have known that Nassar had been sexually abusive toward minors, but put "their quest for money and medals above the safety" of Raisman and other minor competitive athletes. The documents further state that Raisman is informed and believes that the USOC was aware "at the highest levels of its organization" that Nassar molested Olympian and National Team level gymnasts. The lawsuit alleges that USAG, USOC and the other defendants, former USA Gymnastics President Steve Penny and former USAG Chairman of the Board of Directors Paul Parrilla never intervened to discipline Nassar and allowed him to continue in his position of "trust, power and access" to elite minor athletes, including Raisman, until he was finally removed from his position.
According to the lawsuit, Nassar was repeatedly "informally censured, disciplined and/or reprimanded" by the defendants for taking an  an "inordinate" number of photographs of young gymnasts, but the conduct was not further investigated nor reported to law enforcement. Nassar was sentenced to 60 years in prison after pleading guilty to three federal child pornography charges.
In the documents, the athlete says she continues to suffer depression, anxiety and fear stemming from the sexual abuse, harassment and molestation she suffered by Nassar and trained for years in pain because she believed that Nassar had been properly treating her injuries. She is seeking a trial by jury. 
"USA Gymnastics supports our athletes, like Aly Raisman, Jacob Moore and others, who have shared their experiences with abuse, and we are very sorry that any athlete has been hurt by the despicable crimes of Larry Nassar," USA Gymnastics said in a statement to E! News. "USA Gymnastics first became aware that an athlete had expressed concern about a procedure by Larry Nassar in June 2015, which led USA Gymnastics to report Nassar to the FBI and dismiss him from further involvement with USA Gymnastics. USA Gymnastics is committed to doing everything we can to prevent this from happening again by making bold decisions and holding ourselves to the highest standards of care. We need the gymnastics community to join with us to accomplish this for both the young men and women who are pursuing their gymnastics dreams today and to honor those who have gone before."
As the statement continued, "USA Gymnastics will not comment on the complaints filed on behalf of Aly Raisman and also Jacob Moore."
The gold medalist, who last year publicly revealed Nassar had sexually abused her, has not been shy about criticizing the U.S. Olympic Committee and USA Gymnastics in recent months as Nassar's history of abuse became a subject of national conversation. 
"The people at the very top, that work at the office every single day at USA Gymnastics, they need to do better," Raisman told USA Today back in August 2017. 
"I love the Olympics, I love gymnastics, I love the sport," she added."But, I don't support how USA Gymnastics is handling everything right now."
"I would love for USA Gymnastics and the USOC to hear this loud and clear," she said during a recent interview with CNN. "Since they only care about medals, reputation, and money, if we were that successful while we were being molested, wouldn't we have been more successful if we had the right doctor that actually helped heal our injuries—that didn't traumatize us?"
In late January, the USOC forced the USA Gymnastics board of directors to resign and launched an independent investigation, one Raisman has asked many questions of. On Thursday, new USAG President Kerry Perry addressed the public with an outline of actions the organization has taken since she assumed her position, including enforcing the USA Gymnastics Safe Sport Policy, which defines types of misconduct and works to prevent "inappropriate interaction." 
"In order to move forward and to be confident that this will never happen again we need an independent investigation to figure out exactly how this disaster happened," Raisman called for in a statement in late January after Nassar was sentenced to 40 to 175 years in prison. "Thinking otherwise is dangerous to the future generation. Today was an important victory but there is still work to be done."
Raisman joins fellow "Fierce Five" teammate McKayla Maroney, who also filed a lawsuit against USAG and the USOC in December 2017, alleging they used a settlement with her to conceal Nassar's abuse. 
(E! and NBC News are both part of the NBCUniversal family.)