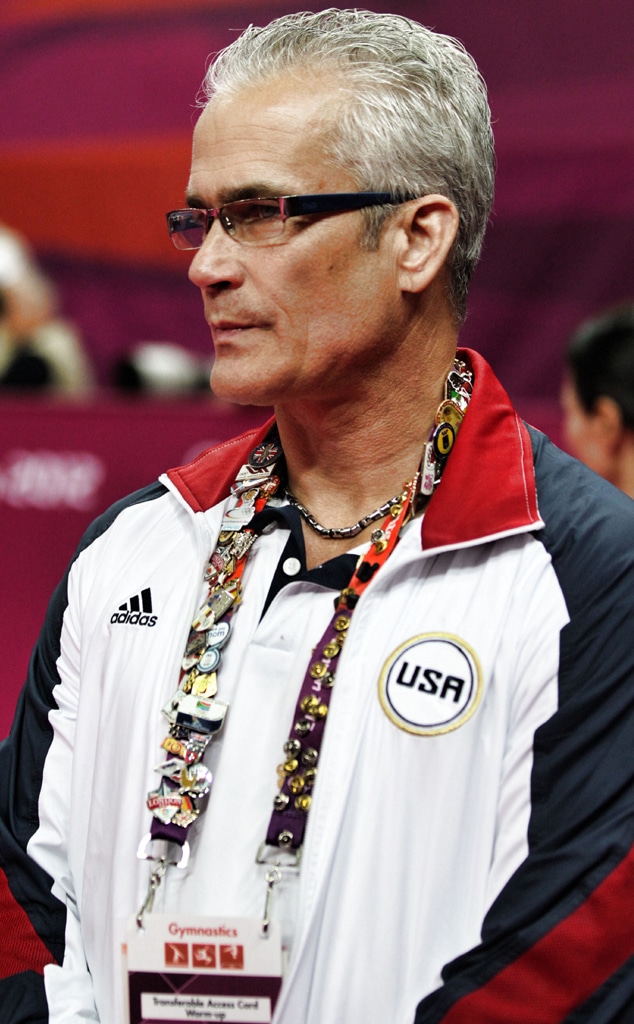 AP Photo/Marc Serota
Former U.S. Olympics gymnastics coach John Geddert has died by suicide after he was charged with sexual assault and human trafficking.
On Thursday, Feb. 25, Michigan Attorney General Dana Nessel released a statement confirming his death, hours after her office filed charges against him. 
"My office has been notified that the body of John Geddert was found late this afternoon after taking his own life," she said in a statement on Thursday. "This is a tragic end to a tragic story for everyone involved."
State police troopers found his body at a highway rest area at 3:24 p.m. EST, Nessel's spokesperson Kelly Rossman-McKinney told NBC News.
Earlier in the day, the Attorney General filed 24 criminal charges against Geddert, 63, who coached the women's gymnastics team during the 2012 Summer Olympics in London and worked with disgraced doctor Larry Nassar.
Among Geddert's charges were 20 counts of human trafficking, including six of a minor. He also received one count of first-degree criminal sexual conduct (a life offense felony) and one count of second-degree criminal sexual conduct.
"These allegations focus around multiple acts of verbal, physical and sexual abuse perpetrated by the defendant against multiple young women," Nessel said in another statement obtained by E! News. "I am grateful for these survivors coming forward to cooperate with our investigation and for bravely sharing their stories." 
Her office alleged that the way Geddert treated young gymnasts is considered human trafficking because the girls were subjected to forced labor that caused them harm. "Geddert then neglected those injuries that were reported to him by the victims and used coercion, intimidation, threats and physical force to get them to perform to the standard he expected," according to a Thursday press release from the Michigan Attorney General's office.
Kathy Willens/AP/Shutterstock
The press release went on to allege, "Geddert sold his reputation as an Olympic-level coach and promised to unsuspecting parents that he could turn his students into world-class athletes." 
USA Gymnastics announced in January 2018 that it had suspended the coach, according to ESPN. 
Following the news, USA Gymnastics told E! News in a statement, "This morning, we had hoped that news of the criminal charges being brought against John Geddert would lead to justice through the legal process. With the news of his death by suicide, we share the feelings of shock, and our thoughts are with the gymnastics community as they grapple with the complex emotions of today's events."
The AG claimed Geddert neglected the advice of medical doctors, except for that of Nassar, who has been accused of sexual abuse by hundreds of people.
Nassar was the gymnastics team's physician for about 20 years and additionally a medical expert at the Michigan-based Twistars USA Gymnastics Club, which Geddert previously owned, according to the AG.
In 2018, E! News reported that 332 of Nassar's victims reached a settlement with Michigan State University for $500 million. Survivors' attorney John Manly said at the time, "This historic settlement came about through the bravery of more than 300 women and girls who had the courage to stand up and refuse to be silenced." 
Watch:
Aly Raisman Talks Time 100 Recognizing Army of Survivors
In July 2017, Nassar pled guilty to three child pornography charges and, in November 2017, pled guilty to seven counts of felony first-degree criminal sexual conduct. The next month, he received 60 years in prison for the pornography crimes. Then, in 2018, the former doctor was sentenced twice to 40 to 175 years in prison for sexually abusing girls.
Among Nassar's accusers were gold medalists Simone Biles, Aly Raisman and McKayla Maroney. Raisman gave a victim impact statement in 2018, and Maroney released her victim impact statement in 2017 ahead of his child pornography case sentencing. 
When Biles came forward with accusations in 2018, she said in part, "I've felt a bit broken and the more I try to shut off the voice in my head the louder it screams. I am not afraid to tell my story anymore." 
In today's filing, the Nessel's office accused Geddert of making false or misleading statements to authorities that were investigating Nassar, and charged him with lying to a peace officer.
Nessel's office notes that Geddert was scheduled to be arraigned at 2:15 p.m. today in court, but didn't show up, per NBC.