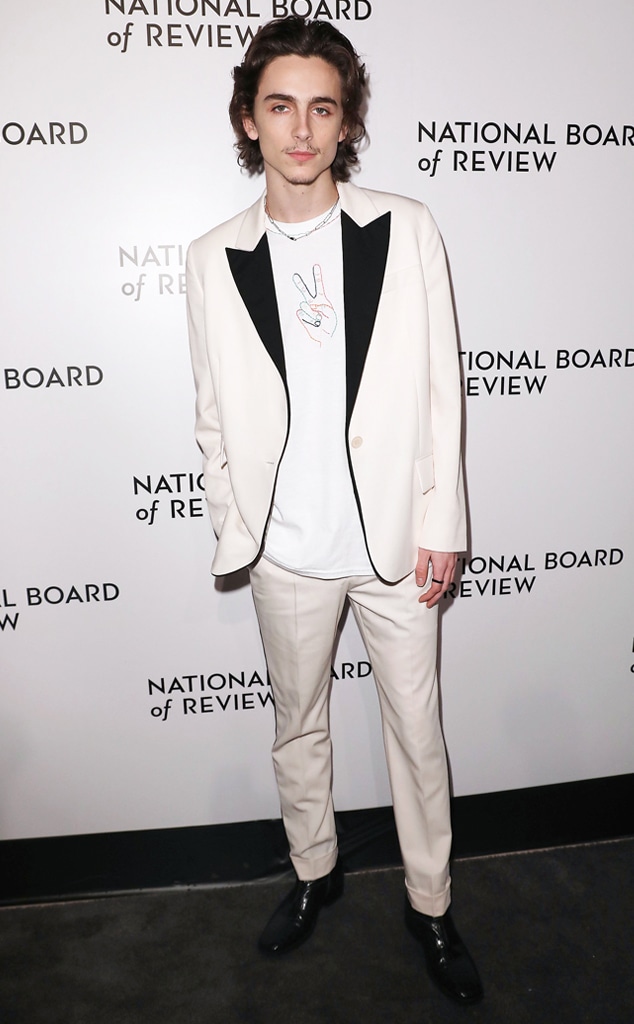 Kristina Bumphrey/StarPix/Shutterstock
Another day, another Timothée Chalamet red carpet slay.
On Wednesday, the Little Women star walked the National Board of Review Gala red carpet sporting another unexpected accessory: Some new facial hair. In a bold move for the 24-year-old, who usually rocks a clean-shaven look, Timothée showed off his mustache and goatee for the cameras.
Of course, the internet couldn't contain their excitement over his facial hair. One fan wrote, "I MEAN HELL YES: THIS IS A LOOK!" Another Twitter user chimed in with, "Timothée can have a little mustache as a treat."
His goatee isn't the only part of his look that we can't get enough of. The Beautiful Boy star opted for a monochromatic moment with a retro-inspired cream suit that featured a contrasting black lapel, which he paired with a white graphic tee that added a pop of color with its rainbow peace sign image. In true Timothée fashion, he let his signature brunette curls hang free for an effortless look.
Timothée's goatee's red carpet debut comes days following the news that he's in talks to play Bob Dylan. Directed by Ford V. Ferrari's James Mangold, the upcoming bio-pic, which is unofficially being called Going Electric, will center around the legendary singer's transition from folk music to rock and roll, showcasing the moment he made the pivotal decision and the influence of his work.
The Nobel Peace Prize winner has donned some facial hair in his day, so maybe Timothée was channeling him on the red carpet. 
Details regarding the film are still under wraps, but Deadline reported that the Ladybird scene-stealer has allegedly started taking guitar lessons "so he can familiarize himself with the acoustic and electric guitar."
Watch:
Are We All Over Timothee Chalamet's Overalls? - What the Fashion (S2, Ep34)
No word on when Going Electric is slated for release, but we can promise that there will be no shortage of Timothée screen time in the meantime.
He will star in the film adaptation of the sci-fi novel Dune, as well as Wes Anderson's highly-anticipated movie The French Dispatch. And according iMDB, Timothée will reprise his critically-acclaimed role as Elio in the sequel to Luca Guadagnino's Call Me By Your Name.