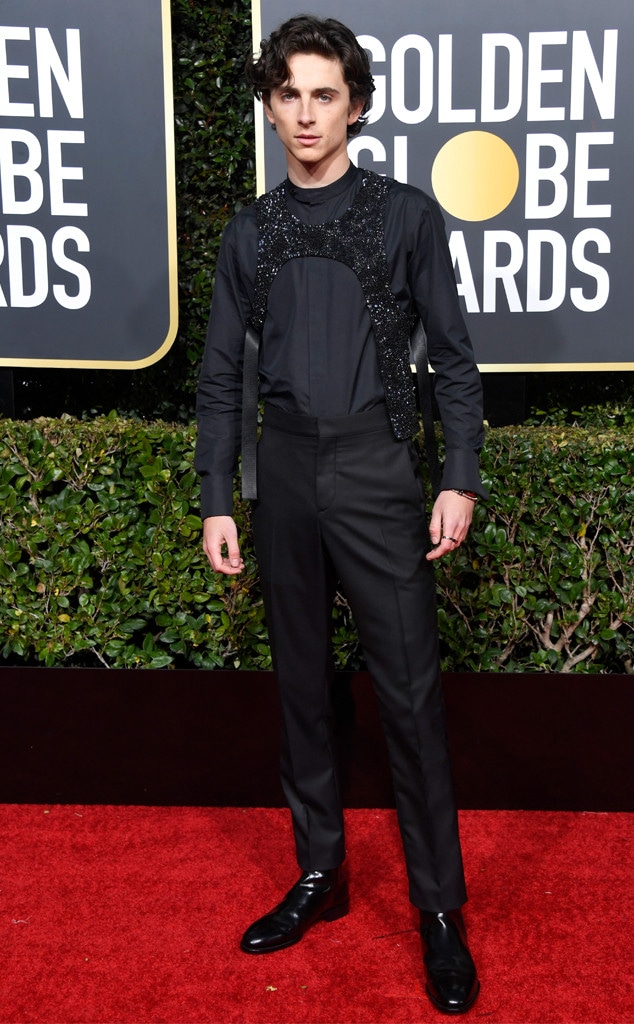 Frazer Harrison/Getty Images
Timothée Chalamet isn't afraid to take risks on the red carpet.
Take, for example, the 23-year-old actor's look at the 2019 Golden Globes. Chalamet showed up with his mother, Nicole Flender, wearing a sequined Louis Vuitton look and Cartier jewelry. It was a bold choice for the Beautiful Boy star, landing him on both best and worst dressed lists.
"I love the way you dress. You just have such great style," Ellen DeGeneres told him on her show Friday. "You wore the coolest thing to the Globes, [but] people didn't really understand."
"That's Louis Vuitton—Virgil Abloh," Chalamet explained. "That's the designer who made it."
"It was fantastic," DeGeneres said. "People thought you were wearing a harness of some sort."
"I thought it was a bib. They told me it was a bib!" Chalamet said with a laugh, echoing what he'd told E! News' Ryan Seacrest on the red carpet. "I had a friend send me a thing that, like, sex dungeon culture is a thing where you wear harnesses. I didn't do it for that reason, but, uh..."
Chalamet, who was nominated in the Best Supporting Performance in a Motion Picture category, said he was simply excited to bring Flender to the show. "I was excited to see Lady Gaga and Rami Malek, and she was excited to see Tony Shalhoub and Dick Van Dyke. So, we're not the same type of fan!" he said. "But it was great to be there with her. She was really excited."
Chalamet was on the show to promote his drama as awards season ramps up.
On the Golden Globes red carpet, Chalamet spoke to Seacrest about why he was drawn to his role in Beautiful Boy. "Here's the thing: A lot of people in America are going through this right now. A lot of people my age are going through this too. Addiction is the biggest killer in America right now. It doesn't discriminate across race or gender; it affects everyone. It felt like there was some honor in bringing that story to life," he said. "Nic Sheff, who I play, in real life is alive and well today—a day at a time. These stories aren't given, you know? I'm grateful that you saw it."