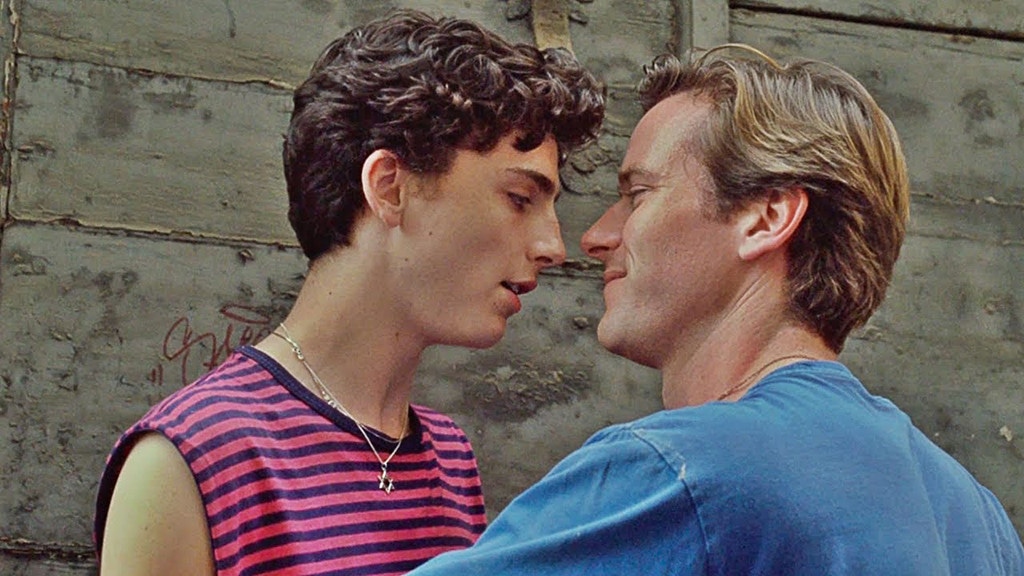 Sony Pictures Classics
Call Me by Your Name won't be released in theaters until Nov.24, but from the moment the film debuted at the Sundance Film Festival in January, people have been buzzing about "the peach scene." In it, 17-year-old Elio (Timothée Chalamet) masturbates into a peach, fantasizing about 24-year-old Oliver (Armie Hammer), who is spending the summer with his family in Italy.
Though the scene was written in vivid detail when André Aciman's novel was published in 2007, director Luca Guadagnino admits to OUT he "was tempted to remove it from the script."
As he says in the magazine's November issue, the book's depiction was "so strong and explicit" that he thought it was a metaphor, "something that couldn't exist in real life." Once he realized how pivotal the scene is, he struggled with how to best capture the moment without getting too graphic. "I was struggling with the possibility that you can masturbate yourself with such a fruit," Guadagnino remembers. "So, I grabbed a peach and I tried, and I have to say—it works."
As it turns out, Guadagnino wasn't the only person to make love to a pitted peach—for research purpose, of course. "I went to Timothée, and said, 'We shoot the scene, because I tried it and it worked,'" he divulges. "And he said, 'I tried, too, and I already knew it worked.'"
So, it should come as no surprise that Guadagnino and Chalamet became fast friends during the film's production in Italy. And the director was just as enamored with Hammer. "I've never been so intimately involved with a director before," the actor says. "Luca was able to look at me and completely undress me. He knew every single one of my insecurities, every time I needed to be pushed, and when I needed to be protected." In hindsight, Hammer confesses, "I probably fell in love with Luca the same way Elio fell in love with Oliver. I looked at him with amazement."
Guadagnino felt the same way about Hammer. "I fell in love with Armie when I saw him in The Social Network," he admits. "And then I had the privilege of meeting him, and I fell in love again. And I've never recovered from falling in love with him." For this project in particular, it was paramount that Hammer could explore his vulnerability. "So much of this movie is about stripping everything away and exposing yourself. I grew up in conservative white America, where you just don't talk about yourself, your desires, wanting to express your sensuality—it's taboo," the actor tells OUT. "To be fully immersed in Luca's world was just an incredible gift."
Though Hammer is already receiving Oscar buzz, critical praise is not what he will remember most about his involvement in Call Me by Your Name. "I know that I will carry the experience of making this movie for the rest of my life," he explains. "I don't want to say movies can change the world, but if we can change one person's perspective, we can change that person's world."