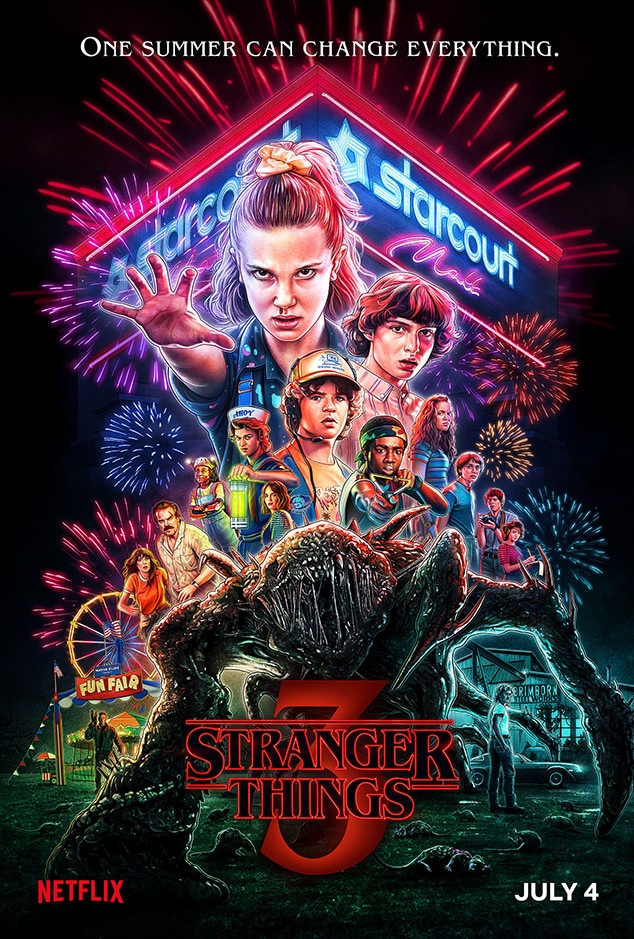 Netflix
We're only a month away from Stranger Things season three—or Stranger Things 3, depending on who you ask—and Netflix is celebrating the countdown to new adventures in Hawkins, Indiana with a beautiful new illustrated poster featuring all your favorites.
There's Eleven (Millie Bobby Brown) front and center with her signature hand up and bloody nose. Mike (Finn Wolfhard) is second biggest and they're both in front of the sign for the new Starcourt Mall where Steve (Joe Keery) works. We already know that's going to be a big setting thanks to the trailer. The new monstrous threat is right there too, it's a globby thing with spikes and teeth. There are plenty of rats, which were also featured in the trailer for the new season, and the fun fair and a steel factory it looks like.
An important question: Why is Billy (Dacre Montgomery) in the blue Upside Down-y shadows?
And look at Erica (Priah Ferguson), finally getting her due.
Stranger Things season three starts in the summer of 1985. The kids are out of school, there's brand-new mall for them to hang out in and all your favorites are on the cusp of adulthood. That means hormones are raging, romance is blossoming, and things get complicated. Can they grow up and keep the friendships in tact? In its official description, Netflix says the town will be threatened by old and new enemies and the core group learns evil doesn't end—it evolves. "Now they'll have to band together to survive, and remember that friendship is always stronger than fear," Netflix said.
Get more info on the new season below.
Stranger Things season three premieres July 4 on Netflix.