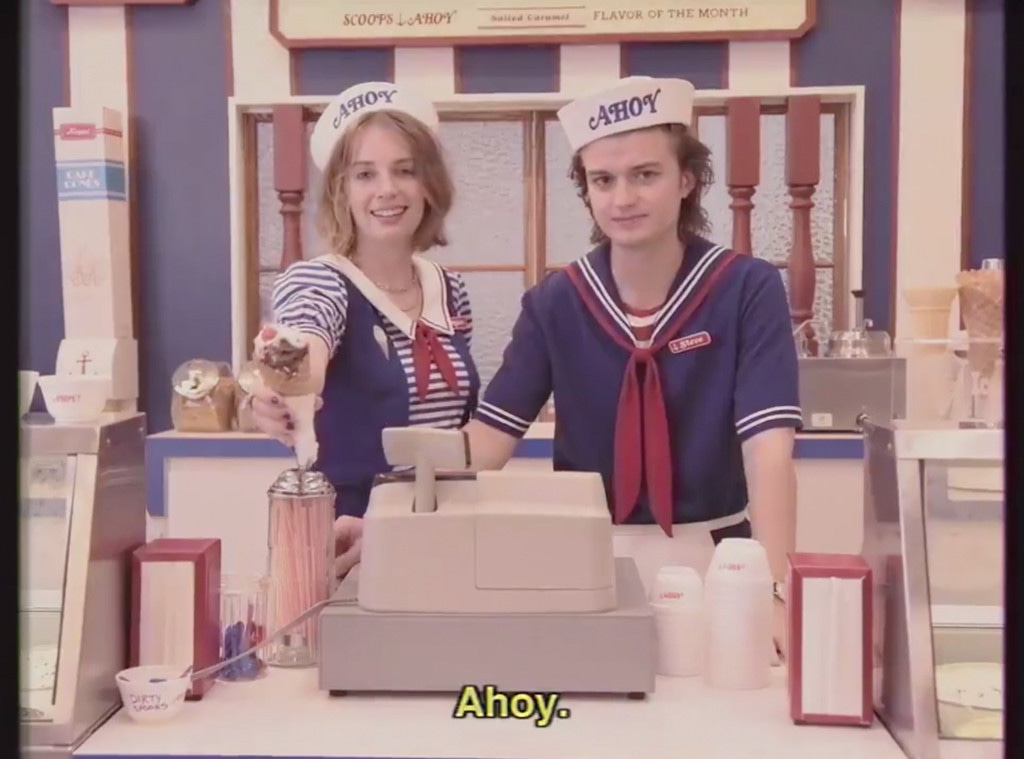 Twitter
Your first look at Stranger Things season three is here…in the form of a commercial for a shopping mall? Yep, that's right.
In the below video, get acquainted with Hawkins' new Starcourt Mall, a state of the art (for the 1980s) shopping mall. It's filled with all your favorite shops of yesteryear, including Sam Goody and Waldenbooks. Stranger Things fans should pay close attention to the two workers at the food court establishment Scoops Ahoy. That's Joe Keery's Steve and new cast addition Maya Hawke as Robin.
Steve in a sailor outfit will never get old. Just look at him. Once you take in Steve in a sailor outfit, start dissecting that video for clues!
In addition to Hawke, the cast of season three will also include Jake Busey as Bruce, a journalist, and Cary Elwes as Mayor Kline, a politician more focused on his own image than Hawkins. Additional details about Stranger Things season three are being kept under tight wraps, but we wager this new mall will play a big part in the action. And we do know it's set in 1985. Getting a real Back to the Future vibe here…
The show itself, Millie Bobby Brown and David Harbour were all nominated for Emmys for season two. E! News spoke with Harbour after he got the Emmys news and he let slip some scoop.
"This season they just came up with this arc and this idea that's so original and so new and so fun," he said. "What I can tell you is this, like you see season one you see season two, and we're playing with the same alphabet of these '80s epics, but we're kinda throwing out the model again and sort of expanding these characters in ways that you wouldn't expect them to go in, so that's what I love about it, is that you have these characters in this show that is clearly working and yet the Duffers are continuously interested in exploring the limits and taking risks and we take a lot of risks this season so there's a lot of new relationships that get set-up and a lot of new devices and a lot of new cinematic influences."