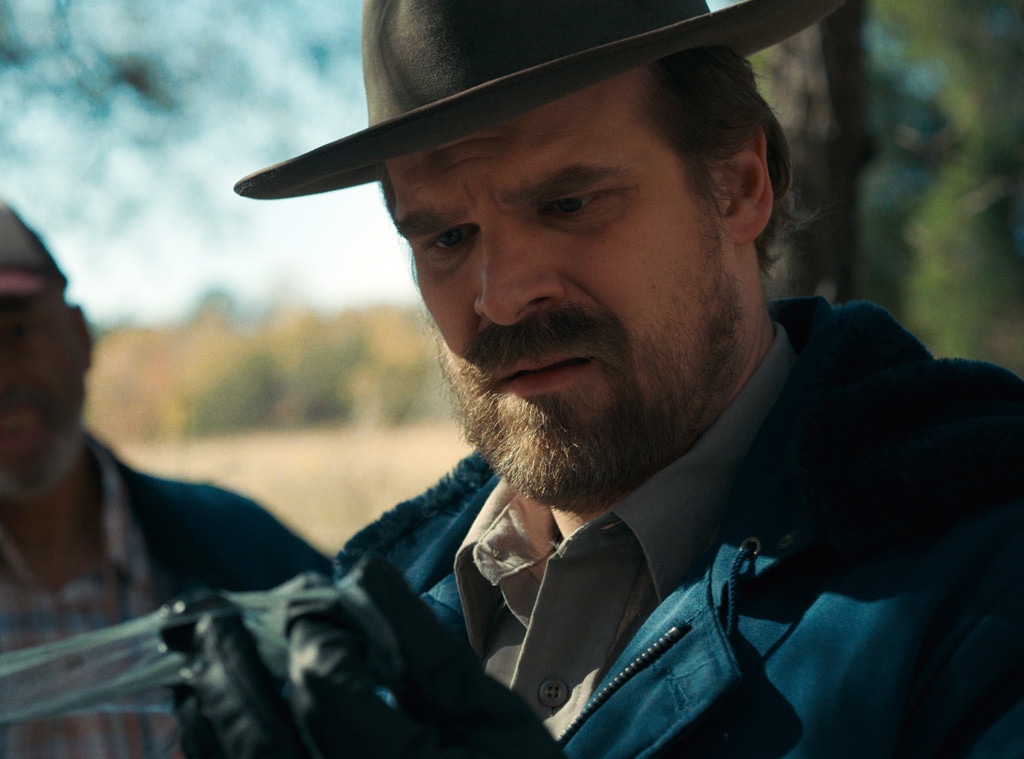 Listen, if you're a really big fan of David Harbour on or off Stranger Things, you're very much in the right place, because we're here to tell you a story that involves David Harbour and a very small puppy.
The actor was nominated for an Emmy this morning for Best Supporting Actor for his role as Chief Hopper in season two of the Netflix drama, and he learned the news while doing a very adorable and rather un-glamorous activity.
"I was trying to get my puppy to poop out on the lawn," he told us on the phone a few hours after the announcement. "I was trying to get my puppy to poop and my girlfriend was watching it, but I don't like to watch those things. I get so stressed out." 
While he says he feels proud and "awesome" about being nominated, there's also a level of anxiety that comes with it. 
"I mean it's super nice but also like the colors of the rainbow are so diverse in terms of the performances that I see on TV and there's people who never get nominated that can do things that I can't do," he says. "So, to me it's like choosing colors of the rainbow. It's like how do you say that purple is better than yellow. So in that way it just kinda stresses me out because it feels somewhat arbitrary." 
As he worked on getting his puppy, a mutt named Gertie, to poop, his girlfriend Alison Sudol told him the good news. 
"She came out and said, 'Yeah, you got nominated, and I was like, I just breathed a sigh of relief sort of like, "Oh, that's nice." And then my puppy pooped so maybe there's a universal beauty. Maybe my puppy was more grateful for the nomination than I." 
Millie Bobby Brown, who is 14 and plays a kind of daughter to Chief Hopper, is nominated for best supporting actress, which Harbour says makes sense given how much they were a team in season two. 
"That sort of feels right to me because I feel like you can't really have one without the other, there was so much this season between the two of us that it would feel strange if it was one and not the other," he says. "I think that what we created together and that our performances are dependent on each other and that we worked each other very hard. I mean, she sort of pushed and ignited things in me that were dormant and that needed to be ignited to create this relationship and I also ignited things in her so in a way, yeah, we're sort of a team that played ball really hard together... I'm not being braggy here by saying this but it does make sense to me that if you would nominate one of us you would nominate the other, because it was so dependent on each other and what we brought out in each other." 
In season three, Harbour says we'll see more of his fatherly side but we'll also see more of the Hopper from season one. 
"I mean, Hopper, in season two kinda became more of a father and he got a little softer in a way that was great, kinda opened him up and we're gonna get back to a little bit of the squash-buckling Jim Hopper from season one where he was going around punching people, which I think we missed," he spills. "So that's very gratifying to play too but along with his new father thing that he has with Eleven, it's great." 
"I can tell you it's awesome," he says when we ask for dirt on season three, which is currently in production, but he also describes it as "risky." 
Harbour describes season three, which is currently in production, as both "awesome" and "risky." 
"This season they just came up with this arc and this idea that's so original and so new that and so fun," he teases. "What I can tell you is this, like you see season one you see season two and we're playing with the same alphabet of these '80s epics, but we're kinda throwing out the model again and sort of expanding these characters in ways that you wouldn't expect them to go in, so that's what I love about it, is that you have these characters in this show that is clearly working and yet the Duffers are continuously interested in exploring the limits and taking risks and we take a lot of risks this season so there's a lot of new relationships that get set-up and a lot of new devices and a lot of new cinematic influences." 
Harbour recommends checking out some of the big movies from 1985 if you want a clue as to what's coming up. 
"There's a lot of in the '80s that we have yet to explore and I think we're starting to play with a lot more of that stuff and so it's risky," he says. "You're not doing the same old thing where Gilligan is stuck on the island and you gotta figure a way out. Every season the characters get deeper and more rich and sillier and more fun and it just broadens. It's a much broader season and I would say if you are interested in really thinking about what we could explore I would look at the movies in 1985 cause we are specific to our seasons and to our influences." 
"God, I hope I don't get those calls from Netflix tomorrow," he said when we thanked him for so much info. "Alright, well good luck to me." 
Read on for the rest of our chat with Harbour!
E! News: How does it feel to be nominated for a second year in a row?
David Harbour: It feels really really nice. I mean, ya know just to be nominated by a peer group that I never thought I'd ever be a part of. Like this sort of world of television, which I feel like is in such a good period. I mean, there is such good shows that I've enjoyed over the years and I've admired so many of the actors that are in my category, the actors that are in other categories and just sort of the level of art that is being created in television nowadays is extraordinary so to be a part of that and for them to say they acknowledge you is a beautiful feeling. I mean, being seen in that way is very gratifying.
E! News: Please tell me everything about your puppy. 
DH: I put a little picture on Instagram. It's a mutt, we got him at a shelter. We got HER at a shelter, HER, I'm sorry. She's just a little mutt. I think we're gonna try and do a DNA test on her but it will probably come back like 3% of every breed in the world. But she looks a little bit like a terrier, a little bit like a golden retriever and she's just beautiful and stupid and wonderful and keeps me up all night. She likes to tear things.
E! News: What's her name?
DH: Gertie. Like Drew Barrymore in ET. She's adorable and a complete terror.
E! News: Any plans to bring Gertie to the Emmys carpet? 
DH: That's a good idea! We'll see how she does. It would be great if as I was taking my photos she just pooped right on my foot. Ah, that would be amazing! I'm gonna try to make that happen and I will credit you for that idea.
E! News: Do you have any other plans for Emmy night?
DH: I also have a speech that I wrote last year because when I lost—big time—I do have a speech that I feel like is kinda timeless which I could maybe re-work a little for this. It's just something that I would love to say to the world in 45 seconds. But, we'll see ya know. I also don't wanna blow my losing streak. What was it,  Susan Lucci was nominated like 18 times or something before she won? I don't know, I feel like that's kinda cool. I don't know if I want to blow my losing streak. We'll see. That's the only plans I have, is like I would like to write something that I feel really proud to say and something that I feel like, and again I feel like it's an opportunity to move people when you have a platform like that so I have some things that I could say. 
(Note: Susan Lucci won her first Daytime Emmy in 1999 after 19 years of nominations and no wins.) 
E! News: You do have to top that SAG Awards speech. 
DH: Yeah, I know right? I got a lot of pressure on me so I'm gonna get crackin'.
Stranger Things was also nominated for outstanding drama series. Season two is currently streaming on Netflix.