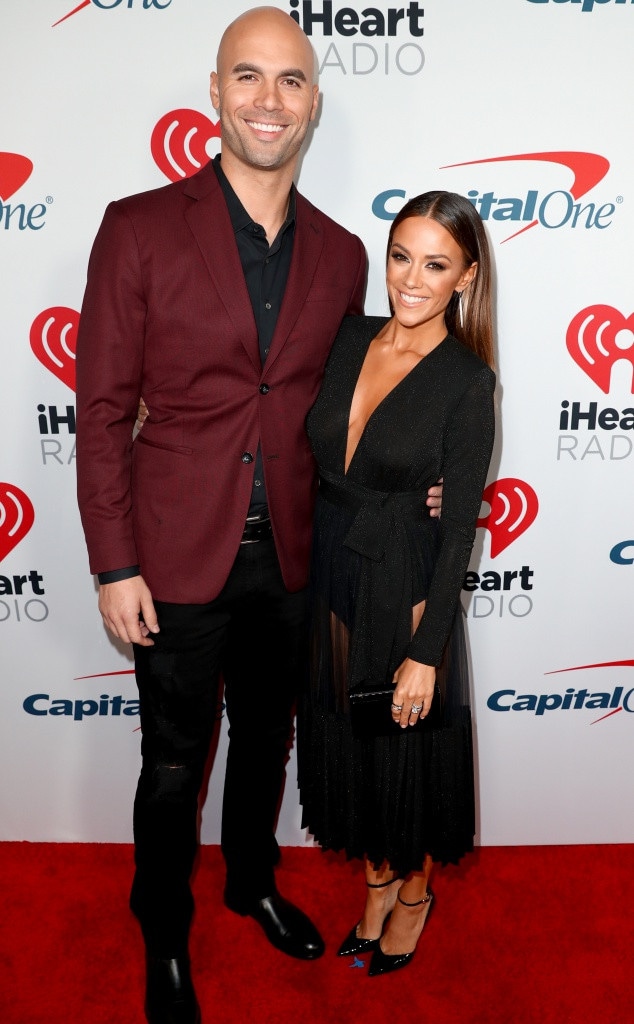 Joe Scarnici/Getty Images for iHeartMedia
Jana Kramer and her husband Mike Caussin are speaking publicly about one of the most personal subjects in any relationship: sex.
Kramer and Caussin discussed the topic on Kramer's podcast Whine Down with Jana Kramer where they also talked to author and journalist Jo Piazza about their marriage. One of the most revelatory aspects of the podcast episode was Caussin admitting that he is a sex addict. He also got into detail about seeking treatment for it and what it means to be one year sober.
Right at the beginning of the episode, the former NFL player revealed that he "sought treatment for sex addiction in an inpatient treatment facility," but that decision wasn't an easy one. "Jana kind of gave me an ultimatum when everything came out, and she discovered everything, and she looked at me and said, 'You need to go somewhere.  Basically, you need to figure out what's going on and what this is, or I'm gone, period,'" he explained.
The couple separated in August 2016 after one year of marriage after it came out that he had extramarital affairs. The couple renewed their vows in December 2017 and have been open about their path to reconciliation. 
He sought treatment at the time in 2016 for undisclosed reasons, and now those reasons are becoming clearer. Caussin said he now feels like he's "at a place to discuss it and own it."
Caussin explained that he was in the treatment facility for 60 days and he has since "been in the 12-step program of sex addiction." The two of them said they are discussing the topic because they "have been able to help people a lot through our story" and they "wanted to be even more authentic and vulnerable."
He said that the main reason why he is bringing it up is because there was speculation about his addiction. Had there not been, he never would have told the story.
While the 32-year-old said it "hasn't been perfect," he's learned many important lessons along the way. "For me, I realized a lot of things throughout my life that sex and sexual acting out was my addictive behavior, and that's where I went to hide my feelings, to run away from reality and that was my drug," he expressed.
He will be one year sober next week.
The One Tree Hill star asked her husband to explain the discrepancy about seeking treatment three years ago and being one year sober soon.
He was 29 when he first went to rehab and explained, "I spent essentially 29 years thinking or living a different way. Then all of the sudden, you shock your system, you say no, you're actually supposed to think of things this way. So for people just to flip the switch immediately, that's few and far between. There's some people that do, but it's progress, not perfection. I had my stumbles along the way."
Caussin admitted that some of these "stumbles" include relapses. However, he clarified that there was "no sex outside of the marriage."
Piazza asked Caussin what it means to have a "relapse" in this instance, but Caussin didn't go into detail. 
"I'm not minimizing cheating because we have other things in Jana and my discussion on boundaries of what's cheating, but no sex outside of the marriage. I just want to be clear, there weren't any other affairs since that moment," he added.
"It's different for different people," he responded. "It was classic addictive behavior, not being able to articulate my feelings and just internally blowing the F up, and just basically hit the F-it button."
Kramer chimed in, "It's something he should not have done that was in a circle that was very red, like bad, and could've been awful, and that was a massive relapse. Yes, it wasn't physical out of the marriage, but it was something where the action was, basically."
At a later point in the podcast episode, Caussin reiterated the point that he was telling his story because he wanted to "be able to help people." He said he no longer feels "an overwhelming amount of shame" and that he's "comfortable with owning the fact that I am a sex addict."
Kramer sparked a bit of backlash in an earlier podcast episode where she made a joke about Caussin's cheating and immediately apologized for it afterwards. 
She wrote in her "open apology" to Caussin on Instagram, "For me , sometimes my way of coping with pain and triggers is deflecting and making a joke. But that's not the healthiest especially when it can hurt someone I care about. Truth is, the past year Mike has shown up in every way I could have hoped for. He's an incredible father, and has been working his ass off for our family, me, and most importantly himself so I'm sorry mike and I love you and so thankful for you and our family and all your hard work!"