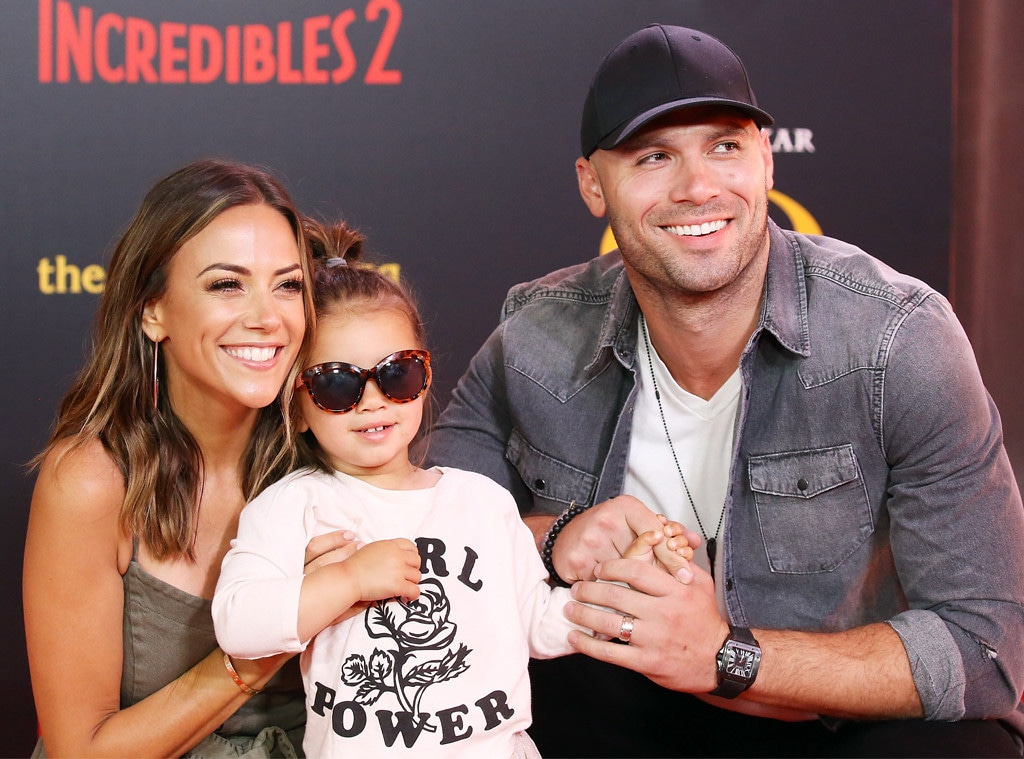 Michael Tran/FilmMagic
Getting behind the mic to sing is one thing. But getting behind the mic to podcast is completely different.
While fans may know Jana Kramer for her country music hits like "I Got the Boy" and "Why Ya Wanna," the Hollywood star has developed a whole new group of followers thanks to an unexpected project.
For the past several months, the One Tree Hill alumna has found success with an iHeartRadio podcast filled with honesty and heart.
"I feel like I had something different to give to the podcast world where it was my own personal experiences," Jana explained to E! News exclusively in between taping a new episode. "I never want anyone to feel alone if they're going through something because it's like we all go through these problems."
For better or worse, some of those problems have been covered in the tabloids with Jana unable to fight back. But in just a matter of months, Whine Down With Jana Kramer has explored personal topics ranging from infidelity and sex to pregnancies and miscarriages.
"What sets Jana apart is her authenticity and her ability to be completely vulnerable with people around her," husband Michael Caussin shared with E! News. "In order for her to do that, I had to be comfortable and feel safe with opening up on my end too because I knew it was inevitable that it was an us thing to have to come out and talk about the things that we've talked about."
One topic of discussion was the couple's decision to give their love story a second chance. Back in August 2016, Jana and Michael separated after more than a year of marriage. It was later revealed that the athlete was unfaithful to the actress and singer.
But at the end of 2017, the couple announced publicly that they had renewed their vows and were working on their relationship.
"Renewing the vows was a start, but we still had a lot of things that came up and issues that we had to deal with from that time on and we just dealt with it," Michael explained.
Perhaps a big step in the couple's reconciliation was when they found out they were expecting a baby boy. In a podcast episode this June, Jana confirmed the big news after suffering multiple miscarriages. And during the pregnancy, things started clicking again.
"It's just been almost like our second chance where we've been able to and he's been able to do it the right way where the first one maybe he wasn't in the right place or maybe wasn't as present," Jana explained to E! News. "Now I know I have a very present husband so that makes this pregnancy feel more connected and more like a team."
Michael added in a recent podcast, "I just think its—we have a greater appreciation for the miracle of having a baby because of what we've been through, what [Jana's] been through with miscarriages. And I think anyone that's been through that definitely can relate."
Because their life is in the public eye, the couple experienced even more bumps in their journey to rebuilding their family unit that includes a daughter named Jolie.
Jana remembers the critics who asked "how could you take back that cheater?" or the followers who confidentially told her she was "making a bad decision." But through her iHeartRadio podcast, Jana alongside her husband have been able to humanize topics many are quick to judge.
"In the first couple of years, it's not going to look like you'll ever get there, but there's always a silver lining and that's what we're trying to tell people," she explained. "I think people want to see relationships give it a chance and not just throw it away."
Jana added, "We still have our days, but we're able to verbalize now, like when triggers come up and things like that."
After experiencing more than a few romantic hurdles, the Hollywood couple admits they have some important lessons to share with their kids when they enter the dating world.
For Michael, he used to treat his partner like an enemy instead of a teammate. But with positive support, no judgment and clear communication, any hurdle can be climbed.
"If you treat them with respect and as a human being, then you guys together can go through anything," he shared.
As for Jana, she admits that she used to run away from any and all problems and negative situations in her life. When you have kids, however, you have to have another mindset.
"I think a good lesson for Jolie and our future son is just to be present and work on it if the other partner is willing to work too," she explained. "Just be able to stay in the moment and fight for a love that you truly believe in."
And before Jana and Michael welcome their baby boy into the world, both parents are so proud of how far they've come in a short amount of time.
"I admire Michael for coming out and talking about things and owning it, and then also becoming the person he wants to be because he could have easily just stayed in that unhealthy behavior and not change," Jana shared. "I admire the fight in him to not give up and to keep fighting for our family, fighting for himself and now what I really love is the fact that he's owning it to help people."
As for Michael, the former NFL player is grateful that his wife gave him another chance despite all the reasons to run.
"10 out of 10 women would have probably left in Jana's shoes and situation. But over time, she was able to see that she wanted to work on it. She wanted to fight and against all family members, friends, everyone around her in her circle, against all their advice, she chose to stay," he shared. "And that still blows my mind to this day."
New episodes of iHeartRadio's Whine Down With Jana Kramer are available Mondays online.