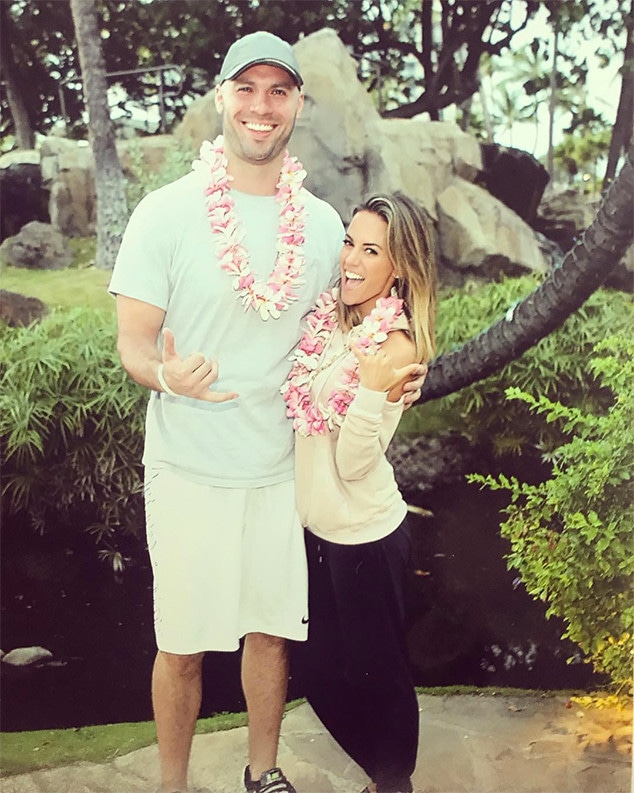 Instagram
Jana Kramer has revealed that she and husband Mike Caussin renewed their vows earlier this month.
The 34-year-old One Tree Hill star and country singer made her comments in an Instagram post on Sunday, New Year's Eve. She shared a message in which she reflected on her life over the past year. It included a reconciliation with her husband and a heartbreaking event; she had said earlier this month that she had suffered a miscarriage.
She and Caussin, 30, first wed in 2015 and share a 1-year-old daughter. In her post, Kramer revealed that she and her husband renewed their vows on December 2—a week before she revealed her miscarriage. Kramer posted several photos from their vow renewal ceremony, which took place on a beach in Hawaii, as well as a pic of them with their daughter, Jolie, and their dog.
"2017........you broke my heart, you broke me down, you made me question everything, but damn did you make me strong," she wrote. "You taught me patience, you taught me family was everything. You made me believe not only in myself but the power of forgiveness. You turned me into the women I always wanted to be."
"I have NO clue what 2018 has in store for me but I've never been more ready to live day by day and enjoy each day as it comes at me," she wrote. "Here's to always believing in love and fighting for it.... (Pics from Hawaii Dec 2nd...vow renewal)....2018, I'm ready for you!"
This past September, Kramer said on Bachelor alum Olivia Caridi's podcast, Mouthing Off that she and Caussin were "actively working" things out.
"Trust is a hard thing when it's broke to get back," she said. "We're in so much therapy it's not even funny. But it's good, though. I've learned so much about myself in the process. And again, either way we'll come out healthier because of it."
Caussin told People in October, "I acknowledge that certain actions and behaviors have caused issues in my marriage and I am deeply sorry for the pain I have caused Jana. I have and will continue to take the steps needed to change who I am as a person in order to be a better husband and father."
In November, Kramer posted sweet photos of her with her husband and daughter, including pics from a trip to Disneyland.
"A family worth fighting for..." she wrote.