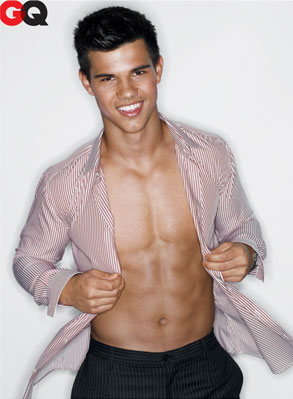 Peggy Sirota/GQ
Is it unhealthy to lust after Twilight's Taylor Lautner, or any of the myriad oversexualized teens in H'wood?
But that's what they want us to do, ain't it? Why else would they so easily just ooze sex appeal, even though they aren't old enough to pull the slots in Vegas or throw back a flute during a fete (at least not here in the States).
But not everyone's against it: Tina Fey told us at the Emmys, "I consider it a rite of passage for all our young daughters to work the pole."
We couldn't agree with her more! We're totally for all of the hot young things in movies, TV and music being free to explore how they want to express themselves—be it an oversexualized photo shoot, age-inappropriate fashion choices or sharing the minutiae of their dating lives on Twitter. This is the best time of their lives to make mistakes, no?
Check out our gallery, chock-full of Twilight peeps, Disney kids, H'wood royalty and all the other sizzling pop-culture young things who we can't believe are still too young to get into L.A.'s hottest clubs (not like that stops some of them!).