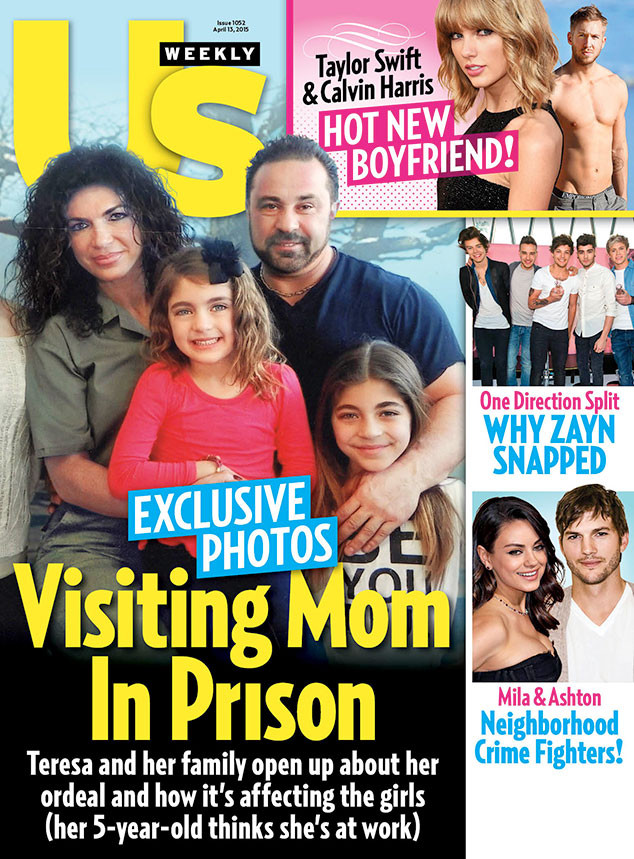 Us Weekly
It's official: Teresa Giudice has seen the Us Weekly cover which features the imprisoned Real Housewives of New Jersey posing with her husband, Joe Giudice as well as daughters Milania Giudice, 9, and Audriana Giudice, 5.
The family photo, in which daughters Gia Giudice, 14, and Gabriella Giudice, 10, were cropped off the magazine's cover, was taken inside Danbury Federal Prison on March 15, and it's safe to say Teresa's appearance is a far cry from the perfectly put-together reality star whom we're accustomed to seeing.
So, what was her reaction to the photo, which sees the 42-year-old mother of four with a faded tan, her natural curly hair and makeup?
"I met with Teresa today and brought the magazine to show her. She was extremely happy with it," Teresa's lawyer, James J. Leonard, Jr., tells E! news. "She got very emotional and actually started to cry when she saw the photos of Joe at home with the girls."