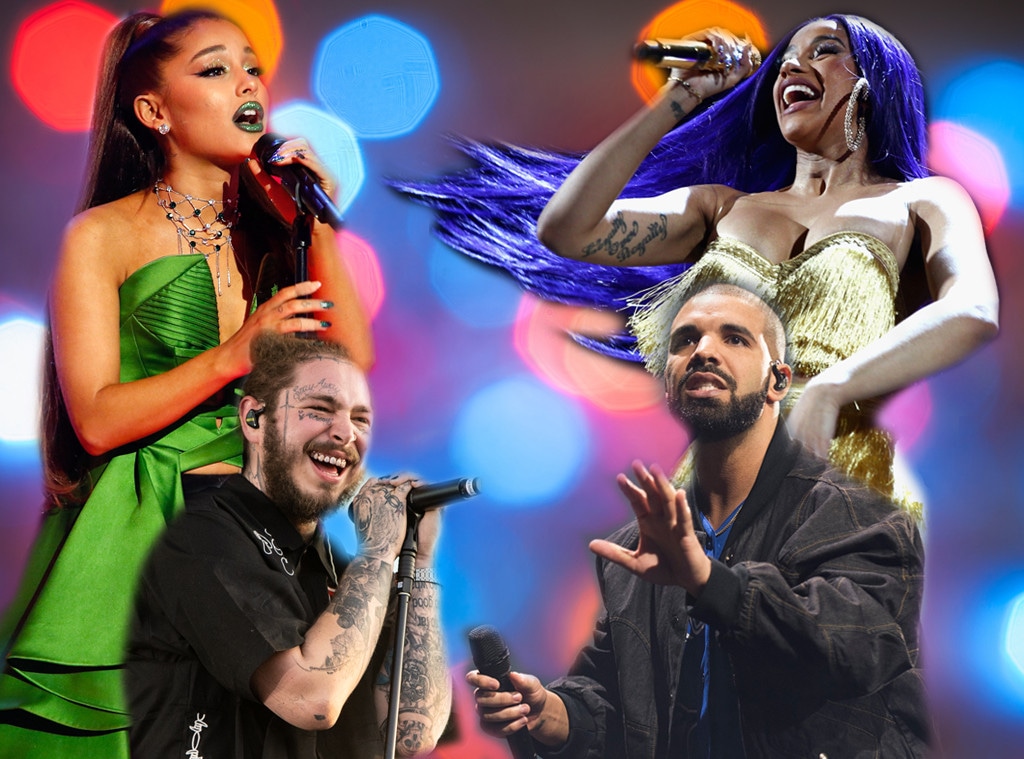 E! Illustration
Can you believe it's almost 2019?! The new year is just days away and we are in disbelief at how fast this year has flown by.
While we are excited to see what the next year brings, especially in the entertainment world, 2018 has had a few pretty big moments that we won't soon forget. From Meghan Markle marrying Prince Harry to the slew of quick celebrity engagements, this year has been a doozy. 
When it comes to the music scene there have also been a lot of standout moments including, Cardi B dropping her debut album Invasion of Privacy, Post Malone deciding to collaborate with Crocs and Taylor Swift's Reputation Tour taking over the world. 
As we wait to see which artist slays 2019, why not look back at the best songs that came out this year and vote for your favorite one of all? You know you had a favorite, or two, and your voice should be heard.
Beginning with Maren Morris, Zedd and Grey's release of "The Middle" in January 2018, all the way to Grande's newest hit single, "Thank U, Next," which featured an epic music video with tributes to 13 Going on 30, Legally Blonde, Mean Girls and Bring It On, 2018 has been full of hits.
Whether you were obsessed with all of Drake's Scorpion album, including the super popular tracks, "Nice for What" and "In My Feelings," or are more of a country music fan jamming to CMA Awards Album of the Year winner Kacey Musgraves' song "Space Cowboy," there was a lot to listen to and love this year.
Other major standouts on the radio charts include, "Apes**t" by The Carters, "Back to You" by Selena Gomez, "My My My!" by Troye Sivan, "Make Me Feel" by Janelle Monáe and "Honey" by Robyn. 
Post Malone's "Better Now" has continued to play in our heads on repeat as well this year while "Cry Pretty" by Carrie Underwood has become a power anthem for those feeling like their emotions could be seen as a negative when they are totally not. 
Thanks to A Star Is Born we were also gifted an amazing soundtrack and the song "Shallow" by Lady Gaga and Bradley Cooper and we are forever grateful. Of course we can't forget Cardi B's collaboration with Bad Bunny and J Balvin for "I Like It" and Childish Gambino's statement anthem "This Is America," both of which still have fans talking. 
With 2019 inching closer and closer it's time for you to make your pick for 2018's best song now.
There were a lot of killer tracks by a variety of artists, but only one can be dubbed the best tune of the year and we want to know which artist you think deserves to wear the imaginary music crown.
What are you waiting for? Get voting!