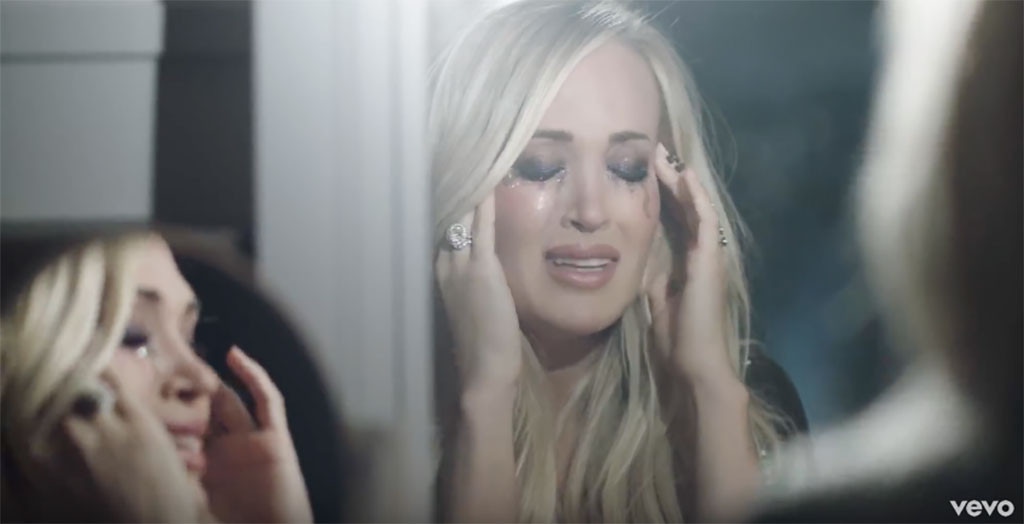 YouTube
Carrie Underwood is letting the tears fall. 
In her first music video since taking a break from the spotlight to heal from a November fall, the Grammy winner is facing her emotions head on. In honor of the lead single for her upcoming sixth studio album, the songstress addresses the inner turmoil of a star split between her public image and private pain.
Behind a glamorous veneer, Underwood insists "you can't dress it up in lace or rhinestones" as she cries at herself in a mirror and weeps in bed. She seeks comfort behind sunglasses as she struts down an alley and seeks solace in a car. Ultimately, she pulls herself together to belt it out for a sea of cheering fans from a stage and finishes the song—and visual—off with a confident kick.  
While the song's inspiration is not entirely clear, Underwood had been keeping a low profile in the months leading up to the single, specifically after she fell on steps outside of her home back in November and underwent surgery for a broken wrist. 
"Thanks so much for all the well wishes everybody...I'll be alright...might just take some time..." she tweeted at the time. "Glad I've got the best hubby in the world to take care of me."
By the new year, the star offered some more insight into the injuries she endured. "Most of you know that I tripped and fell and broke my wrist in November. I'm still doing regular physical therapy for that, but all is coming along. There is also another part of the story that I haven't been ready to talk about since I have still been living it and there has been much uncertainty as to how things will end up," the singer wrote in a fan club letter. "It's crazy how a freak random accident can change your life."
The American Idol winner continued: "In addition to breaking my wrist, I somehow managed to injure my face as well. I'll spare you the gruesome details, but when I came out of surgery the night of my fall, the doctor told [my husband] Mike that he had put between 40 and 50 stitches in. Now, here we are 7 weeks later and, even though I've had the best people helping me, I'm still healing and not quite looking the same. I honestly don't know how things are going to end up but I do know this: I am grateful."
We're grateful she's back, healed and singing her heart out!