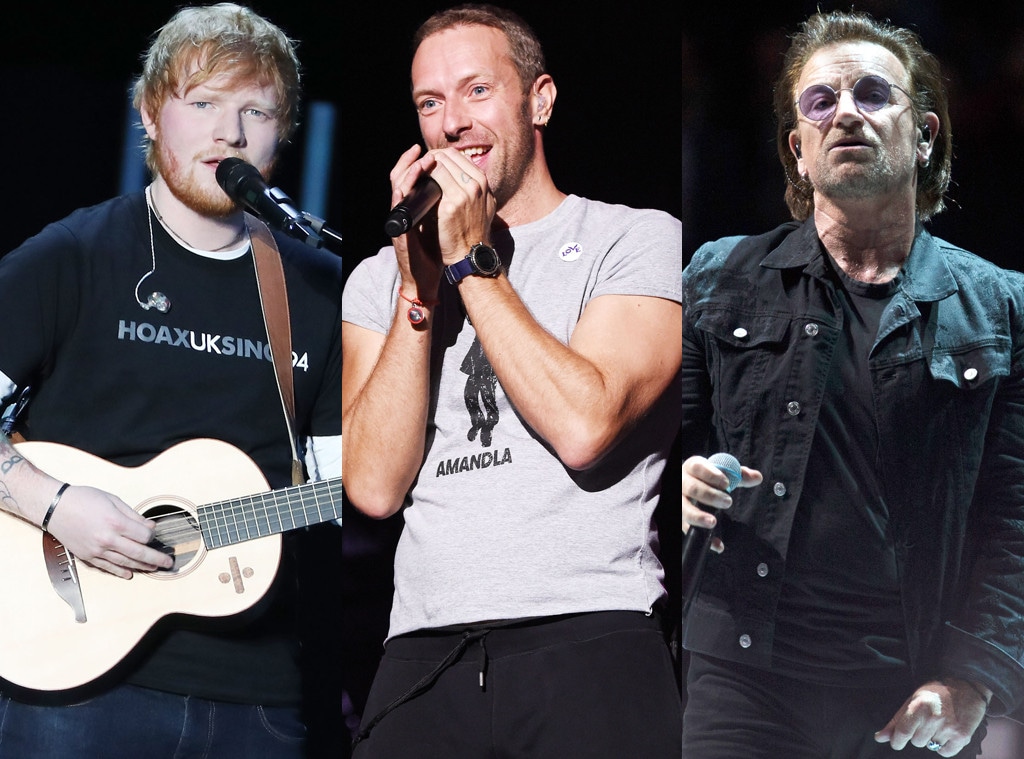 Jemal Countess/Getty Images for Global Citizen Festival: Mandela 100; Kevin Mazur/Getty Images for Global Citizen Festival: Mandela 100; Jo Hale/Redferns
It's a beautiful day for Bono and the rest of U2, because they just topped the list of Forbes' Highest-Paid Musicians list. 
Shockingly enough, the Irish rock band beat out world class artists like Jay-Z and Taylor Swift for the no. 1 spot on the annual list. The band's $118 million earnings for 2018 exceeded the no. 2 earner's income by nearly $3 million dollars, which in comparison, is truly not that much of a difference. And who is the runner-up, you ask? Well, this one's a shocker too. It's none other than Coldplay. 
Award-winning musicians like Ed Sheeran, Bruno Mars and Katy Perry came in third, fourth and fifth place respectively, with profits all around the $100 million dollar mark. 
It seems the key to nabbing the top spots is having a majority of a tour take place within the period of time that Forbes pulls data from. This was the case for U2, since one of their tours wrapped at the beginning of the scoring period, before they kicked off on yet another tour within that same time. 
And Coldplay went on tour in two different continents, thus helping them score the position of runner-up. Not to mention their countless songs that were streamed across the world. 
While this helps some artists soar to the top of the list, it also posed a difficulty to singers like Taylor Swift and Beyoncé. It turns out that Taylor and Beyoncé's tours kicked off right as the time period for data collection came to a close. So the millions upon millions of dollars they brought in on their tours weren't counted towards their earnings for 2018. There is one saving grace though: those figures will be counted towards 2019's list of top-earners. This means that Bey and Tay will likely reign at the top of the list next year. 
To see the full list of millionaires, click here!