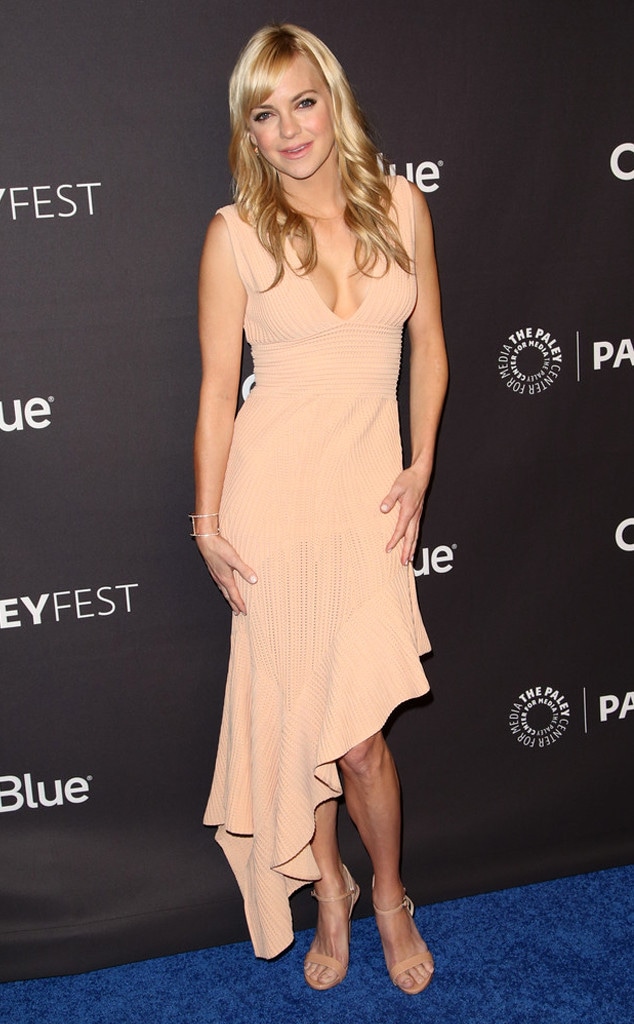 Brian To for the Paley Center
Taken at face value, one could easily assume Anna Faris was heading into the year without a whole lot of optimism. 
Just five months removed from announcing the end of her eight-year marriage to Chris Pratt—and mere weeks after both halves of the universally adored couple filed for divorce—she was asked by E! News' Zuri Hall in January 2018 what type of pep talk she gives herself when it's time to grab the day by the horns. 
"I look at myself in the mirror," the actress began, "and I say, 'One day I'm going to die.'" 
She maintained her straight face for about a beat, fully committing to the self-deprecating humor, before dissolving into laughter and sharing the not-so-meager collection of reasons she has to feel grateful: "I think it's those small moments in life, like, when your kid says something funny. Or when you—like, for me, I love what I do, so I get a kick out of if I feel like I nailed a joke well or something like that. And family and friends." 
This is not someone who wallows. While Pratt's take on their separation was decidedly on the dour side, his remarks on the subject more or less boiling down to telling Entertainment Weekly, "Divorce sucks," the Mom star has seemed determined to seek out the silver lining. 
"We'll always have each other and be incredible friends," she shared in an October 2017 interview with People, her newly released half-advice tome, half-comedic memoir Unqualified meaning she couldn't exactly opt out of talking about the still-fresh split. "There is still so much laughter in our lives together, and he is so proud of me, still. We watched each other grow, and he still cracks me up all the time. And I think I crack him up—unless he's a really good actor and great at faking laughter."
So, yes, she got why everyone was so bummed about their split, how their specific blend of Washington State-bred unpretentiousness and truly genuine affection had made them one of those shining beacons of coupledom fans could aspire toward. "It's understandable that people seemed so invested in our happiness together," she noted, but just because their romantic relationship had ended there was no need to pack it in on love and head home. "All I can say about that is, it's all true, that we truly adore each other, and we love each other, I think it still comes through."
Plus, they've each since found their own happily ever afters. Pratt married Katherine Schwarzenegger this June following a somewhat whirlwind-y romance. And it appears Faris is well on her way to matrimonial bliss, the 42-year-old actress, not normally prone to flashy bling, spotted with a shiny new addition to her left hand. Courtesy of cinematographer boyfriend Michael Barrett perhaps? 
Jesse Grant/Getty Images for Disney
And as for all that came before it, the part where Faris had to mourn the end of what truly seemed to be a delightful relationship all while watchful eyes were on the hunt for any cracks in her facade, well, she had work for that. 
Rather than head straight to her couch and a pile of feel-good comedies, the kind she was most likely to be starring in, Faris reported to the Mom set, production on season five of the CBS comedy already well underway by the time she and Pratt revealed their split in matching social media statements in August 2017. "She just is a trooper. She comes to work with a smile on her face," costar Allison Janney shared with E! News at the TV Academy's Performers Peer Group Celebration event barely two weeks later. "She's a professional. I love her to death."
In other words, her onscreen daughter wasn't exactly going over the details of the separation between takes, or even letting on that she might feel less than 100 percent. "She comes to work and gets the job done. She's great," Janney continued. "She's got a big smile on her face and she's getting through it."
Watch:
Allison Janney Tells How Anna Faris Copes During Tough Time
Her new book, along with the matching podcast that has Faris doling out relationship advice she admits she's perhaps in no business to give, meant she had no choice but to put on her bravest face and address the "what happened?" issue. Yes, writing the book was cathartic, she told Seth Meyers, even though the timing meant it didn't so much get into details of the split, it certainly told the story of how she overcame past relationship fallout to end up in one of Hollywood's most desirable pairings in the first place.
And proving they really did have "the deepest respect for one another," as they stressed in their breakup announcement, Pratt, 40, penned the foreword, noting that Faris will be "just fine" and repeating their intentions to "amicably co-parent a human" together. 
"I feel unbelievably vulnerable at this stage, but I'm also proud," she told Meyers of her work, fully aware that her words would now be parsed in a way they may not have been earlier. "I hope that people can relate to it and hopefully there's sort of a collective idea that we all go through the same stuff."
Frazer Harrison/Getty Images
Eventually, though, the luckiest of us find their way to the other side of the relationship malaise with the kind of hope that only a new romantic prospect can inspire. 
For Faris, it was Barrett, the UCLA grad she met that fall on the set of her Overboard remake. First spotted at a Los Angeles carnival back in September 2017, by the following month the twosome had already established their place, enjoying two consecutive dinner dates at Modo Mio, a Pacific Palisdes, Calif. eatery specializing in Northern Italian cuisine. As it turned out, the wine-fueled dinners were the precursor to a November trip to Venice, Italy that saw the budding couple take in the architecture along the Grand Canal. 
Their pairing got a thumbs up from her nearest and dearest with Overboard's Eugenio Derbez teasing that his costar got the A-plus lighting treatment and Janney telling E! News she found him "really lovely" after their initial meeting. But Faris herself remained mum. 
Having loved and learned, she realized that, actually, she didn't entirely feel comfortable being one-half of such a public pairing, their joint walks down the red carpet meaning reporters had free rein to ask about his most romantic gestures and tabloids were able to run rampant, speculating that perhaps he appeared just a bit too friendly with his latest costar.
Her rep had put her on notice, predicting that exact situation would occur when Pratt filmed Passengers with Jennifer Lawrence in 2015. "Before they met in person, my publicist, out of the blue, pulled me aside. 'Anna, listen there are going to be paparazzi all over them. There are going to be shots of them laughing together on their way to set. There are going to be stories circulating, and you have to brace yourself for this,'" she wrote in Unqualified. Yet being forced to read the divorce rumors still stung. And that was with Lawrence reaching out to reiterate that of course she had no designs on Pratt.
"Jennifer and I are really friendly, and she was apologetic even though she didn't need to be because she hadn't done anything wrong," Faris continued. "She's awesome, but of course it's hurtful and embarrassing when people are saying your husband is cheating on you—even if it's patently untrue." 
Though Faris thought that such laughably false stories would be easy to brush off, "She struggled with it," a source says of having to open up her relationship to innuendos and speculation. With Barrett not as firmly in the public eye, "They are more private, which she likes," says the source. 
So, for the time being she's not going to dish on their date nights on her podcast or plaster him all over Instagram. "I think it's a lesson learned a little bit in terms of keeping relationships a little more private, potentially, even though I pride myself on being a pretty open person," she explained during an April interview with SiriusXM's Hits 1 in Hollywood. "But, I don't know, it's tough when you're under the scrutiny."
Faris has already made moves that signify far more than any Instagram selfie could, allowing the 49-year-old, whose credits include Ted and You Don't Mess With the Zohan to meet her pride and joy. "Anna introduced Jack to her boyfriend Michael very early on," an insider told E! News. "She wanted to be honest with him and have Michael be a part of Jack's life."
It was a decision sanctioned by Pratt. "Chris and Anna are on good terms now in terms of each of their significant others," explains a source, "and have no problems with Jack hanging out with either." Primarily because both Barrett and Schwarzenegger are the type to embrace their partner's child as a bonus, someone who enhances an already fantastic pairing. 
The former spouses "are both dating people who love Jack and are very good with kids," notes the insider. "Jack is going to be a big part of their lives and they wouldn't date anyone that didn't accept that."
And that's just one of the tenets of their co-parenting plan, the couple going the conscious uncoupling route previously set forth by the likes of Gwyneth Paltrow and Chris Martin. In the initial weeks following their split, they even signed up for counseling, so determined to do right by their son that they brought in professionals to offer crucial guidance. "Chris wants Anna to learn how to co-parent and how they can exist together with their son, while having separate lives," an insider told E! News. "They don't want this to affect his life."
Buckner/Variety/REX/Shutterstock
Among the lessons they picked up: keep any and all negativity they may be feeling far from their little one's ears and stay true to that necessary divorced kid's mantra: This split has nothing to do with you. "He's surrounded by so much love and I think that we just constantly reinforce what a great kid he is," she told E! News. "And then, you know, sort of I think try to discipline him when he's being a little bit naughty. But I think the key is surrounding him with a lot of joy and happiness, which he has a ton of." 
It's a strategy that's served to ensure Jack remains a happy, well-adjusted boy, who unlike some nervous adolescents, scampered up the stairs to his first day of kindergarten worry-free. Walking with Pratt to drop him off for that first day last August, "We were trying to not, you know, transfer any hint of anxiety," she shared during an October appearance on The Talk. "Jack just ran in. He was like, 'Bye guys.'" 
Jordan Strauss/Invision/AP
Their significant others sat that particularly activity out, but the foursome has since proven they're all evolved enough to hang as a group. And while the idea of spending time with your ex-husband and his new girlfriend sounds as if it would be rife with awkwardness, somehow it's just not. 
No one wanting to be left out of Halloween trick-or-treating with Ninja Jack last year, the whole group was on hand to traipse through Faris' L.A. neighborhood Oct. 31. And proving they've all passed the tiptoeing around each other stage, each couple felt free to indulge in a bit of PDA. Schwarzenegger and Pratt "stopped to kiss a few times and weren't shy about being affectionate," reports an onlooker, while "Anna and Michael were holding hands." 
Nor did the group stick to their respective pairs throughout the whole outing. At one point, Schwarzenegger and Faris hung back to chat, with the 29-year-old author even helping adjust Faris' Snow White wig. Says the source, "They all seemed like very good friends and had a lot of laughs and good times." 
So it was no surprise, really, when days later, the final judgment of Pratt and Faris' divorce was filed in court, with little fanfare and no traces of animosity. Not only did the couple agree to share legal and physical custody of Jack and waive the option of spousal support, but the papers were filled with details proving they really meant it when they announced their intentions to put the kindergartner first. Each agreed to live within a five-mile radius of the other through Jack's sixth grade graduation and provide at least 30 days notice should they wish to take him on an international vacation. 
"It's all very amicable," a source told E! News, "and always has been between them because they just want what's best for Jack." 
Each other, too, with the twosome sharing the kind of love where even if it doesn't work out you truly want the other person to be happy rather than hoping just a little bit that they'll be alone forever lamenting on your lost love. 
"At the end of the day, we've got a great kid who's got two parents who love him very much," Pratt noted to Entertainment Weekly. "And we're finding a way to navigate this while still remaining friends and still being kind to one another. It's not ideal, but yeah, I think both of us are actually probably doing better."
Frazer Harrison/Getty Images
It's a sentiment Faris wholeheartedly agrees with. Having sailed past their two-year anniversary she's fully smitten with Barrett, the kind of guy apt to whisk her off to Hawaii for Thanksgiving. "Anna is still very much in love with her boyfriend Michael," a source tells E! News. "She's very happy with him and how they're moving forward." 
And that's just one of the blessing she considers before any necessary mirror pep talks she might have. "I love love!" she exclaimed to Women's Health earlier this year. "Like all of us, I need a sense of human connection and intimacy. At the end of a workday I feel exposed and kind of raw. I want to be with someone I can confess to, and who can confess to me." But that type of partnership is only a piece of what she's got going on in her life. "I cherish my family, my close friends, my child," she shared, "that makes the rest of it worth it." 
Spoken like someone who's viewing any glass she sees as decidedly half-full.