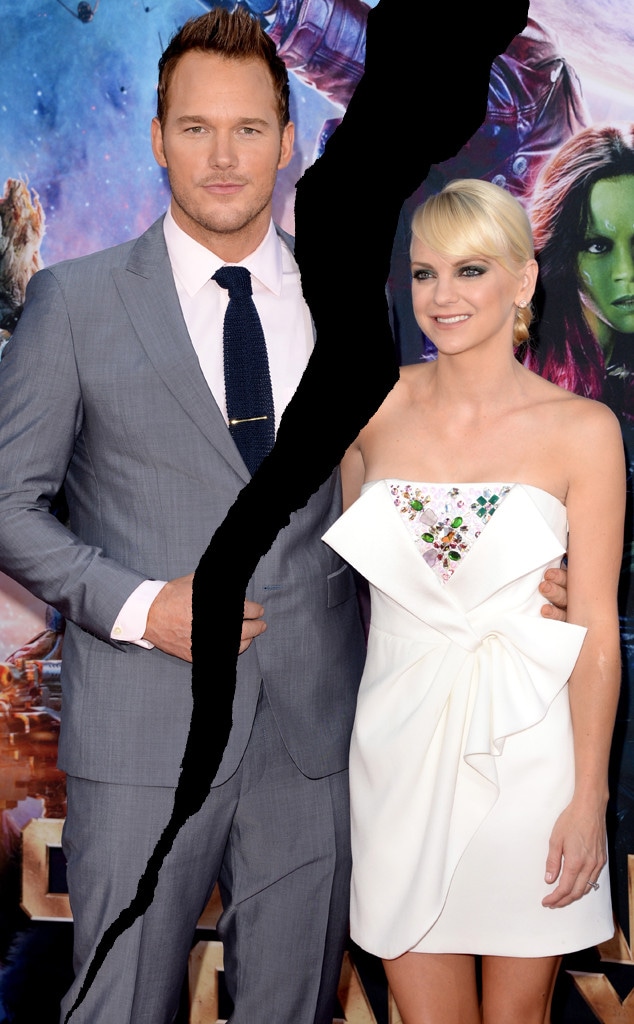 Getty Images
Anna Faris and Chris Pratt's new normal can't help but feel a little weird.
The actors had been part of each other's lives for a decade when they announced on Aug. 6 that, not for lack of trying, they were legally separating after eight years of marriage.
Of course, as parents of son Jack together, they're still very much a part of each other's lives—for better or worse.
For better as co-parents, to be sure. But perhaps also for the worse as two people nursing their respective hurt feelings who must immediately put on a brave face for their 5-year-old.
Neither Pratt nor Faris has posted to Instagram since Anna used the platform to share their joint statement on the split, but Pratt has been the more visible of the two over the past month.
On Aug. 13 he ventured out to a church service with Jack in the morning and, later that day, he attended the 2017 Teen Choice Awards, where he presented an award to Guardians co-star Zoe Saldana and won the surfboard for Choice Sci-Fi Movie Actor. He gave an acceptance speech that showed no sign of anything being amiss in his private life.
"When I came to Los Angeles, I came from Hawaii and I had all of this blond hair and I was tan and I met an agent because I really wanted to be an actor and get an agent and he said, 'Wow. Bro you must surf?' And I said 'Yeah' and that was the first of many lies I told to get where I am today. Thank you," the jovial Guardians of the Galaxy star said. He added, "I would not be here with the ease and grace I have in my heart without my lord and savior, Jesus Christ."
Kevin Winter/Getty Images
If that had seemed like an abrupt pivot, then you hadn't been keeping up with your Chris Pratt homework. The 38-year-old actor often quotes the Bible and makes inspirational references on social media, and in the January 2017 issue of Vanity Fair he opened up about his spiritual awakening—which occurred years ago when he was 19 and living in Hawaii and, outside a grocery store where he was waiting for a guy to buy him and his friends beer, a stranger "named Henry came up and recognized something in me that needed to be saved."
He went to church with Henry, and that was that. (Pratt also spoke of that experience to Esquire in 2014, recalling, "I gave my soul to Jesus within, like, two days.")
Pratt told People in July 2014 that it was watching son Jack fight to survive and then flourish after being born nine weeks prematurely that helped take his faith to a new level.
"We were scared for a long time," he said. "We prayed a lot." Ultimately, "it restored my faith in God, not that it needed to be restored, but it really redefined it. The baby was so beautiful to us, and I look back at the photos of him and it must have been jarring for other people to come in and see him, but to us he was so beautiful and perfect."
And while "fame" was the F-word that came up the most when people were trying to pinpoint why Faris and Pratt didn't work out, "faith" has also been floated by some wondering if Pratt's religion came between them. As recently as this summer Faris was citing their similar upbringings in Washington as one of the reasons why they "fit so well together," though theoretically Pratt didn't become religious until he was older. 
"We're from the same place. We both know the same trees and smells and birds," Faris told Live Happy in June in what was apparently her last interview before the separation, featured in the magazine's October issue. "It sounds corny, but those are things that ground us in everything outside of Hollywood."
A source told us in the days following the separation, however, that ultimately Faris felt "like she lost her voice throughout their marriage, like she lost her sense of self."
Pratt, meanwhile, credited divine intervention for helping to bring them together in the first place—they met in 2007 on the set of Take Me Home Tonight, but Faris was still married to Ben Indra.
"I just remember thinking, 'Wow, in another life, that's who I want to be with—we would be so good together, I just know it,'" Pratt recalled being impressed with Faris right off the bat to Elle in 2015. The connection in this life was unavoidable, though, and after Faris and Indra split up later that year, she started dating Pratt. He proposed at the end of 2008.
"Anna and I are meant to be together," the actor said in a Reddit AMA in 2015. "Our relationship has made me believe in divine intervention and destiny, just as much as my crazy career and the way I fell into this life."
Faris has only been photographed twice in public since the split announcement, once while she was driving and again while leaving work, but we have heard from her via her weekly podcast, Unqualified, during which she's continued to dispense relationship wisdom if not directly reference her own situation. On Oct. 24 her first book—also called Unqualified—comes out. Pratt wrote the foreword. 
Her first post-split comment came when she added a special intro to the pre-taped Aug. 15 episode in which she said, "Hey, dear listeners: I just want to thank you all so much for all the love I've been receiving, and I truly love you."
Faris' book, meanwhile, comprises a collection of personal stories, often humorous but also boldly honest, so pretty soon we'll have all sorts of insight into her mind—though depending on when she sent the final draft off for publishing, some of the dots may have to be connected by discerning readers.
"I feel really, really nervous because it feels intimate," Faris said on yesterday's Unqualified. "I'm excited and when I first got the book deal, I thought, 'What a great adventure this is going to be,' and now that it's getting closer, I feel nervous in a sense that I've been able to always hide behind characters."
"And now it's like, this is me," she added. "It feels a little scary."
Faris joked later in the episode, "It definitely confirms that I have no idea what the f--k I'm talking about."
So no wonder Faris is taking it slowly when it comes to returning to the public eye—she'll be there soon enough. Her sitcom, Mom, will also be returning to CBS for its fifth season starting Nov. 2 and, between her various projects...there will be press.
In the meantime, first and foremost for Faris and Pratt is Jack's well-being.
"It's one of those things that drives you apart or makes you closer," Faris told Redbook in 2015. "I think that being a father is very meaningful and rewarding to Chris. He's a great dad. He's a little more serious than he was before. It forces your hand. You really have to become an adult."
"Our son has two parents who love him very much," they said in their separation statement, "and for his sake we want to keep this situation as private as possible moving forward. We still love each other and will always cherish our time together."
That was the version on Faris' Twitter and Instagram; on Pratt's Facebook page the full last sentence read, "We still have love for each other, will always cherish our time together and continue to have the deepest respect for one another."
Before the split announcement, they had been apart for work, perhaps gratefully so. Faris went to Vancouver in May to shoot the Overboard remake due out next year, while Pratt was spotted in June and July in Hawaii, where he was filming the Jurassic World sequel. By July 23, Faris was back in L.A. going to the Emoji Movie premiere with Jack, and Pratt headed solo to the Hollywood premiere of Ingrid Goes West on July 27.
A source tells E! News that Anna and Chris have been going to counseling together, basically as a matter of course to help with co-parenting, with a source saying, "It's nothing to do with them as a couple—they are not trying to get back together or save anything."
The insider added, "Chris wants Anna to learn how to co-parent and how they can exist together with their son, while having separate lives. They don't want this to affect his life and are trying to keep this as private as possible."
E! News learned that Faris took Jack to go stay with her at a friend's house after she and Pratt broke the news to the world—news that proved most heartbreaking to the Internet as well.
"They really didn't have a road map for what this would all be like," a source told People. "They are both fun-loving and gregarious types, but she had much difficulty with the separation."
But at the same time, Faris is holding it together for her son—and for work, as so many women in Hollywood have no choice but to just do when they find themselves nursing a heartbreak.
"She just is a trooper," her Mom co-star Allison Janney told E! News last month. "She comes to work with a smile on her face. She's a professional. I love her to death."
Janney, who acted with Pratt when he guest-starred on Mom last season, added that Faris kept her private life "pretty much to herself. She comes to work and gets the job done. She's great. She's got a big smile on her face and she's getting through it."
As Faris herself said on the Aug. 15 episode of Unqualified, in a piece of actually pretty great relationship advice that we now know was her speaking from experience: "Life is too short for you to be in relationships where you're not feeling like this isn't fully right or somebody doesn't have your back or somebody doesn't value you in every way."