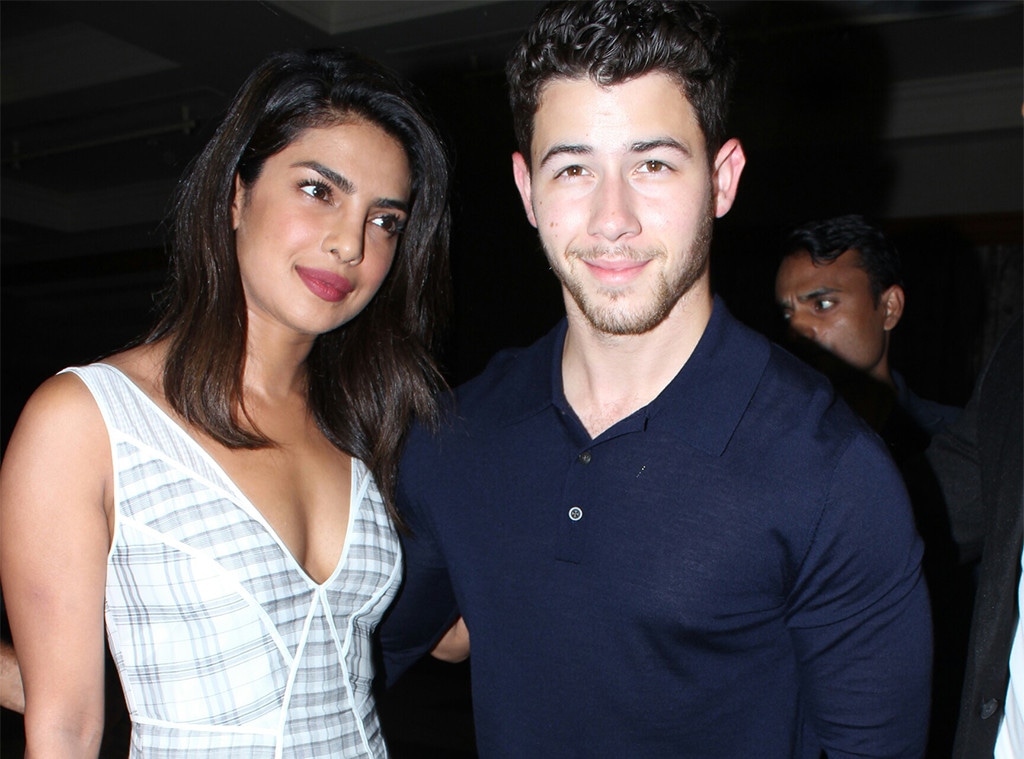 Newslions Media / MEGA
Now that Priyanka Chopra truly has it, she can't help but want to flaunt it. 
For years the Quantico alum has maintained a strict privacy policy when it comes to romance. "All my life," she explained in a 2016 interview with Filmfare, "I've never commented on the fact whether I'm in a relationship or not."
Having lived in the public space since her teen years, she was eager to define herself as her own person, rather than one half of a couple. "Especially in entertainment because women have such public lives, we always end up being reduced to a plus one or 'blahblahblah's' girlfriend," she explained to People at Monday's Bumble India launch. "And I wanted to give myself enough time where I'm able to stand on my own two feet and have my identity as well." 
But now that she's achieved multi-hyphenate status (actress, singer, pageant queen, philanthropist, world changer) she doesn't so much mind adding Nick Jonas' bride to her list of titles. "This is the first time I was comfortable with being with someone who is such an incredible partner, so it just felt natural," noted Chopra, an investor in the dating app. "And plus there was a ring on it! I always said that when there's a ring on it I'll talk about it because you're single until you're married." 
And Chopra has no intention of holding onto her single status much longer, capping off her whirlwind romance with a brief engagement to the boy bander turned accomplished singer-actor. With the multi-day traditional Hindu event set to kick off in Chopra's native India in late November, "She is in full-on wedding planning mode," a source reveals of the 36-year-old, who accepted a four-carat cushion-cut Tiffany diamond from Jonas during her July birthday celebration in London, "and there is a lot to plan." On the docket are several pre-nuptials festivities, including a Mehndi party, where brides typically have the red-orange henna artfully applied to their hands and feet, and a Christian ceremony to honor Jonas' faith. (The Texas-born, New Jersey-raised musician, 26, grew up as the son of an ordained minister.) 
The celebrations will culminate in the main event at a sprawling, historic palace. It's a lot to pull off with just four months of planning, but the source tells E! News she's too jazzed about becoming Jonas' wife to sweat it. "She isn't stressed at all," reveals the source. "She's just really excited to marry Nick and they're both very happy." 
Happy and efficient. Because with the nuptials countdown clock set to just four weeks, the couple are knocking out decisions left and right, the first being to honor the request of Chopra's mom to have an event steeped in tradition. That began with the August Roka ceremony, where loved ones gather to bless the betrothed couple and exchange gifts and sweets, a moment that left Madhu Chopra feeling emotional as she remembered her late husband Ashok Chopra. (The Isn't It Romantic actress was so close to her dad that after he passed away from cancer in 2013, she had a "Daddy's little girl" tattoo inked on her wrist.) 
"My daughter knew I wanted a Roka before the marriage, so she never said, 'No,'" the former gynecologist shared with After Hrs via DNA India. "I haven't forced any of my thoughts on her, but I definitely want a traditional Indian wedding. That's my only wish. I started the Roka with a puja, which is important for me. I'm a modern mother, but at heart, I'm quite conservative." 
To that end, the couple is working hard to incorporate their two faiths. After all, though the former Jonas Brother has long since ditched his purity ring, "My belief in God is still very strong and important to me as a person," he shared with Huffington Post in 2014.
Kevin Tachman/Vogue/REX/Shutterstock
"They really want to blend wedding traditions from both of their cultures," a source told Us Weekly. "Priyanka is having a really good time planning the wedding because it's a mix of Indian and American styles and customs, which she knows so much about." 
And, of course, a dash of details that are uniquely them. The source tells E! News they've selected Ralph Lauren dresses for her bridesmaids to wear at one of the celebrations—the same designer that initially brought them together (albeit platonically) at the 2017 Met Gala. "The significance is super cute and very meaningful to them," notes the source. Chopra has also chosen a dress (perhaps her Marchesa bridal shower gown was a hint?), a color scheme for the main event (as per tradition, the bride plans to wear red; the groom ivory) and has commissioned a four-pillar mandap structure to stand under for their vows. 
Despite an increasingly tight deadline, "a lot of details are still being finalized," admits the source, "but she just can't wait for the day to come!" 
She has plenty of celebrating to tide her over in the meantime. A month after the "Chains" singer shut down a London Tiffany & Co. outpost so he could select the perfect diamond in private—"I've always had a romantic fascination with Tiffany since I was a kid," Chopra told People. "It's just so chic and classy and timeless. So somewhere I'd mentioned it to Nick that I wanted my ring to be a Tiffany ring and I think he remembered—they traveled to India for the Roka and ensuing engagement bash. 
It was there that the Golden Globe nominee solidified the good impression he'd made when he first flew out there to seek Madhu's blessing a mere two months into their romance. "He's a wonderful person and everyone in the family just loves him," she shared with After Hrs. "He's so polite and respectful towards elders. What more can a mother want!"
Well, nailing the traditional puja prayers alongside his parents Denise Jonas and Paul Kevin Jonas, for starters. "It was a new thing for him and he took it seriously," she said. "He followed what our panditji said and chanted the Sanskrit mantras accurately. Both he and his parents did it beautifully."
Because it was important for Jonas to do right by his future spouse. "It was really special," he said during a September appearance on The Tonight Show Starring Jimmy Fallon. "And, for she and I, I think it was just nice to be able to have that time with the family first and then be able to share with the world afterwords." 
In the months since they officially confirmed their engagement in the most twenty-first century way possible (with matching social media posts, naturally) they've grown increasingly less shy about taking their love to the 'gram. This past weekend, for instance, Chopra fully documented her 100-person bridal shower bash at Tiffany's flagship location on New York's Fifth Avenue. 
In the teal-and-white backdrop of the stores' Blue Box Cafe as Bollywood music played, Chopra spent some five hours dancing alongside guests such as Kelly Ripa, Lupita Nyong'o and future sister-in-law Danielle Jonas. "It wasn't a normal shower," she told WWD at Monday's Bumble event. "I haven't even opened gifts yet, it was just dancing and cocktails and fun." 
With plenty of adoration for the couple sprinkled in. Before walking away with goodie bags filled with monogrammed passport cases, mini cakes in the shape of the iconic Tiffany box and champagne, guests listened to Denise gush about her future daughter-in-law. Chopra's father-in-law-to-be also dropped by to offer his congratulations along with son Kevin Jonas and the groom, who was traveling during the occasion, chimed in over FaceTime. 
Which means he caught sight of Chopra's borrowed Tiffany jewels, Jimmy Choo clutch, nude Christian Louboutins and the strapless, feather-adorned Marchesa that left her feeling like royalty. "That was a beautiful gown, and deserved to be worn by a bride-to-be," Chopra explained of her reasoning for choosing a piece created by her friend Georgina Chapman, embattled producer Harvey Weinstein's estranged wife. "And it made me feel like a princess."
Jonas' actions go a long way to accomplishing that as well. Since being connected by a mutual friend in late 2016 ("I actually didn't make the first move—he did," she told ET) they've progressed from texting buddies, to Met Gala plus-ones and finally potential paramours. 
"It was kind of immediate, and I think we just knew it was right and jumped right in," Jonas told Jimmy Fallon of the moment they crossed the just pals threshold this spring. For Chopra it was the sense of mutual respect that convinced her she'd found the guy she wouldn't mind sharing with the world. "Then everything is easy because you give each other credit for your intelligence," she explained to People, "you give each other the benefit of the doubt because you trust each other. There's so much that comes out of that. I think don't settle for less than that." 
Watch:
Priyanka Chopra Shows Off Engagement Ring From Nick Jonas
A shared devotion to kin was also key. "I can go into all of it and get all mushy," he told E! News' Jason Kennedy, "but I think the thing that really connected both of us is our love for family and faith and the importance of being connected to those that are always going to be there for you. We found that in each other as well, which is a beautiful thing and I'm excited to start our life together."
Asked to give her take at October's 2018 Tiffany Blue Book Collection, Chopra concurred. "We have that in common very much," she shared with E! News. "We've known each other for a couple of years but we dated for just a little while, but I think that's the one thing we really connect on is our love for family and knowing faith is so important to us."
Now, she said, she's enjoying their upgraded relationship status. "I never realized that having a boyfriend and having a fiancé are completely different," she gushed. "It just feels different. There's gravitas. You feel like family, which is just so different."
Which of course begs the question of if they're planning to grow their new little brood. With close pal Meghan Markle expecting her first child with husband Prince Harry, Chopra admits she's caught a bit of the baby fever. "I just have a few of my friends who are having babies right now," she told E! News,  "so I'm like, 'God I need to catch up!'"
But first she's racing toward her late fall vows and savoring the chance to approve every centerpiece, table setting and dress design. 
"This is such a wonderful new step in my life and I'm still getting used to it because it's obviously been a whirlwind and I haven't seen myself happier," she exclaimed to ET. "Just being in the whole situation of finding somebody who can be a partner to you in so many more ways than one is amazing, so yes I'm very excited."