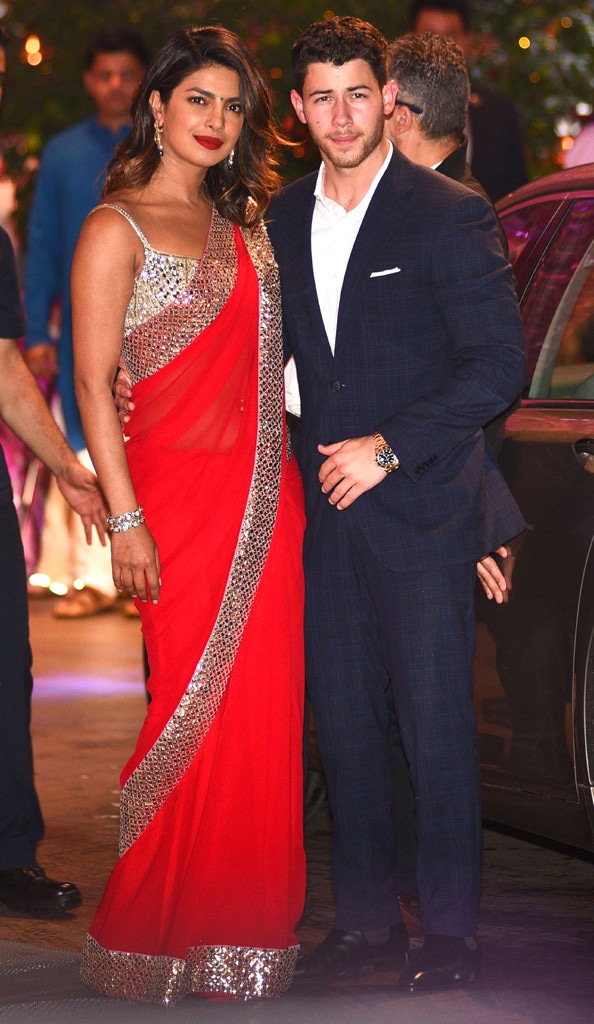 SUJIT JAISWAL/AFP/Getty Images
It's safe to say Nick Jonas has made quite the impression on Priyanka Chopra's mom.
Just a few days after the newly engaged stars traveled to India to celebrate their new relationship status, one family member is speaking out and singing her praises for the famous Jonas Brothers member.
"Nick is calm and mature. He's a wonderful person and everyone in the family just loves him," Priyanka's mom Madhu Chopra shared with After Hrs via DNA India. "He's so polite and respectful towards elders. What more can a mother want!"
She added, "I always trust Priyanka's judgment; she's not impulsive. She gave it a lot of thought and when she decided on something, I was sure it would be good."
At the end of July, the Hollywood couple surprised fans when news broke of their engagement. They wouldn't confirm the news until this past weekend's engagement party.
During the celebration, more than 200 people including Nick and Priyanka's immediate family marked the couple's love story with several festivities. And for those wondering how the "Jealous" singer did with the traditional Roka ceremony, we may have your answer.
"Nick enjoyed the prayers during the puja. It was a new thing for him and he took it seriously. He followed what our panditji said and chanted the Sanskrit mantras accurately," Madhu revealed. "Both he and his parents did it beautifully. They are nice people."
After the celebrations, Nick took to Instagram and gave fans and followers a glimpse into the celebration. At the same time, fans couldn't help but notice the chemistry amongst the pair.
"Future Mrs. Jonas. My heart. My love," he wrote on social media. "Prayer, family and loved ones as the foundation to this new chapter."
For those hoping to receive wedding details, Priyanka's mom says she has no idea when the big day will be. In fact she calls any possible dates "baseless rumors."
At the same time, she can't help but be excited for where this love story will go next.
"Priyanka has always been ambitious about her career and I was just supporting her and wishing the best for her, as a mother. I used to pester her, but in the last two-three years, I had stopped," Madhu shared. "I had given up. Yeh sab cheez ka ek time hota hai, it's all destiny."