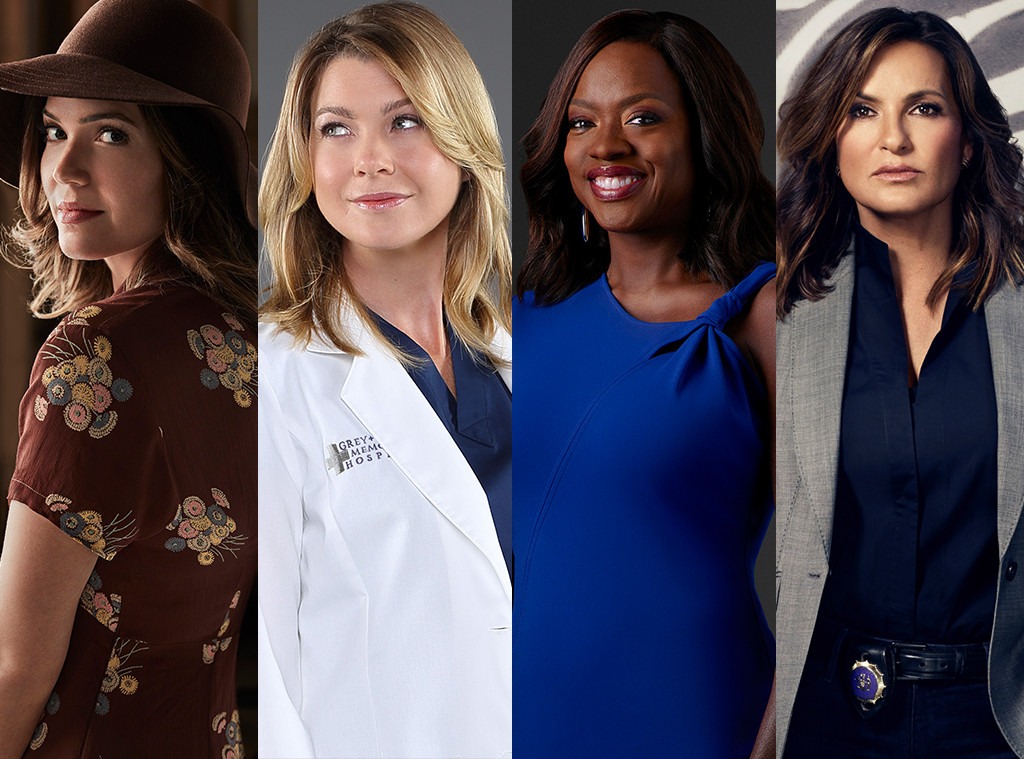 NBC, ABC
The future of TV is female!
The E! People's Choice Awards are just around the corner, and we are so excited for all the lovely ladies who are finalists for this year's ceremony.
So many fierce females dominated the small screen this year, so it comes as no surprise that so many of them are being recognized, either for their shows or their roles, specifically.
This Is Us for example, is a finalist for both Show of 2018 and Drama Show of 2018, while its leading lady, Mandy Moore, is up for Female TV Star of 2018.
When the show airs, the brunette beauty will be duking it out against some stiff competition including, Ellen Pompeo, Viola Davis, Camila Mendes, and Katherine McNamara.
After the initial nominations and then finalists were announced over the past few months, E! News was able to catch up with some of the gorgeous gals who've earned a finalist spot this year and break the news to them while capturing their precious reactions on camera.
Seriously, we're just so happy for them!
For starters, Pompeo was truly humbled that Grey's Anatomy was a finalist for Show of 2018 and Drama Show of 2018.
Plus, she knew it was only right to thank the people who watch the medical drama for their continual love and support.
It is the People's Choice Awards, so it doesn't take a doctor's diagnosis to know that she and her co-stars owe these nods to their faithful fans.
Davis may be representing How to Get Away with Murder all on her own, but she definitely brought enough energy in her reaction for the whole cast.
Not to mention, Mariska Hargitay was so honored to be a finalist for Drama TV Star of 2018 that she couldn't stop gushing about Law & Order: SVU's loyal viewers.
But wait, there's more! Be sure to see more memorable reactions from the wonderful women finalists below.
Watch:
Mandy Moore Is "Flabbergasted" at PCAs Finalist News
Watch:
D'Arcy Carden Says E! PCAs Noms Are Better Than Emmys
D'Arcy Carden
The sweet star was thrilled to find out that her show The Good Place is a finalist in the Comedy Show of 2018 category. "It is from the people," she said. "Truly, that's the best!" Aww! Plus, she's so happy that co-star Kristen Bell is also a finalist for Comedy TV Star of 2018 that she just had to rave about it in the group chat with the rest of the cast. So sweet!
Watch:
Viola Davis Thanks the People for PCAs Nom
Viola Davis
Davis only needs one word to truly capture how she's feeling about being a PCAs finalist. "Fabulous," she exclaimed. Short, sweet, and definitely to the point!
Watch:
Ellen Pompeo Says "Grey's Anatomy" Belongs to the Fans
Ellen Pompeo
Graceful Dr. Grey! Pompeo was obviously thrilled to be a finalist in so many PCAs categories, but selflessly decided to relinquish the recognition to the fans. "I owe everything to the fans," she declared. "I think it's officially their show." That just warms our hearts.
Watch:
Camilla Luddington "Feels Amazing" About 2018 PCAs Nom
Camilla Luddington
Pompeo's co-star also shared her sentiment while reflecting on Grey's Anatomy's multiple nods, and was sure to give credit where credit was due. "It feels amazing," she exclaimed. "Any time that the fans show that kind of love for us, we always appreciate it." With so many Grey's Anatomy finalist spots this year it's clear that the love is mutual.
Watch:
Why Samira Wiley Thinks "Handmaid's Tale" Deserves a PCA
Samira Wiley
The Handmaid's Tale actress is so happy that her show is a finalist in the Drama Show of 2018 category and she couldn't stop raving about it! "It is a good television show, from every aspect of it," she said. "I very much value excellence, and I'm very proud to be on a show that also values that." We love that she takes such pride in her work because it definitely shows.
Watch:
Mariska Hargitay Is Flattered and Proud of E! People's Choice Nom
Mariska Hargitay
Hargitay may be a badass babe on-screen, but she is humble off-screen, especially when she's gushing with gratitude over being named a PCAs finalist. "I'm extremely flattered, and I'm so happy and so proud that people are responding to the show," she raved. You go, girl!
Watch:
Melanie Scrofano Surprises Fans at E! PCAs Food Truck!
Melanie Scrofano
Scrofano had a blast surprising fans at the PCAs food truck. After all, she was probably just as shocked as they were, since her show Wynonna Earp was a write-in finalist for Sci-Fi/Fantasy Show of 2018. "I had a blast," she said. "We had so much fun!" We're sure the fans did, too.
Watch:
Katherine McNamara Talks People's Choice Awards Nom
Katherine McNamara
McNamara admitted she was also caught off guard when she was named a PCAs finalist. While Shadowhunters: The Mortal Instruments was initially nominated for Sci-Fi/Fantasy Show of 2018, fans wrote it in for Show of 2018, Bingeworthy Show of 2018, and even McNamara herself was written in for Female TV Star of 2018. "It's quite a bit of shock when you find out this is happening," she explained. "But ultimately, I have nothing but gratitude." Talk about an emotional roller coaster!
The only way to find out which of these female finalists takes home a trophy at this year's ceremony is to tune in when the show airs this weekend.