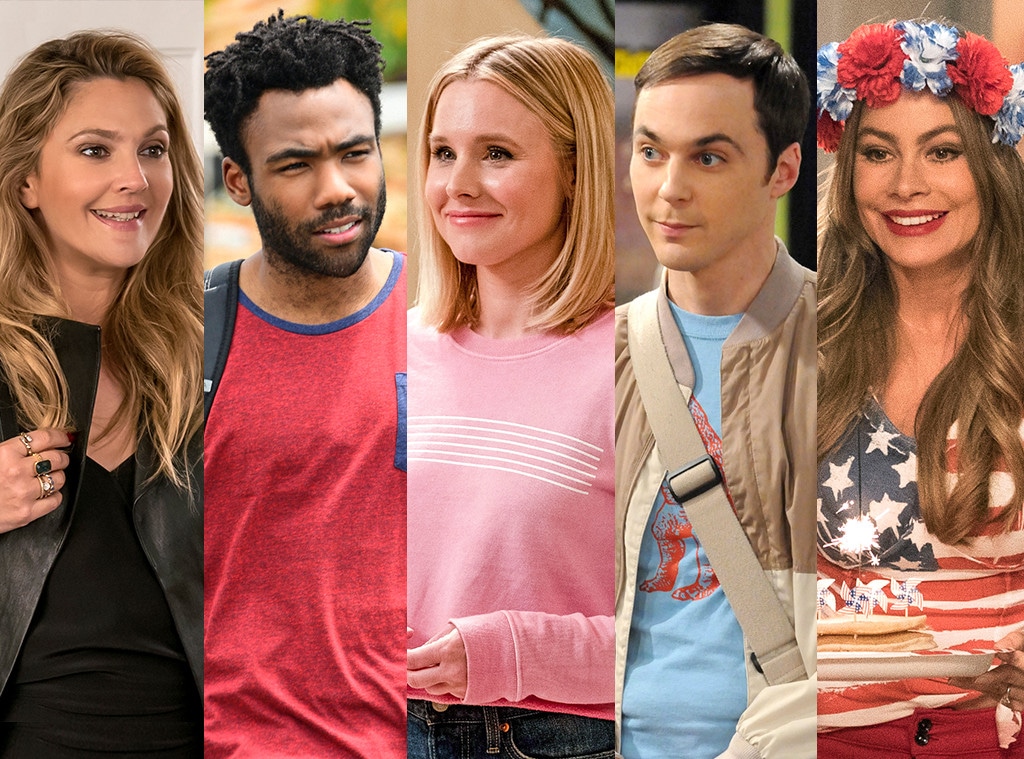 Netflix; FX; NBC; Warner Bros; ABC
The 2018 E! People's Choice Awards are right around the corner and we can barely contain our excitement.
As the big award show gets closer—it's on Nov.11—we can't stop thinking about which stars are going to win each category. One of the most competitive categories has to be Comedy TV Star of 2018—which you can still vote for this week—and all of its finalists deserve the title.
The category includes, Kristen Bell for The Good Place, Jim Parsons for The Big Bang Theory, Sofia Vergara for Modern Family, Donald Glover for Atlanta and Drew Barrymore for Santa Clarita Diet. Clearly, this is going to be a tight and funny race to the finish.
Since voting closes on Friday, Oct. 19, we wanted to give you a few more reasons as to why you should vote for each of these actors. The main one being that they can make you laugh even when they aren't on their designated TV shows.
Think about it, over the years how many times have you laughed courtesy of Bell or Parsons? What about all the times you laughed thanks to Vergara, Barrymore or Glover?
No matter what these stars are up to they seem to have a way of making us crack up, which is why we've rounded up a few instances that we still laugh about featuring the finalists for Comedy TV Star of 2018 below.
Prepare to laugh—and maybe cry a little from laughter—as you scroll through the funniest moments from these actors over the years not on their TV shows. After you've recovered from your laugh attack, make sure to vote for Comedy TV Star of 2018 before it's too late!
Couples Audition
The only thing we love more than watching Bell do something funny is when she teams up with her real-life husband Dax Shepard to make us laugh instead. One of the greatest examples of this was when the duo did a sketch for Funny or Die where Bell had to audition for her role in Shepard's film CHIPS. Trust us, this is everything you enjoy about these two lovebirds with some sass thrown in for good measure.
Dance Craze
Is there anything that Bell does that isn't totally adorable? The simple answer: no! The Frozen star is so funny and cute no matter what she does, which is why when she decided to show Ellen DeGeneres how to "Jersey Turnpike" during one of her interviews our smile instantly got bigger. PS: she did do this move while wearing a dress, which made it even better.
Momsplaining
Thanks to DeGeneres there are numerous episodes of the laugh-out-loud funny web show called #Momsplaining With Kristen Bell on YouTube. You should watch them all now, because she talks about how to throw an epic kids' party, what giving birth is really like and so much more. Plus, every episode includes Bell's iconic wit and humor, which makes each episode enjoyable from start to finish.
"Dust in the Wind" on The Late Late Show With James Corden
What's not to love about Parsons getting dressed up like an '80s rocker and lip syncing to "Dust in the Wind" by Kansas alongside James Corden? The answer is nothing. We love everything about this moment from The Big Bang Theory actor and we sort of wish he did lip syncing on the regular. Maybe, even as Sheldon Cooper...or maybe that's too much!
Word Play
When Parsons isn't doing hilarious interviews or playing games on talk shows he is keeping his fans up to date with his life. This includes, pictures on set of his CBS comedy and of course random thoughts that he has like the time he explained words he doesn't like. "It's not a big thing, but the word 'sippy' makes me a little uncomfortable. So does the word 'hoodie.' Also hearing a fair amount of the word 'melty' in commercials lately when referencing cheese that's been exposed to heat and... yeah, same feelings," he captioned the above photo in March. "If this qualifies as my biggest complaint today, I have WON in a major way."
Exercise Fail
The one thing that the Broadway star might not be good at is exercising...at least on television. When he appeared on an episode of Live With Kelly as Kelly Ripa's guest host few years ago he did an exercise routine for the audience and the result was too funny. Seriously, we can't help but laugh when we see this.
Granny Panties
Every time Vergara appears on The Ellen DeGeneres Show she does something hilarious. One of our favorite moments between both her and the show's host DeGeneres was when the two got into one pair of granny panties and then stuffed them full of balls. The Modern Family star's commentary throughout is super funny.
CoverGirls
After both Vergara and DeGeneres became members of the CoverGirl family they had to poke fun at themselves and makeup commercials in general, and we are so grateful they did. In this skit, the two celebrities teamed up to show fans what their CoverGirl commercial would've looked like in another country and it included pretzels, funny costumes and robot poses. 
Barbie Boy
When Glover appeared on Saturday Night Live in 2018 he had a lot of funny moments, but one of the best was this Barbie skit. When asked by the Barbie team what they would caption photos of the doll in different situations, Glover continually gave in-depth analysis of what the doll would be thinking in a monotone voice. It shouldn't be funny, but we cannot contain our laughter when watching it.
Foodie Fun
The Solo: A Star Wars Story star is great at stand-up and on screen, but some of the things that make us laugh most from Glover are as simple as his commentary on different snack foods. During an interview to promote the Star Wars film back in 2018 Glover and his co-star Phoebe Waller-Bridge compared American and English snacks and their faces while eating, paired with their thoughts about each food were priceless.
BFFs or Bust
We officially want to be best friends with Barrymore and Jimmy Fallon after watching this interview. When the actress stopped by her friend's show in March, they played the "Best Friends Challenge" and even though their answers were never the same their reasoning for each answer had everyone in the audience cracking up.
Glasses Gal
When promoting your new glasses collection, you try on all the pairs and pretend to be different people, right? Well, that's exactly what Barrymore did while visiting The Ellen DeGeneres Show and trust us her fake personas are super funny.
Now that you've picked yourself up off the floor due to laugh attacks, it's time to make your voice heard. Vote for Comedy TV Star of 2018 before the final deadline on Friday, Oct. 19!