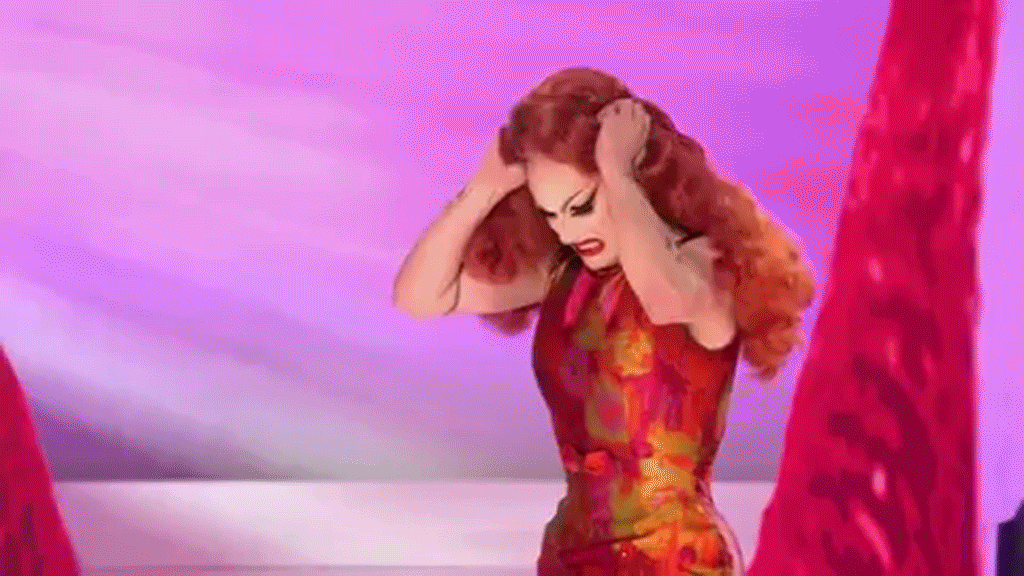 Yaaaaaas queen!
After 10 seasons, three All-Stars competitions, and several Emmys, RuPaul's Drag Race is—at long last—a finalist for the E! People's Choice Awards.
The drag queen competition series is up for Competition Show of 2018, and it's honestly about time.
Over the years, the show has served charisma, uniqueness, nerve, and talent as one of the most original, hilarious and captivating competition series on television.
So, who will the drag queens being facing off against at this year's award show? The RuPaul-helmed series is competing against reality giants like The Voice, America's Got Talent, and Big Brother, as well as newcomer Ellen's Game of Games.
But VH1's popular program brings one major element to our screens that we can't get from the other series: the Lip Sync for Your Life—or Legacy, for All-Stars—episodes.
There's truly nothing like watching two drag queens battle it out with impressive dancing, comedic bits, and show-stopping stunts for a chance at a hefty cash prize and a one-year supply of cosmetics.
While we still have to wait until Nov. 11 to find out if Drag Race emerges victorious at the 2018 PCAs, why not pass the time by reliving some of the show's most sickening lip syncs?
And trust us, after so many seasons there are plenty.
To make it easy on you, we've compiled some of the greatest lip syncs in Drag Race herstory below.
We're talking unpredictable reveals, shocking splits, daring death drops, and some of the most memorable moments the show has to offer. Can we get an amen?
Just do us a favor and make sure you're sitting down for this, because we're still shook from some of these performances.
Alyssa Edwards vs. Tatianna
When: All-Stars Season 2, Episode 5
Song: "Shut Up and Drive" by Rihanna
Winner: Alyssa Edwards and Tatianna
Iconic Moment: If we're being honest, this whole thing was iconic from start to finish. Stakes were high for the two fan-favorites competing to return to the competition and they left it all on the main stage. Everything from the killer moves and fab floor work to the split jumps and death drops was phenomenal. The queens even somehow coordinated outfits in almost identical bodysuits, so it's no surprise that RuPaul let them both back in.
Dida Ritz vs. The Princess
When: Season 4, Episode 3
Song: "This Will Be (An Everlasting Love)" by Natalie Cole
Winner: Dida Ritz
Iconic Moment: What's more iconic than a panel of judges—including Natalie Cole herself—waving pink handkerchiefs in the air in approval? Not much. Dida slayed every step and nailed each mark, making it her priority not to disappoint the song's original singer.
Chi Chi DeVayne vs. Thorgy Thor
When: Season 8, Episode 7
Song: "And I Am Telling You I'm Not Going" from Dreamgirls
Winner: Chi Chi DeVayne
Iconic Moment: Okay, look. If a queen is going to have a wardrobe malfunction that causes her dress to rain beads all over the stage during the climax of a power ballad and incorporate it into her lip sync, that's a moment for the herstory books. While Thorgy appeared to be trying to help her competitor after the mishap, Chi Chi refused to be taken out of the song. She continued to hit every mark without fail, so it's no surprise that she kept her spot after that performance.
Sasha Velour vs. Shea Couleé
When: Season 9, Finale
Song: "So Emotional" by Whitney Houston
Winner: Sasha Velour
Iconic Moment: It seems safe to say that no one saw this coming. After all, how could they? Throughout the entire season, viewers had only seen Sasha lip sync alongside three other queens before they all moved on to the finale. No one had seen her go toe-to-toe with another competitor and lip sync for her life. Meanwhile, Shea had just taken out Nina Bo'Nina Brown a few episodes earlier. But when Sasha removed that first glove, releasing a bunch of rose petals in the air, the live audience ate it up. But then came the other glove. And just when everyone thought there couldn't possibly be more, Sasha literally snatched her wig off her head, letting rose petals fall all over her. The moment earned her a standing ovation and a spot in the season's final lip sync for the crown—that she went on to win, by the way.
stupid girls - joslyn fox vs laganja
- WHEN LAGANJ JUST FLINGS HER WIG OFF
- JOSYLNS FACIAL EXPRESSIONS ARE TOO PERFECT
- the iconic simultaneous split (eureka and kameron are shaking)
- they both perform the song soooo well
- shouldve been a double save
pic.twitter.com/KsPrW5OgvV

— emily (@slowsplits) May 26, 2018
Laganja Estranja vs. Joslyn Fox
When: Season 6, Episode 8
Song: "Stupid Girls" by Pink
Winner: Joslyn Fox
Iconic Moment: We obviously need to talk about those perfectly in-sync splits. Both queens had been serving up sass throughout the song, but it wasn't until Joslyn saw Laganja lift her leg to her head in preparation that she knew she had to do something big. And what's bigger than dropping into a split at the exact same second as your opponent? Nothing!
Eureka O'Hara vs. Kameron Michaels
When: Season 10, Episode 9
Song: "New Attitude" by Patti LaBelle
Winner: Eureka O'Hara and Kameron Michaels
Iconic Moment: First of all, the grandma get-ups just added another epic level to this performance. It made Kameron's comedic expressions and exaggerated hair whips so much funnier, but Eureka held her own with impressive high kicks and hilarious floor work. Both queens offered the judges some strip teases, and they even went into full splits at the same time. It's no surprise RuPaul couldn't pick a winner.
Alyssa Edwards vs. Coco Montrese
When: Season 5, Episode 9
Song: "Cold-Hearted" by Paula Abdul
Winner: Coco Montrese
Iconic Moment: While the big moments in this performance were standouts on their own, everything was amplified by Alyssa and Coco's longstanding rivalry from their pageant days. Both queens brought their all to the main stage, showing off impressive jumps and entertaining expressions. Alyssa flaunted her stellar splits and dramatic death drops, while Coco captured the judges' full attention by simply pointing to her mouth while nailing the song's super-speed lyrics.
Monét X Change vs. Dusty Ray Bottoms
When: Season 10, Episode 4
Song: "Pound the Alarm" by Nicki Minaj
Winner: Monét X Change
Iconic Moment: Monét brought the comedy in performance. She started off with a small outfit reveal, but immediately had the judges in stitches with her hilarious moments, like busting out an oxygen mask after a dance break. And let's not forget about that death drop fake-out she pulled, only to later jump into a full split.
Peppermint vs. Trinity Taylor
When: Season 9, Finale
Song: "Stronger" by Britney Spears
Winner: Peppermint
Iconic Moment: Trinity started off by whipping out all of her big plays in the first thirty seconds. She served us an outfit reveal, a dramatic drop, and some impressive moves, but after that she burned out a little. Meanwhile, Peppermint waited until the climax of the song to do a full outfit and wig reveal.
Alyssa Edwards vs. Roxxxy Andrews
When: Season 5, Episode 7
Song: "Whip My Hair" by Willow Smith
Winner: Alyssa Edwards and Roxxxy Andrews
Iconic Moment: Speaking of wig reveals, we have to talk about this one. Right at the top of the song, Roxxxy removed her long, luscious locks, only to reveal another fierce, flowing wig underneath. Then, staying true to the song, she proceeded to whip it all around the stage. But Alyssa wasn't going to be upstaged by the memorable moment and broke out her best moves and amazing floor work, as always. We don't blame the show's host for letting both queens stay.
Voting may be closed for the 2018 PCAs, but your voice can still be heard!
Cast your vote for the most sickening Drag Race lip sync below.
RuPaul's Drag Race Best Lip Syncs