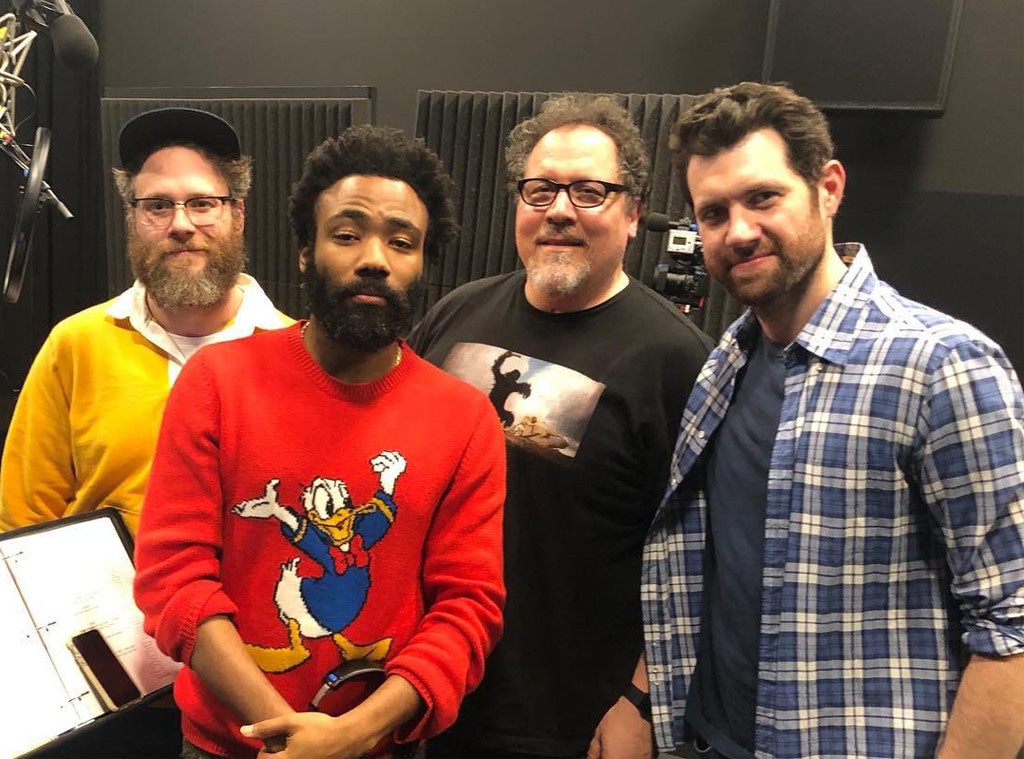 Movie remakes are all a part of the circle of life. With Beyoncé, Donald Glover, Seth Rogen, John Oliver, Billy Eichner, James Earl Jones and more in the new Lion King, there are simply no worries here.
On Tuesday, Rogen posted a photo on Instagram with co-stars Glover and Eichner and director Jon Favreau. He captioned it with the lion and crown emoji. In the upcoming live-action version of the classic Disney film, Glover voices Simba, so we know he just can't wait to be king. Rogen is appropriately cast as class clown Pumbaa and Eichner is his sidekick (or vice versa?), Timon.
As it turns out, both Favreau and Eichner shared the same image on their Instagram pages. 
The Atlanta star channeled fellow animated Disney characters as he wore a red sweater with Donald Duck on it.
Walt Disney Productions/Album/Entertainment Pictures via ZUMA Press
Disney announced the re-imagining of the film back in 2016, but eager audiences will have to wait until 2019 for the celebrity-studded remake.
At the 2018 Grammys, Glover aka Childish Gambino subtly teased the upcoming film when fellow co-star JD McCrary, who plays young Simba, joined the rapper onstage and performed "Terrified" with Gambino.
In Nov. 2017, E! News caught up with Eichner about his role in the movie and how he feels about singing alongside some big Hollywood names. "I was freaking out," he said. "I mean, the cast is amazing. Me and Seth Rogen are Timon and Pumbaa, so we do 'Hakuna Matata' and then we also sing 'Can You Feel the Love Tonight' with Simba and Nala, who are going to be voiced by Donald Glover and someone who is named Beyoncé."
James Earl Jones is the only cast member to appear in both the original and the remake. He voiced Mufasa, and once Mufasa, always Mufasa.
Although Beyoncé didn't appear in the cast photo, we could still feel the love tonight.
The Lion King comes out in theaters July 19, 2019, just over 15 years  to the day after the original, which was released June 24, 1994.