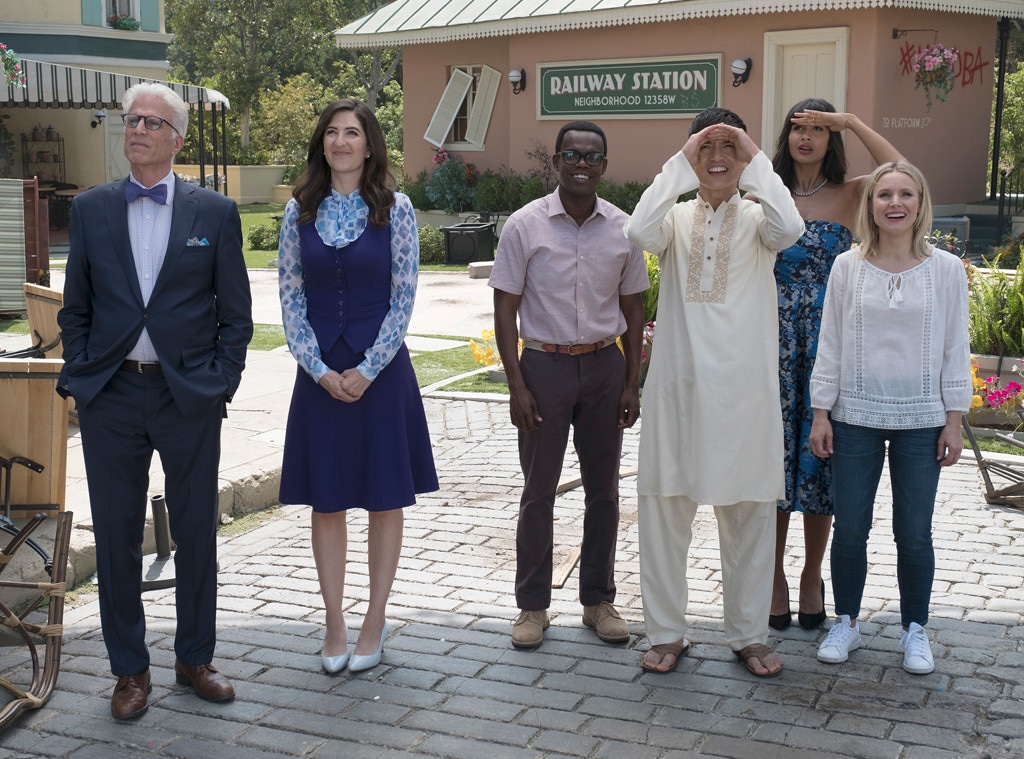 NBC
Get ready to laugh out loud, because the finalists for E! People's Choice Awards Comedy Show of 2018 are forking hilarious!
We are now just days away from our final round of voting for this year's PCAs ending, which means you need to get out and vote for your favorite Comedy Show of 2018 ASAP.
With so many funny series we know it's hard to choose, but it must be done.
Whether you love The Good Place and Kristen Bell's inability to curse correctly, or The Big Bang Theory continues to be your nerd-loving jam, your favorite show needs your attention.
Check out all of the finalists for this LOL-worthy category below including, Black-ish, Modern Family and Orange Is the New Black. Don't forget to vote for the show that makes you laugh most before our deadline hits this Friday!
The Big Bang Theory
Pilot Date: May 1, 2006
Current Season: 12
Cast: Johnny Galecki as Leonard Hofstadter, Jim Parsons as Sheldon Cooper, Kaley Cuoco as Penny, Simon Helberg as Howard Wolowitz, Kunal Nayyar as Raj Koothrappali, Melissa Rauch as Bernadette Rostenkowski and Mayim Bialik as Amy Farrah Fowler.
Plot: The Big Bang Theory follows the lives of two nerdy physicists, Leonard (Galecki) and Sheldon (Parsons) who live across the hall from a beautiful actress named Penny (Cuoco). Their lives become intertwined over the years and the dynamic between beauty and brains is explored with humor season after season adding in stories about love, friendship and work all in sunny Pasadena, California.
Airs: Thursdays at 8 p.m. on CBS.
Modern Family
Pilot Date: Sept. 22, 2009
Current Season: 10
Cast: Ed O'Neill as Jay Pritchett, Sofía Vergara as Gloria Delgado-Pritchett, Julie Bowen as Claire Dunphy, Ty Burrell as Phil Dunphy, Jesse Tyler Ferguson as Mitchell Pritchett, Eric Stonestreet as Cameron Tucker, Rico Rodriguez as Manny Delgado, Nolan Gould as Luke Dunphy, Sarah Hyland as Haley Dunphy, Ariel Winter as Alex Dunphy and Aubrey Anderson-Emmons as Lily Tucker-Pritchett.
Plot: This comedy series tells the stories of a modern family through their different and hilarious perspectives. It shows Jay (O'Neill) and his new wife Gloria (Vergara) and her son Manny (Rodriguez) and eventual second son as well as the lives of his two children and their kids. Both Claire (Bowen) and her husband Phil (Burrell) and Claire's brother Mitchell (Ferguson) and his husband Cameron (Stonestreet) have their own families and they are equally as connected and funny as their dad's current life.
Airs: Wednesdays at 9 p.m. on ABC.
Black-ish
Pilot Date: Sept. 24, 2014
Current Season: Five
Cast: Anthony Anderson as Andre "Dre" Johnson, Tracee Ellis Ross as Rainbow Johnson, Marcus Scribner as Andre Johnson, Jr., Miles Brown as Jack Johnson, Marsai Martin as Diane Johnson, Yara Shahidi as Zoey Johnson, Laurence Fishburne as Pops and Peter Mackenzie as Mr. Stevens.
Plot: The Johnson family, headed up by Andre "Dre" Johnson (Anderson), struggles to find a sense of cultural identity while living and raising their kids in a predominantly white, upper-middle class neighborhood on this comedy. Plus, the ABC series now has a spinoff show on Freeform called Young-ish about Zoey's (Shahidi) life in college. 
Airs: Tuesdays at 9 p.m. on ABC.
Orange Is the New Black
Pilot Date: July 11, 2013
Current Season: Six
Cast: Taylor Schilling as Piper Chapman, Kate Mulgrew as Galina "Red" Reznikov, Uzo Aduba as Suzanne "Crazy Eyes" Warren, Danielle Brooks as Tasha "Taystee" Jefferson, Dascha Polanco as Dayanara Diaz, Selenis Leyva as Gloria Mendoza, Nick Sandow as Joe Caputo, Yael Stone as Lorna Morello, Taryn Manning as Tiffany 'Pennsatucky' Doggett, Adrienne C. Moore as Cindy Hayes, Jackie Cruz as Marisol "Flaca" Gonzales, Laura Prepon as Alex Vause, Natasha Lyonne as Nicky Nichols and Jessica Pimentel as Maria Ruiz.
Plot: After being convicted of a decade-old crime—for transporting drug money to an ex-girlfriend—Piper Chapman (Schilling), a normally law-abiding citizen, finds herself sentenced to a year and a half in prison. Her journey as a convict in a women's prison is both eye-opening and hilarious for viewers who have fallen in love with characters like "Crazy Eyes" (Aduba) and "Taystee" (Brooks) over the years.
Airs: Season six is currently on Netflix.
The Good Place
Pilot Date: Sept. 19, 2016
Current Season: Three
Cast: Kristen Bell as Eleanor Shellstrop, William Jackson Harper as Chidi Anagonye, Jameela Jamil as Tahani Al-Jamil, D'Arcy Carden as Janet, Manny Jacinto as Jason Mendoza and Ted Danson as Michael.
Plot: This comedy stars Bell as a recently deceased woman named Eleanor, who finds herself in the "good place" following a life of bad deeds. In order to keep herself out of the "bad place" where she rightfully belongs, she must try and learn how to be good and earn her spot in the picturesque town with the help Chidi (Harper) all before the town's architect Michael (Danson) figures out the truth.
Airs: Thursdays at 8:30 p.m. on NBC.
Voting for the final round of People's Choice Awards ends on Friday, Oct. 19, so don't miss out!