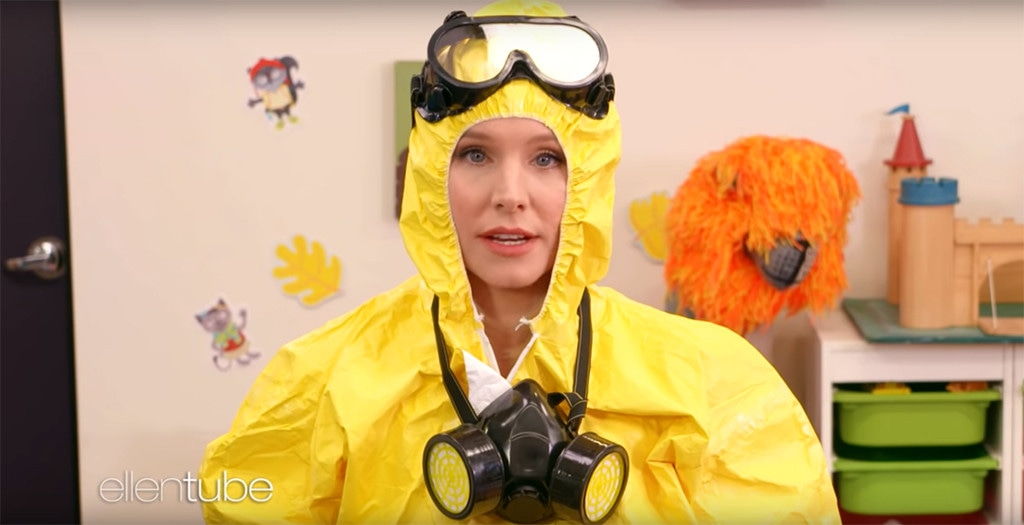 EllenTube / Warner Bros. Television
Kristen Bell is here to remind you that as much as parents love their kids, children can sometimes be, well, gross.
The Veronica Mars and Frozen star, who shares two young daughters with husband Dax Shepard, and fellow celebs moms such as Kim Kardashian and Kelly Clarkson got candid about the not-so-glamorous side of raising little ones on an episode of her EllenTube series Momsplaining on Friday. The stars spoke individually about some of the gross things their kids have done, while Bell also talked to other children and their parents.
"Hi, I'm Kristen Bell. And I had butt worms. Had. Relax," the actress began, speaking about what are likely pinworms while wearing a yellow hazmat suit and protective goggles and a mask, like the characters from Breaking Bad.
"But it's not my fault," she said. "I got them from my beautiful, special children. Seriously, you guys, kids are gross."
Kardashian said her and Kanye West's daughter North West, now 5, once stuck her toothbrush in the toilet bowl before she brushed her teeth.
"Or it could be eating dog food," Kardashian added.
Watch:
Is North West Getting Into Makeup?
Speaking of dogs, Clarkson told a story about her son Remington, 2, getting into the family puppy's poop.
Jennifer Lopez recalled dealing with projectile vomit from her twins, Max and Emme, when they were babies.
But Scarlett Johansson, who has a daughter, had the grossest story of all.
"She went to use the bathroom. All of a sudden, I heard this kind of like...what happened or whatever. I ran into the bathroom," she said. "There was poop all over the floor, like on the wall, I somehow also stepped in it. It was on my feet. And so, as I stood there, shocked that, like, I had stepped in it and it was like on her and the wall, and I didn't even known how it all happened, my dog came in and started eating my daughter's poop."